UC Davis nursing school models how to increase diversity without affirmative action
School focuses on holistic admissions process and strong student support
(SACRAMENTO)
Tonja Copeland woke up at 5 this morning, the first day of summer quarter classes. She's a second-year nursing student in the Master's Entry Program in Nursing at the Betty Irene Moore School of Nursing at UC Davis.
"The excitement of getting into a nursing school is all my dreams come true," said the 55-year-old member of the Class of 2023. "It's a 'let's go moment' for me every day."
Before she applied to graduate school, Copeland counted herself out. She doubted her skills, even though she has been a licensed vocational nurse (LVN) for more than 20 years. But during the application process at the School of Nursing, her perception changed.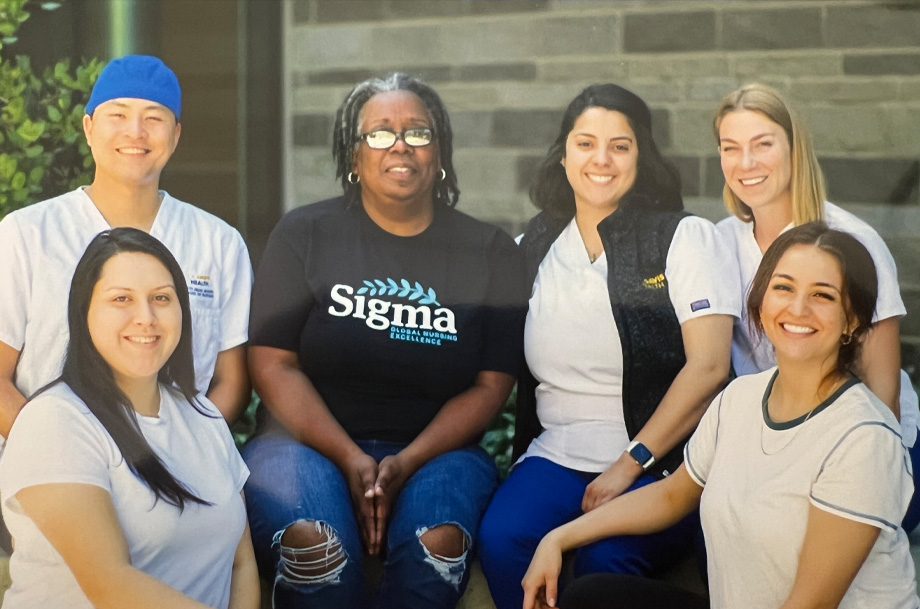 "I got the sense they were looking at me more than just my grades. They gave me the chance to explain some things that happened in my past," she recalled. "This whole program has surprised me since day one."
The U.S. Supreme Court's recent decision to ban affirmative action has many schools reevaluating admissions practices. But race-conscious admissions policies have been banned in California since 1996, and UC Davis' School of Nursing and School of Medicine adopted a holistic process years ago. Now they're serving as national models.
Holistic review brings wider perspective
The 113 future registered nurses, nurse practitioners and physician assistants (P.A.s) that start their UC Davis journeys this week are, like Copeland, the result of an admissions process that looks beyond the grades.
"We are looking for unique experiences that will increase the diversity of our cohorts. We are looking for diversity of thought, in addition to diverse experiences. We weigh applications based on different life experiences," explained Associate Professor Jessica Draughon Moret, who chairs the school's Recruitment, Admissions and Fellowship Committee. "Then we also look at GPA, aptitude, essays and letters of recommendation. We do look at all of that, but we also know those are not necessarily the best measure of program success."
We are looking for diversity of thought, in addition to diverse experiences. We weigh applications based on different life experiences
A holistic review considers experiences including exposure to rural versus urban environments, current or former military experience and other markers common for people from underserved backgrounds. In addition, applicants answer a series of questions capturing socioeconomic background information.
Those include:
Attending an under-resourced high school
A primary language other than English
Living in a medically underserved area
Being the first-in their family to attend college, known as a first-generation student
Forty six percent of the students starting classes this week are first-generation students.
When the School of Nursing launched in 2009, founding faculty made the intentional choice to not require a Graduate Record Examination (GRE) score for admission. They argued that data from standardized tests is based on cultural bias and a barrier for underrepresented students.
"We also look at the clinical and life experiences applicants have that align with our mission, such as commitment to service, cultural sensitivity, empathy, capacity for growth, emotional resilience, and interpersonal skills," added Teresa Thetford, director for the P.A. program. "We're still looking at those demographics that we know may not otherwise rise to the top as a needed group if we only look at the GPA."
That approach resulted in the most diverse class of P.A.s in the history of the school last year, with more men, more students over the age of 35 and the largest group of Hispanic students yet. Of the entire nursing school student body in 2022, 28.3% were Hispanic and 10.2% were Black, more than a third greater than the percentage of Black residents in California.
In order to attract a diverse pool of applicants, the school developed a series of videos advising prospective students on how to submit the strongest personal statement and letters of recommendation, as well as ensure needed clinical experiences meet the requirements.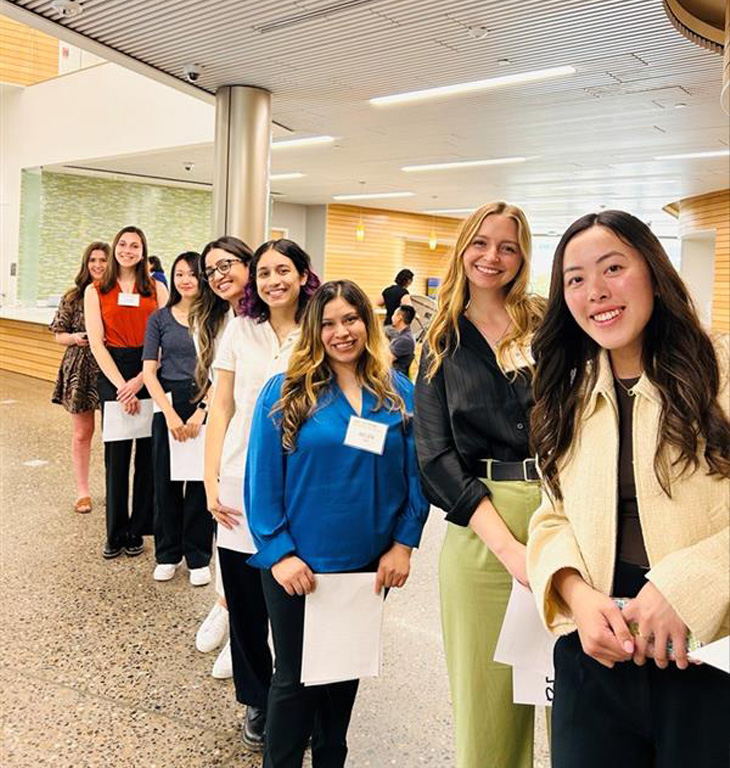 "The video series was trying to fill in a generational knowledge gap. Our students that are first generation may not have ever been told this is how you go about getting an effective letter of recommendation," Draughon Moret said.
Diversity is just the beginning.
The school's strategic plan, launched in 2022, also includes a diversity, equity and inclusion component. Leaders focus on moving past the statistics to advance a climate that fosters inclusion and secures sustainable and supportive resources to ensure an environment where all can thrive.
"We have a diverse, clinically active faculty and engaged staff who support our students to exceed their hopes and aspirations as future health practitioners. That fosters a culture of collaboration and belonging," said Dean Stephen Cavanagh. "When our students feel like they belong here, they act like they're made to be here."
Aliyah Bell, who will be prepared to sit for the physician assistant licensing exam in a few months, applied to UC Davis because its diversity, inclusiveness, collaboration, community connection and leadership resonated with her.
"Since starting school, I made It my goal to continue to show that all of these values were important to me through various ways. Our school has done an amazing job at teaching us about how socioeconomic factors play a huge role in medicine. I feel that's where UC Davis students will excel in the field," said Bell, who was awarded the Student Excellence Award for Leadership during this year's commencement ceremony.
Santiago Garcia, one of the representatives for the entry-level nursing Class of 2023, credits the inclusive environment for some of the richest learning experiences.
"I don't think we've gone through a lecture without a peer sharing a past experience about the topic that we're learning," he said. "That's extremely valuable as a student and future clinician to learn more about the people we'll be taking care of."
Creating inclusion in the classroom requires that educators anticipate individual student needs, consider the delivery and presentation of their content, assign coursework that has real-world meaning and prioritize skills development. Research suggests that those efforts result in greater student success.
Once coursework is underway, there are online learning programs where alumni facilitate study groups and workshops about testing strategies and time management. A faculty support team works individually with students and staff help students access the resources they need.
"In the five different programs I've been a part of, I've never worked anywhere and seen the kind of support the School of Nursing provides. And the wellness resources, we all make sure it's not just the academics but our students' mental health needs are addressed as well," Thetford said.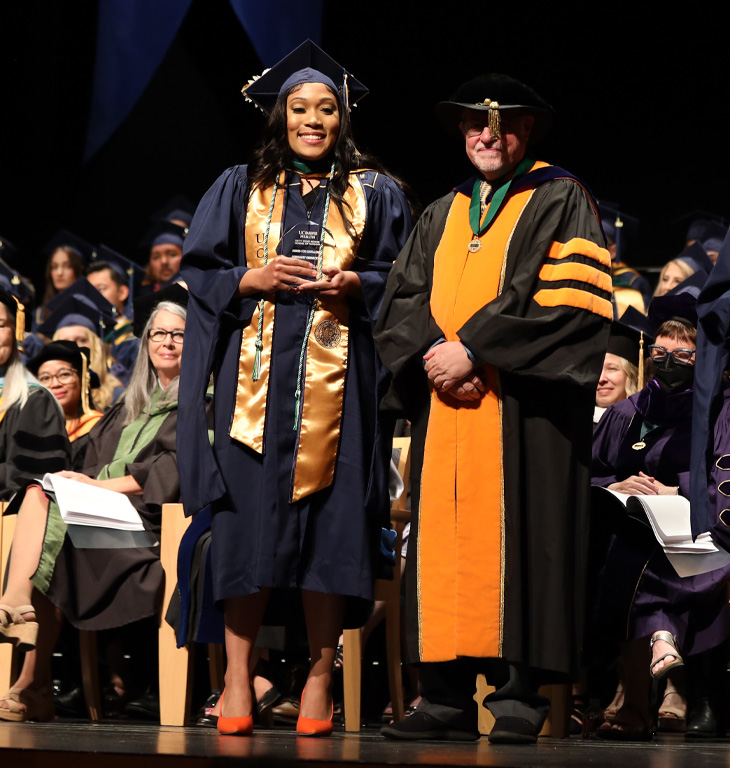 "We need to go further."
School leaders say the admissions process and student success resources are working. For the past two years, the class of students entering into the entry-level nursing program mirrors the program's applicant pool.
"We wanted to make it more impervious to bias," Draughon Moret said. "When things don't match up, we examine our internal procedures to see if there's a point in the process where our biases are at play."
That is more difficult for the P.A. program. This past year, nearly 3,000 people applied for only 65 spots. The goal remains to prepare providers who will meet the greatest need.
"We need to mirror California's health care needs and the health care gaps that we're seeing. If we're seeing gaps in rural areas of the state, I would like to get people who are interested in working in those areas," Thetford added. "To me that's equally as important and aligns with our mission as well."
Thetford said that the admissions team learned a valuable lesson during the pandemic. When what were typically in-person interviews for the top 180 applicants moved to Zoom, the diversity of the applicant pool expanded. Prospective students did not have to pay for in-person interview airfare and hotel expenses to be considered. Aliyah Bell did not have to risk exposing her family to COVID-19.
"My sister, who has a history of Guillain Barre, was living with me at the time. I even stopped working at the health care system I was at, so I didn't expose her to COVID, which affected us both financially," the Class of 2023 Bell said.
Now, Zoom will be the method moving forward.
For Tonja Copeland, from the test accommodations she's granted, to the students she's in class with, she's never felt this sense of family.
"It's wonderful to look across the room to see someone that looks like you and someone who's different than you," she said. "We are tied to each other."
That tapestry is a reality rooted in the school's vision, but not yet fully achieved.
"As much as this is what we're already doing, there's room for improvement," Draughon Moret said. "Getting our students to reflect the populations we serve is great. But to really disrupt the inequities we need to go further."
Related stories:
UC Davis Health schools named among country's best in health care education