First-ever limb loss awareness event connects experts and community
(SACRAMENTO)
David Brockman, a firefighter for more than two decades, faced an uncertain future after an accident took his right arm.
His employer pushed him toward early retirement, but Brockman, a fire captain who loved his career, had other plans: He chose to get a prosthetic limb at UC Davis Health, and stayed on the job.
"I had to do everything like the guys with both hands and show I could do it with my prosthetic," Brockman said. "I showed not only that I could do it, but that I could do it faster than some of the young guys." He eventually left the fire service after 28 years: "I retired on my own terms, with my prosthetic limb."
Listen to David Brockman talk about his accident and journey with a prosthetic limb on "Unfold," a UC Davis podcast.
Brockman and his wife Thereasa were among dozens of people who attended the first-ever limb loss and limb difference awareness event hosted last week by UC Davis, "Celebrating our Limb Loss Heroes and Communities."
The celebration was April 26 at the Point West outpatient clinic in Sacramento. It brought together amputees like Brockman, and experts from UC Davis and UC Davis Health who are involved in the latest research, developments, services, and patient care related to limb loss. This included a multi-disciplinary team called Prosthesis Embodiment Through Intuitive Technology (PETIT). The group includes experts in surgery, prosthetics, biomechanics, neuroengineering, physical therapy, orthopedic specialists and other fields.
Celebrating our Limb Loss Heroes and Communities" was a collaboration between the UC Davis Health Department of Surgery, the Department of Orthopaedics and the Department of Physical Medicine and Rehabilitation.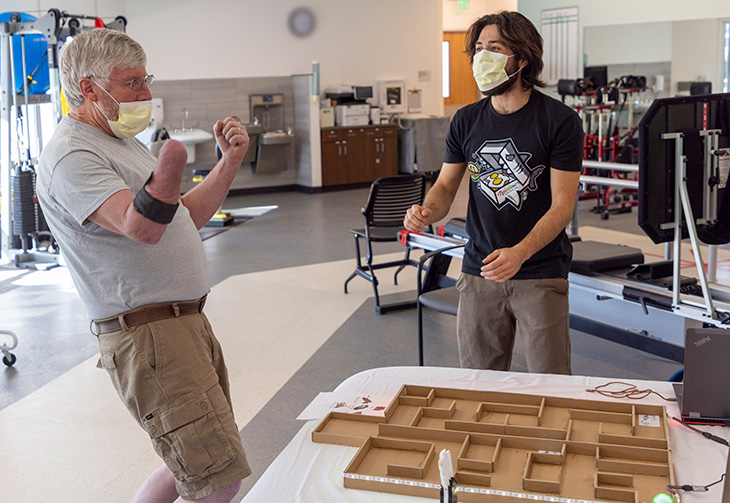 Connecting with the limb loss community
For Brockman, the celebration was an opportunity to mingle with his providers, including Andrew Li, a surgeon who helped organize the event, and learn about the latest technology in prosthetics.
"I've been to several limb loss events, but this is the first big event like this I've been to," Brockman said. "I was invited by Dr. Li and didn't know what to expect, but seeing everybody here together and hearing the uplifting stories is nice, it's unique."
The event was spearheaded by Li, assistant professor in the Department of Surgery and Laduan Smedly Jr., supervisor of orthotics and prosthetics with PETIT. It featured a variety of activities and presentations that aimed to empower those affected by limb loss, as well as educate the public about the challenges and triumphs of living without limbs.
"This gathering came from a realization that we need to approach limb loss from a multidisciplinary perspective," Li said. He emphasized the collaboration it takes to improve the life of someone who has experienced limb loss, which includes expertise from the UC Davis Health campus in Sacramento and the campus in Davis.
This gathering came from a realization that we need to approach limb loss from a multidisciplinary perspective. There are all these different elements that need to come together to care for a limb loss patient, more than we realize."
"I see it from a surgical standpoint, they see it from an engineering standpoint. Then there's prosthetists, physical therapists, rehabilitation, etc. There are all these different elements that need to come together to care for a limb loss patient, more than we realize. We can do so much more when we come together from different perspectives," he said.
The celebration opened with a presentation by Lou Figueroa, an inspirational speaker and limb loss survivor. Figueroa emphasized the need for providers to offer not only physical rehabilitation, but also emotional and psychological support.
Afterward, attendees had the opportunity to participate in interactive exhibits and demonstrations.
These included a hands-on experience with a Myo gesture armband, presented by Jonathon Schofield, assistant professor of mechanical and aerospace engineering, and his lab. This armband measures small electrical impulses created by muscle activity on the skin's surface. And while the armband itself is not part of a prosthesis, it was displayed to give attendees an idea of the type of technology being used to improve prosthetic devices.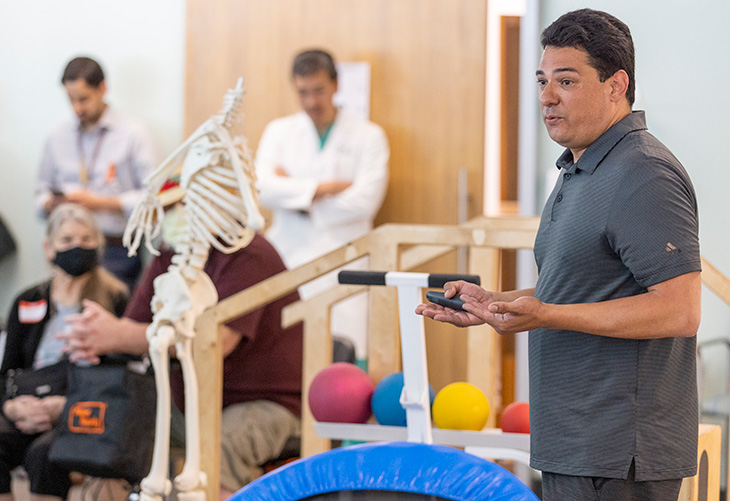 Improving the technology behind prosthetic devices
More than 2 million Americans experience limb loss or are born with limb differences each year. In addition, over 185,000 amputations are performed annually, according to the National Limb Loss Information Center.
But many patients find it difficult to find a prosthesis that works well for them. According to a recent study, there's a high rate of so-called prosthetic abandonment.
There are several reasons behind this, including technical and fundamental medical challenges and prosthetic fit challenges that patients encounter. This is where Schofield's lab comes in. Rather than creating new prosthetic devices, his lab is focused on looking at technologies that measure people's intention to move. His team is seeking a way to incorporate that technology into the most sophisticated prosthetic devices so that they work well for patients.
"At UC Davis we have the tremendous capacity and foundation to do highly interdisciplinary research," Schofield said. "We have a fantastic hospital doing targeted muscle reinnervation surgeries, working with individuals with limb loss and they were eager to collaborate with the UC Davis College of Engineering and the College of Biological Sciences. The collaborative spirit and this fantastic infrastructure that has always been here has started to mature and grow to make this possible."
Throughout the event, attendees who have experienced limb loss shared stories and discussed challenges they've faced as well as how they've overcome them. They also got to connect with community organizations that provide support and resources for individuals with limb loss. These organizations included Sacramento Amputee Support Group, Gold Country Amputee Support Group, the Limb Care Foundation and Hanger Clinic.
"At the core, the thing that I'm really excited about when you see an event like this is that we have local prosthetics and orthotics, local shops and vendors that are involved in the community," Schofield said.
He added: "We're seeing amputee coalitions, and a number of other local community-based organizations. We're seeing patients, we're seeing healthcare providers and we're seeing a research presence. I love that there is a sense of community."