New imaging diagnostic tool lights up tumors during brain cancer surgery
(SACRAMENTO)
A new optical imaging technology developed at the University of California, Davis, could help neurosurgeons visually and objectively differentiate between healthy and cancerous tissues during brain cancer surgeries. The technology, called Fluorescence Lifetime Imaging (FLIm), could allow surgeons to more precisely and thoroughly remove malignant tumors.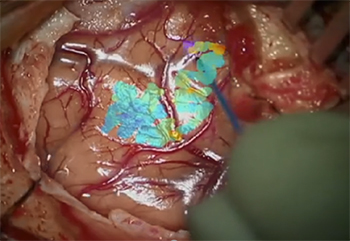 Imaging technologies during brain cancer surgeries
During brain cancer surgeries, neurosurgeons need to identify and remove malignant tissues intertwined with normal, functional brain. To distinguish the good from the bad, surgeons use assistive imaging technologies ranging from large, expensive intraoperative MRIs to microscopic dye-based imaging tools.
These commercially available imaging tools generally have low efficacy in detecting less aggressive tumors. They require significant pre-surgical planning, special operating room setup and the administration of potentially toxic dyes to patients.
UC Davis researchers Laura Marcu and Orin Bloch are exploring FLIm as a better, safer and more precise imaging technology to help identify cancerous cells in the brain. They were recently awarded a $3.1 million grant from the National Cancer Institute (NCI) to test and validate FLIm as a tool for instant tumor tissue identification during brain surgeries.
What is FLIm and how does it work?
With a hand-held pen-like diagnostic probe powered with the FLIm technology, the surgeon scans the tissues for fluorescent changes related to alterations in tissue metabolism, a factor strongly linked to cancerous brain tumors.
The FLIm device captures and analyzes the intrinsic light emitted by the tissues. It provides visual and quantitative data with precise measurements of the autofluorescence light emitted by tissues. This light indicates the presence or absence of metabolic abnormalities and thus, the risk of cancerous cells.
"If surgeons can identify and visualize metabolic changes in tissue during the operation, they can precisely remove the cancerous tissues and improve their patients' survival," said Bloch, a neurosurgeon and an internationally recognized leader in brain cancer.
FLIm to change standard-of-care for brain cancer surgeries?
The FLIm apparatus is characterized by its simple, fast and flexible data acquisition and display. It allows for seamless integration with existing imaging techniques used in neurosurgery. It is a significantly less expensive alternative to MRI and a more convenient and safer diagnostic tool than dye-based imaging.
"The key benefit of our FLIm technique is that it can highlight tumor infiltration in real-time during neurosurgery without the need for contrast agents," said Marcu, professor of biomedical engineering. "We take advantage of brain tissue's intrinsic fluorescence properties to detect areas where the tumor infiltrates the healthy brain."
FLIm's application in brain cancer surgeries is still in its prototype stage. If validated, it is expected to transform neurosurgeries.
FLIm testing and validation
In the first stage of their study, the researchers are collecting FLIm recording data during surgery and comparing them with the tissue biopsy results. This step is necessary to establish FLIm reading accuracy and to develop guidelines for interpreting the data.
"We are building our training data set upon which we can develop specific criteria that could differentiate tumor tissue from healthy tissue. We will validate the predictive power of these guidelines in the study's second stage," Bloch said.
In the second stage, the researchers will use this technology to guide the removal of brain tumors. They will determine the degree to which it improves tumor removal and patient survival.
"We believe the use of FLIm in brain cancer surgeries will advance the field and improve the survival chances for patients with brain cancer," Bloch added. "This UC Davis homegrown technology might become the next standard of care, adopted widely in cancer surgeries."