UC Davis Health pediatric surgery nurse receives national award
(SACRAMENTO)
UC Davis pediatric surgery nurse Andrea Reich is honored for going above and beyond. The American Pediatric Surgical Nurses Association (APSNA) awarded her the 2023 Spotlight Award. APSNA is a national organization that shapes pediatric surgical nursing through advocacy, collaboration, mentorship and leadership.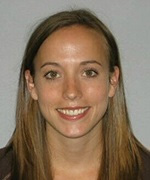 The Spotlight Award recognizes an APSNA member who demonstrates involvement in pediatric surgery exceeding the usual job expectations.
"Andi effortlessly connects with our patients and their families, easing their anxieties and creating an atmosphere of trust," said Amy Powne, Fetal Care and Treatment Center and pediatric surgery nurse practice manager. "Her compassionate care, clinical excellence and unwavering dedication serve as an inspiration to all, reminding us of the transformative power of nursing and the limitless capacity to make a difference."
Reich said she was surprised to receive this recognition but is thankful to work with an incredible team that goes above and beyond every day for patients.
"I couldn't do my job without the team's support," Reich said. "We serve a unique and diverse population of children and families facing incredible challenges. These parents are going through so much emotionally and physically taking care of their child and their complex diagnosis. I try to do what I can to make life easier on them."
Reich received a certificate of achievement and a monetary award from APSNA.