UC Davis Alpha Stem Cell Clinic receives $8 million from California's stem cell agency
(SACRAMENTO)
UC Davis Health's Alpha Stem Cell Clinic has received an $8 million grant renewal from the California Institute for Regenerative Medicine (CIRM). The funding will allow the clinic to expand its successful clinical trials operation and advance toward onsite manufacturing of therapies.
The clinic, along with the Alpha Clinic Network sites, works to ensure that cell and gene therapy clinical trial resources are available to the diverse patient population in California.
"Since its conception, the UC Davis Alpha Clinic has played a leading role in the development of cell and gene therapy protocols by providing the infrastructure and expertise for complicated stem cell trials," said Jan Nolta, director of the Stem Cell Program and the UC Davis Gene Therapy Center in the Institute for Regenerative Cures at UC Davis Health. "We are very proud of our partnership with CIRM and thankful for their continual support for stem cell research that makes a difference."
The grant will also finance programs that enhance patient recruitment for clinical trials, especially those from underserved communities and with rare diseases. It will allow for new staff training and regulatory support for the clinic.
The UC Davis Alpha Stem Cell Clinic serves the needs of underserved communities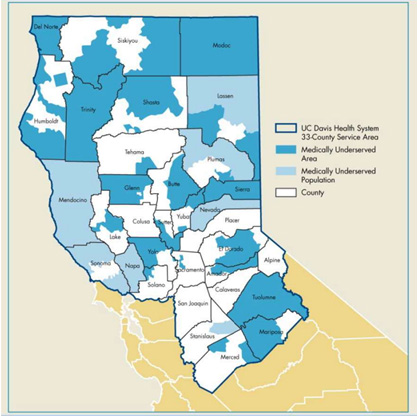 The clinic serves patients throughout Northern and Central California. This region is home to approximately 6 million people, many of whom live in rural and underserved areas and lack access to cell and gene therapies.
"Our clinic serves a geographically unique population living in more than 30 disparate counties," said Mehrdad Abedi, director of the Alpha Stem Cell Clinic. Abedi is a professor of oncology and hematology at UC Davis Health. He has more than 25 years of experience in the clinical stem cell setting.
"Our physicians are committed to ensuring that our patients are referred to legitimate sites, avoiding dangerous unregulated clinics where non-FDA approved 'stem cell' applications can cause more harm than good," Abedi said.
The clinic also leverages many UC Davis programs providing outreach and education to diverse patients. One example is the student-run clinics in inner-city neighborhoods that offer free health care to uninsured, low-income and other underserved populations.
Clinic providers work with the UC Davis Comprehensive Cancer Center's various outreach programs, such as the Clinical Trial Diversity Task Force, the Office of Community Outreach and Engagement, and the Center for Advancing Cancer Health Equity. They also coordinate with the Center for Reducing Health Disparities to enhance inclusion in clinical trials and to reach underserved populations.
We trust that this renewal will create more opportunities to develop stem cell and regenerative medicine cures for Californians and beyond"
The Alpha Clinic has also formed strong collaborations with community organizations to address unmet clinical needs in underserved populations. It has partnered with local health providers and used telehealth to expand access. It has also formed strong relationships with statewide and national medical program networks and a consortium of academic research institutions funded by the National Institutes of Health's (NIH) National Center for Advancing Translational Sciences (NCATS).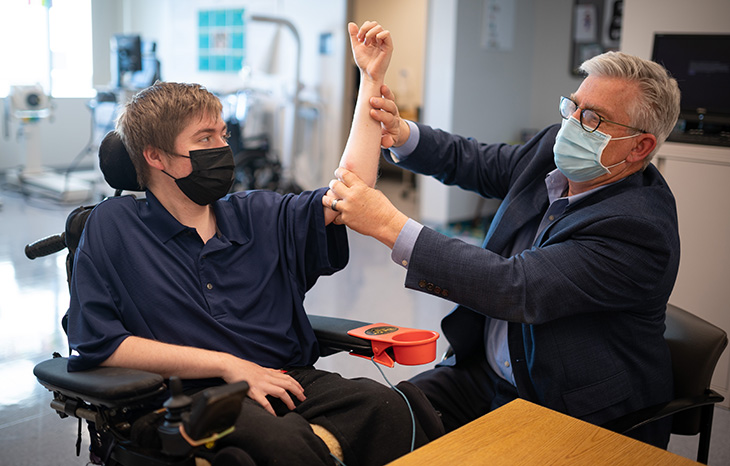 A diverse portfolio of stem cell and gene therapy clinical trials
The clinic has led to significant improvements in conducting cell and gene therapy clinical trials. It is exceptionally strong in neurological stem cell and gene therapy clinical trials and in developing therapies for rare diseases, such as pemphigus vulgaris, Duchenne muscular dystrophy, and myasthenia gravis.
There are currently over 22 active clinical trials, eight of which CIRM-funded.
"The grant will help us expand our portfolio of clinical trials and focus on our "homegrown" California CAR T cell program and point-of-care manufacturing," Abedi said. "We trust that this renewal will create more opportunities to develop stem cell and regenerative medicine cures for Californians and beyond."
The Good Manufacturing Practice facility
The clinic also benefits from a renowned Good Manufacturing Practice (GMP) facility. The facility, led by professor Gerhard Bauer, has a very strong manufacturing track record.
The long-term goal of the GMP facility is to establish 24-hour staffing to increase manufacturing capacity and the number of clients using the clinic.
"We would like to establish a 24/7 facility that can provide access to all CIRM Alpha Clinic-funded studies. This expansion would enable the creation of a 24/7 cell and gene therapy outpatient unit with the components necessary for product infusion and patient monitoring," Bauer said.
The expansion will also boost the GMP's ability to make viral vectors, a benefit for the whole stem cell clinic network.
Training in cell and gene therapy
The Alpha Clinic has a 2-year CIRM Cellular Therapy Training Program targeted at medical fellows in the field of cell and gene therapy. It leverages a longstanding and robust Clinical and Translational Science Center (CTSC) educational program supported by the NIH for over a decade. The clinic also provides creative training opportunities in GMP manufacturing.
About Alpha Stem Cell Clinics
The CIRM-funded Alpha Stem Cell Clinics are a network of top California medical centers. They specialize in delivering stem cell clinical trials to patients. The network accelerates the delivery of treatments to patients through partnerships with medical providers and clinical trial sponsors.
Related stories:
UC Davis is playing a leading role in regenerative medicine, with nearly 150 scientists working on a variety of stem cell-related research projects at campus locations in both Davis and Sacramento. The UC Davis Institute for Regenerative Cures, a facility supported by the California Institute for Regenerative Medicine (CIRM), opened in 2010 on the Sacramento campus. This $62 million facility is the university's hub for stem cell science. It includes Northern California's largest academic Good Manufacturing Practice laboratory, with state-of-the-art equipment and manufacturing rooms for cellular and gene therapies. UC Davis also has a Translational Human Embryonic Stem Cell Shared Research Facility in Davis and a collaborative partnership with the Institute for Pediatric Regenerative Medicine at Shriners Hospital for Children Northern California. All of the programs and facilities complement the university's Clinical and Translational Science Center, and focus on turning stem cells into cures. For more information, visit health.ucdavis.edu/stemcellresearch.