Farah Shaheen, M.D.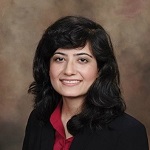 Medical School: University of California, Davis
Residency: Internal Medicine, University of California, Davis
Role: Faculty
Department: Internal Medicine
Personal and Professional Interests:
My professional interests include practicing primary care, especially for the medically underserved population. It is important for me to provide my patients with whole person, compassionate care, in the same way that I would towards family. I enjoy all aspects of Internal Medicine, including inpatient care, and am excited that I will also be able to continue as an attending physician for the TEACH inpatient service. Furthermore, I love working with students, both as a teacher and as a mentor. It is a source of joy to help them reach their potential as future physicians. My personal interests include spending quality time with family and friends, learning languages and about different cultures, reading as much as I can, photography, and baking.