UC Davis Health has 92% nurse retention rate, well above industry average
(SACRAMENTO)
While other health systems in the country face a shortage of nurses, UC Davis Health has maintained its nursing workforce at rates well above the industry average. Health system leaders attribute this success to a relationship-based and professionally governed culture, new graduate onboarding and diverse professional development opportunities.
As of June 2023, UC Davis Health had achieved a 92% nurse retention rate and a nurse turnover rate of just below 7%. That's well below the national average of 22.5% according to the 2023 NSI National Health Care Retention & RN Staffing Report.
"Nurses play a critical role in caring for patients and improving overall outcomes," said David Lubarsky, vice chancellor of human health sciences and CEO of UC Davis Health. "We know an experienced workforce is important for patient care quality, and unfortunately, nurse retention rates are low nationally. At UC Davis Health, we have a highly skilled group of long-tenured nurses providing world-class care to our patients every day, and our patients see the benefits. Last year, we were in the Top 5 in the nation for the overall best mortality rates – a prime indicator of how important provider longevity is to high-quality patient care outcomes."
Since 2014, UC Davis Medical Center has been designated as a Magnet® hospital three consecutive times, a distinction granted by the American Nurses Credentialing Center (ANCC). This elite designation is the country's highest recognition for nursing excellence, going to fewer than 10% of the nation's hospitals. UC Davis was the sixth in the country to receive Magnet® designation.
As a Magnet®-designated hospital, UC Davis Medical Center is committed to providing the highest quality of patient care through the advancement of nursing practice by providing nurses a healthy work environment, professional growth opportunities and a structured environment to succeed.
"Employee retention is important to workplace health in all fields, as it promotes the cohesion and cooperation of teams, increases efficiency and improves employee satisfaction," said Christine Williams, interim chief nursing and patient care services officer. "At UC Davis Health, our nursing leaders and administrators are consistently strategizing to support our dedicated team of nurses, who exemplify our nursing values of love, compassion, courage and integrity."
Relationship-based culture
Since 2010, UC Davis Health has embraced a Relationship-Based Care model in its mission to improve lives and transform health care. Relationship-Based Care focuses on three key relationships: relationship with self, with colleagues and with patients and families. It prioritizes caring for oneself as it is crucial and necessary to effectively care for others.
"Healthy team relationships are built on trust, respect, open communication and consistent support," explained Joleen Lonigan, associate chief nursing officer for patient care services. "When trust, respect and communication are strong, we create cultures in which it is clear to everyone that we are all in this together on behalf of our patients."
In a relational care culture, everyone, regardless of their discipline, connects with the purpose and meaning of their work and all are important to providing care.
"Ambulatory nurse leaders understand the role of the ambulatory nurse and its impact to safe, quality care in a discipline where nurses practice with high autonomy and enjoy getting to know their patients through a longer continuum of care," said Diane Woods, associate chief nursing officer and executive director of Ambulatory Practice and Regulatory Compliance. "The nurses understand they are valued, and we work daily to recognize them, elevate their practice, and demonstrate love and respect."
Carla S. Martin, associate chief nursing officer for patient care services, agreed saying – "Evidence of Relationship-Based Care can be found throughout our health system. This includes the way colleagues care for one another and patients, moments of gratitude and acknowledgement as standard meeting and retreat practices, many job descriptions and our annual OnRole® 360 Peer Review Assessment."
As part of the Relationship-Based Care model, UC Davis Health offers three relationship-based workshops:
"Relational mastery is a lifelong quest and with these workshops we strive to offer our nurses opportunities to continue to learn and improve in our profession," added Lonigan. "When we are open, attuned and compassionate to ourselves and each other, relationships are formed, contributing to the healing and well-being of all involved."
Administrators have also seen how nurses are transformational leaders at all levels and have created a professional governance structure that empowers professional clinical nurses to contribute collaboratively as decision makers regarding the nursing practice environment.
"Nursing is critical for patient care and healthy teamwork," said Rupinder Sandhu, nurse director for Emergency Medicine. "The flexibility offered at UC Davis Health fosters professional growth under the umbrella of inclusivity and provides a safe place for nurses to be nurtured and developed in an environment that is grounded in belonging."
Leaders have created systemwide councils to coordinate the activities to outcomes in the areas of nursing, evidence-based practice and research, clinical care, advance practice, professional development, relationship-based care, technology and nursing quality.
"Nurses are respected for their expertise and these councils are in place to support engagement in the professional practice of nursing," said Martin. "Our nurses use their clinical expertise to advocate for professional practice and to advocate for human and fiscal resources throughout our health system."
Haydee Garcia, director of the Heart and Vascular Center, added – "UC Davis Health embodies the values of kindness, trust, and inclusion. The organization's transformative, interdisciplinary and collaborative practices create a palpable close-knit community atmosphere wherein staff feel safe and are provided the platform and guidance to becoming researchers and innovators."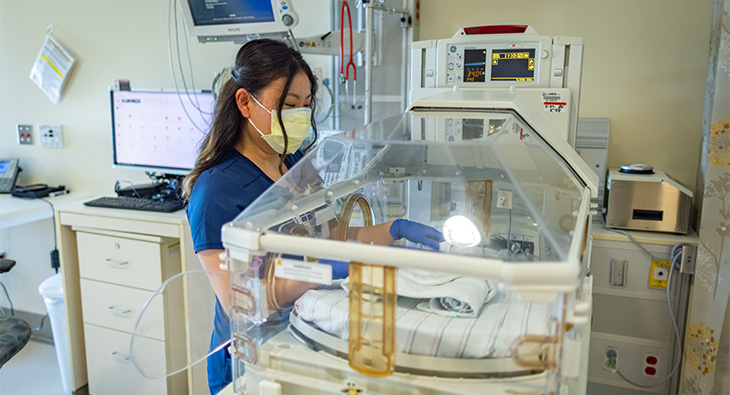 Programs for new graduates
Studies have shown there is a high turnover risk for nurses in their first and second years professionally. One study found that 33% of new nurses leave their job within the first year and up to 56% leave within the second year.
"Given the shortage of nurses nationwide, there is an urgent need for us to retain new nurses and ease their transition to practice," said Kimberly Bleichner-Jones, associate chief operating officer.
To bring new nurses into the health system and ease them into their careers, UC Davis Health has created a structured one-year nurse residency program. It is accredited with distinction as a Practice Transition Program by the American Nurses Credentialing Center's Commission on Accreditation in Practice Transition Programs.
"New graduates of nursing school often have excellent theoretical and textbook preparation but lack clinical training, which hinders their transition into clinical practice after graduation," Bleichner-Jones added. "Our nurse residency program helps first-year nurses adjust to the complex hospital environment by providing practice clinical training, thereby improving retention rates."
As part of the program, UC Davis Health has worked diligently to expand nurse residency opportunities to multiple practice environments and specialties with the most recent addition to residency being the Ambulatory care setting.
"Ambulatory nursing now supports nurse residents who rotate every four weeks to a new clinic or ambulatory procedure area. We were fortunate to have many graduate nurses interested in ambulatory nursing, which demonstrates a change in inpatient-ambulatory nursing culture," explained Woods. "Patients receive the majority of their care via ambulatory clinics and services, and we are now poised and excited to share this experience with new nurses and nursing students."
In 2016, UC Davis Health developed a novel Critical Care Fellowship Program (CCFP) to streamline the onboarding of new graduate nurses across critical care settings by developing a structured, comprehensive, and supportive orientation for new hires to work in an adult intensive care unit (ICU).
A total of 65 new graduate nurses participated in the CCFP from 2016-2022 and 60 completed orientation and were hired into an adult ICU permanent position.
"Providing a successful critical care orientation requires organizational commitment, nursing leadership and staff focused on the educational and individual needs of new graduate nurses," explained Amy Doroy, associate chief nursing officer.
Additionally, UC Davis Health has implemented a new graduate float pool to supplement its workforce to support ongoing staffing needs.
Following standard hospital orientation for all newly hired nurses, these nurses complete a one-year orientation on each of the medical center's acute care units, rotating units every four weeks. Upon completion, the nurse receives a daily float assignment or chooses a 'home' unit where they become permanent staff.
Since its inception in 2012, the nurse residency program has developed 46 cohorts of nurse residents, totaling 1,250 new graduate nurses while maintaining a first-year retention rate over 93.8% across the life of the program.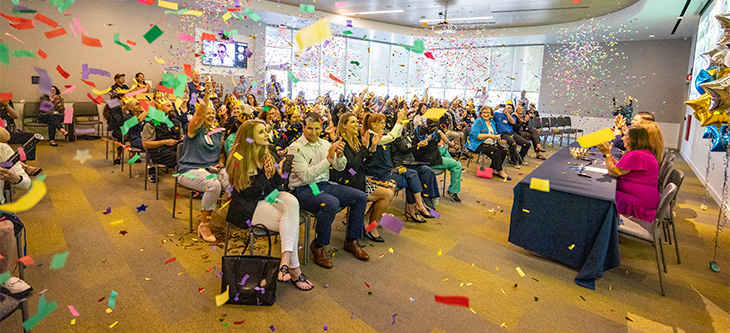 Professional development opportunities
As the region's only academic medical center, UC Davis Health is committed to the professional growth of its nursing workforce.
"Our nurses are committed to our patient promise — to put our patients at the center of everything we do," remarked Brenda Chagolla, associate chief nursing officer. "They have such great potential, and we want to give them the foundation to achieve their goals to carry them the next 25 or 30 years of their practice."
In 2011, UC Davis Health created a goal to increase the percentage of nurses holding a Bachelor of Science in Nursing (BSN) degree to at least 80% by 2020 in accordance with the recommendations of the Institute of Medicine and Robert Wood Johnson Foundation.
At that time, 63% of all registered nurses (RNs) at UC Davis Medical Center held a BSN or higher degree. By 2016, four years in advance of the 2020 goal, 82% of RNs at UC Davis Medical Center held a BSN or higher, surpassing the long-term target. That includes graduates from the Betty Irene Moore School of Nursing at UC Davis, which prepares students at a master's-degree level.
In June 2020, the medical center's goal increased to 90% or above. As of 2022, 91.9% of UC Davis Medical Center RNs hold a BSN or higher degree in nursing.
In addition, nurses are encouraged to obtain certification in their practice specialty as part of their professional development.
"Ambulatory nurses are increasing their certification rates and we are actively working to have our nurses certified in ambulatory care nursing in addition to their specialty," said Woods.
UC Davis Health has found success in supporting the professional development of nurses by offering a variety of programs including tuition reimbursement and flexible work schedules.
The Staff Tuition for Education Program (STEP) provides reimbursement for educational expenses, including tuition and materials or books, of up to $4,000 per year ($16,000 maximum benefit) for nurses who wish to complete an accredited program of study (associate, bachelor's, master's or doctorate degree).
There are also a variety of fee reduction programs available to nursing staff. The UC Employee-Student Reduced Fee Program provides nurses attending one of the UC campuses a two-thirds reduction of registration and educational fees. Nurses enrolled in a qualified program would be eligible to use both the STEP benefit as well as the two-thirds reduction in educational fees.
The reduced-fee program also offers a 20% discount for UC Davis Open Campus Courses and 20%-50% discounts (up to $200 per course) for courses offered through UC Davis Continuing and Professional Education.
"Continuing professional development is central to the lifelong learning of nurses and constitutes a vital aspect for keeping knowledge and skills of our staff up to date," said Doroy. "The more involved with lifelong learning nurses are, the higher quality of care they are able to provide."
Nurses working in perioperative services have multiple opportunities for growth and development in exciting careers. UC Davis Health has over 500 nurses who comprise 51% of the perioperative staff. Perioperative services is comprised of multiple departments with nurses working in the following specialty areas: four operating room and PACU locations, endoscopy and interventional pulmonary services, pre-anesthesia clinic and perioperative business services.
"As nurses we are never alone in striving for excellence," said Wendy Wilson, executive director of perioperative services. "In perioperative services nurses work as part of interdisciplinary teams with colleagues that include surgeons, anesthesia providers, and multiple other professionals, some of whom include surgical technologists, perfusionists, anesthesia technologists, equipment specialists, and many other roles critical to the support of our patients."
For aspiring and current frontline administrative nurses who already have their BSN, UC Davis Health offers workshops for professional certification to acquire essential knowledge, skills and abilities for ongoing leadership and professional development.
ANCC Success Pays™ Program
Bridges to Excellence
"Nurses are the front line of patient care and an integral part of our health care system," declared Williams. "The better we prepare and support our nurses, the better we will be able to deliver our nursing mission of providing science-based and compassionately delivered care."