UC Davis Health finds success in retaining nurses
92% of nursing workforce stays working for health system, well above industry average
(SACRAMENTO)
While other health systems in the country face a shortage of nurses, UC Davis Health has maintained its nursing workforce at rates well above the industry average. Health system leaders attribute this success to a relationship-based culture, new graduate onboarding and diverse professional development opportunities.
As of June 2023, UC Davis Health had achieved a 92% nurse retention rate and a nurse turnover rate of just below 7%, That's well below the national average of 22.5% according to the 2023 NSI National Health Care Retention & RN Staffing Report.
"Nurses play a critical role in caring for patients and improving overall outcomes," said David Lubarsky, vice chancellor of human health sciences and CEO of UC Davis Health. "We know an experienced workforce is important for patient care quality, and unfortunately, nurse retention rates are low nationally. At UC Davis Health, we have a highly skilled group of long-tenured nurses providing world-class care to our patients every day, and our patients see the benefits. Last year, we were in the Top 5 in the nation for the overall best mortality rates – a prime indicator of how important provider longevity is to high-quality patient care outcomes."
Since 2014, UC Davis Medical Center has been designated as a Magnet® hospital three consecutive times, a distinction granted by the American Nurses Credentialing Center. This elite designation is the country's highest recognition for nursing excellence, going to fewer than 10% of the nation's hospitals. UC Davis was the sixth in the country to receive Magnet® designation.
As a Magnet® designated hospital, UC Davis Medical Center is committed to providing the highest quality of patient care through the advancement of nursing practice by providing nurses a healthy work environment, professional growth opportunities and a structured environment to succeed.
"Employee retention is important to workplace health in all fields, as it promotes the cohesion and cooperation of teams, increases efficiency and improves employee satisfaction," said Christine Williams, interim chief nursing and patient care services officer. "At UC Davis Health, our nursing leaders and administrators are consistently strategizing to support our dedicated team of nurses, who exemplify our nursing values of love, compassion, courage and integrity."
Relationship-based culture
Since 2010, UC Davis Health has embraced a Relationship-Based Care model in its mission to improve lives and transform health care. Relationship-Based Care focuses on three key relationships: relationship with self, with colleagues and with patients and families. It prioritizes caring for oneself as it is crucial and necessary to effectively care for others.
As part of the Relationship-Based Care model, UC Davis Health offers three relationship-based workshops:
Programs for new graduates
Studies have shown there is a high turnover risk for nurses in their first and second years professionally. One study found that 33% of new nurses leave their job within the first year and up to 56% leave within the second year.
To bring new nurses into the health system and ease them into their careers, UC Davis Health has created a structured one-year nurse residency program. It is accredited with distinction as a Practice Transition Program by the American Nurses Credentialing Center's Commission on Accreditation in Practice Transition Programs.
Since its inception in 2012, the nurse residency program has developed 46 cohorts of nurse residents, totaling 1,250 new graduate nurses while maintaining a first-year retention rate over 93.8% across the life of the program.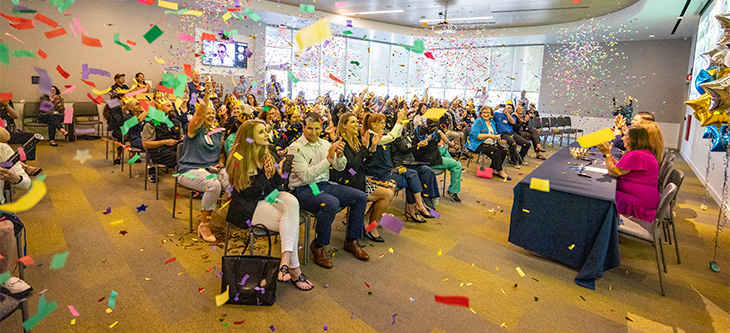 Professional development opportunities
As the region's only academic medical center, UC Davis Health is committed to the professional growth of its nursing workforce.
In 2011, UC Davis Health created a goal to increase the percentage of nurses holding a Bachelor of Science in Nursing (BSN) degree to at least 80% by 2020 in accordance with the recommendations of the Institute of Medicine and Robert Wood Johnson Foundation.
At that time, 63% of all registered nurses (RNs) at UC Davis Medical Center held a BSN or higher degree. By 2016, four years in advance of the 2020 goal, 82% of RNs at UC Davis Medical Center held a BSN or higher, surpassing the long-term target.
In June 2020, the medical center's goal increased to 90% or above. As of 2022, 91.9% of UC Davis Medical Center RNs hold a BSN or higher degree in nursing.
"Nurses are the frontline of patient care and an integral part of our health care system," Williams added. "The better we prepare and support our nurses, the better we will be able to deliver our nursing mission of providing science-based and compassionately delivered care."