Identical twin gives sibling another chance at life
Sibling was a "perfect match" to save the other, who had suffered from kidney failure
(SACRAMENTO)
Gina Tudela stood in the ICU watching her twin sister Victoria Sargee get intubated as she battled kidney failure.
"I saw how much she was struggling," Tudela remembered.
Just days before, Sargee began experiencing severe, sharp pain on her left side and back. When her discomfort continued to increase, she asked her husband to take her to the emergency room. Tests determined she had a kidney infection from a large stone blocking her left kidney, and worse – it had led to sepsis.
Sepsis is the body's extreme response to an infection. It happens when an infection you already have triggers a chain reaction throughout your body.
Sargee soon after went into septic shock. Both her kidneys began to fail, as they were not working efficiently enough to filter toxins and allow urine to flow.
"In that moment, I just wanted to find a way to help and give her a chance to live," Tudela said.
Determined to help her sister
Sargee spent over a month in the ICU. When she was discharged, doctors placed her on dialysis, an artificial procedure to remove waste products and excess fluid from the blood when the kidneys stop working properly.
"I was going to dialysis three times a week and each appointment took over four hours," Sargee said. "It felt like my entire life revolved around getting treatment."
Tudela saw the toll the procedures were taking on her sister. Living on the small island of Guam, the United States island territory in Micronesia in the western Pacific Ocean, the two saw each other frequently and spoke every day.
"I knew the only way to improve her quality of life was to give her one of my kidneys," Tudela said.
As Tudela looked into her options, a friend told her about a surgeon originally from Guam working at UC Davis Health that specialized in kidney transplants. She quickly began doing her own research and reached out to the UC Davis Transplant Center. She connected with Stephanie Baroni, a living donor transplant coordinator, to learn more.
"Stephanie walked me through every step of the process and was so thorough in her explanations," Tudela remembered. "With her help, I completed all of the tests to find out if I was a match for Victoria and luckily, I was."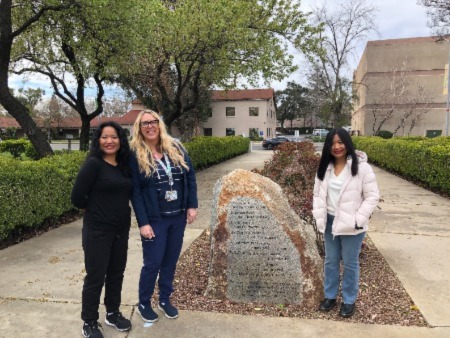 Like getting a kidney from herself
During Sargee and Tudela's first appointment at UC Davis Health, one of the first questions they were asked was – "Are you identical twins?"
"The truth was that we didn't know, our parents didn't even know," Sargee explained. "They told us they would run a test during the transplant operation to find out if we were."
With kidney transplants, identical twins give the rare opportunity for the recipient to live as if their new kidney is their own. During most transplants, the body's immune system recognizes the new organ as a foreign object and attacks it. Recipients are prescribed immunosuppressants that help prevent the immune system from damaging their new organ.
"Identical twins give the rare opportunity for the recipient to live as if their kidney is their own," Baroni explained. "Giving immunosuppressants for many years is associated with serious side effects, so if we can eliminate needing them, that's the best thing we can do."
During their kidney transplant procedure, tests confirmed Sargee and Tudela were identical twins. Because her sister was a "perfect match," Sargee has not needed immunosuppressant medication.
"It is an enormous relief to not need anti-rejection medications," Sargee said. "It gives me even more hope that I will be able to live a normal life now."
On the road to recovery
More than a month after their transplant, both Sargee and Tudela are recovering well.
"The surgery was seamless and quick," Tudela recalled. "The surgeons, nurses, nutritionists – everyone we worked with knew their role and consulted with us in their area of expertise. It was very much a team approach."
Both sisters have become much more health conscious. They walk with their husbands daily, are mindful of their diet and drink lots of water.
"We bring our water bottles with us wherever we go," Sargee joked.
But mostly Sargee and Tudela are grateful for the support they received to make the transplant possible.
"Helping someone improve their quality of life is a blessing," reflected Tudela. "Not many people are given this opportunity and I appreciate the entire UC Davis team for helping make this possible."