UC Davis Health employee offers free hair care for patients on his days off
UC Davis Medical Center employee uses his barber experience to bring hope and smiles to patients
(SACRAMENTO)
Aaron Brazier got the call no parent ever wants to receive.
Thanks to a resourceful social worker at UC Davis Health, a John Doe rushed by ambulance to UC Davis Medical Center was identified as Brazier's 20-year-old son, Jake. He had been severely injured in a train accident and lay in a coma.
"We jammed down there and my wife fell to her knees saying, 'that's him,'" Brazier recalled.
Brazier and his wife, Carin, would spend the next two months by their son's side. And Jake, an avid snowboarder and former captain of the Sacramento High School football team, would ultimately lose both legs and his left hand.
"A parent walks into a room and sees that boy, hurting the worst way," Brazier said. "But my son is alive because of his nurses. Man, they are my people for the rest of my life. And the doctors, I could start shouting all their names, but they know who they are."
After his son recovered in early 2019, Brazier wanted to give back to the hospital that saved Jake's life. He started volunteering for the medical center's transport team, bringing patients to different areas throughout the hospital. One month later, that turned into a job. And 10 months ago, he was hired as a member of the lift team. Lift team members are specially trained to lift patients to and from beds, chairs and examining tables safely, as well as turning them over to prevent bed sores.
"I watched lift team guys take care of my son. Then I learned a lot of those skills during Jake's recovery at home," Brazier said. "Now, I'm side-by-side with the nurses all night long adjusting patients, helping out wherever we can so they can be comfortable."
My son is alive because of his nurses. The nurses at UC Davis, in my opinion, are the best in the world.
Past profession translates into patient well-being
A few months ago, Brazier began helping in a new way — tapping into his former profession as a barber. On his days off, he now boosts the spirits of patients by providing free hair care. That's how he met June Cary in the Firefighter's Burn Institute Regional Burn Center at UC Davis.
"I've seen his recovery since the day he got here," he said.
Cary arrived in November 2022. More than 70% of his body had been burned in an electrical fire. Amazingly, he lives to talk about it.
"You wake up two months later and see you're in the burn unit," Cary explained. "Almost died. I woke up and looked at my mom, like, whoa, what are you doing here?"
Cary, who is from Oakland, lost both his legs and his right arm because of his injuries. He has no recollection of the accident.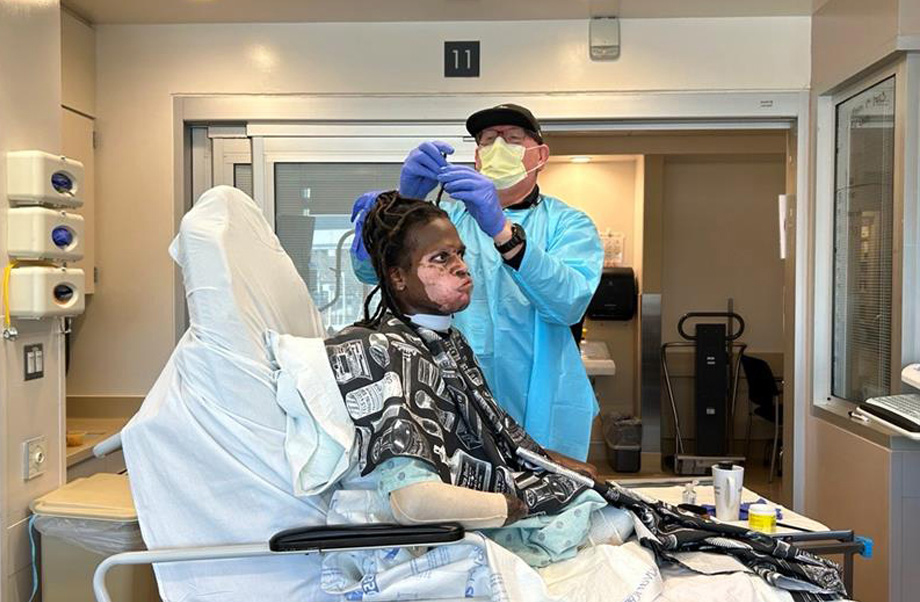 But, thanks to Brazier, whose son is also a triple amputee, Cary got professional assistance for his dreadlocks. During his more than 20 years as a barber in Sacramento, Brazier has served a diverse client population.
"I let him know I can do white hair and Black hair. And then I let him know about my son," Brazier said.
Dreadlocks are a hairstyle in which strands of hair are intentionally matted and left to grow into long, ropelike strands. During his 80 days in the hospital, much of that time in a coma, Cary's hair had grown nearly two inches. If dreadlocks go untended, the strands of hair can become tangled and matted to the point where they are difficult to comb or untangle, potentially leading to hygiene issues and discomfort.
Brazier said proper care for dreadlocks is more time consuming than for other types of hair.
"There's nothing easy about dreadlocks. What I'm doing is relocking the hair underneath and then reconnecting to the dreadlock," Brazier said as he pulled and twisted on Cary's hair for more than an hour.
Beyond injury with respect for shared humanity
But Cary doesn't let his situation get him down.
"I've got two missing legs," he said, "but there's always somebody out there doing worse. I can't look down and feel sorry for myself."
Cary is one of roughly 20 patients in the hospital who have benefitted from Brazier's encouraging words, expertise and generosity.
Some may see a hairstyle, but I see an act of caring for a fellow human being beyond their injuries or illness and a beautiful gesture of respect for our shared humanity.
"We are so fortunate to have Mr. Brazier on our team. He is a role model for us all," said Jennifer Baron, UC Davis Health's chief experience officer. "When someone finds themselves in our care, they do not stop being a person. Mr. Brazier's service exemplifies the impact we all can have when we extend beyond our roles and allow kindness to lead the way. Some may see a hairstyle, but I see an act of caring for a fellow human being beyond their injuries or illness and a beautiful gesture of respect for our shared humanity."
Brazier likes to talk to Cary about his son, a young man who defies his disability. He's back in college, relearning how to play the bass guitar and teaching amputees how to snowboard.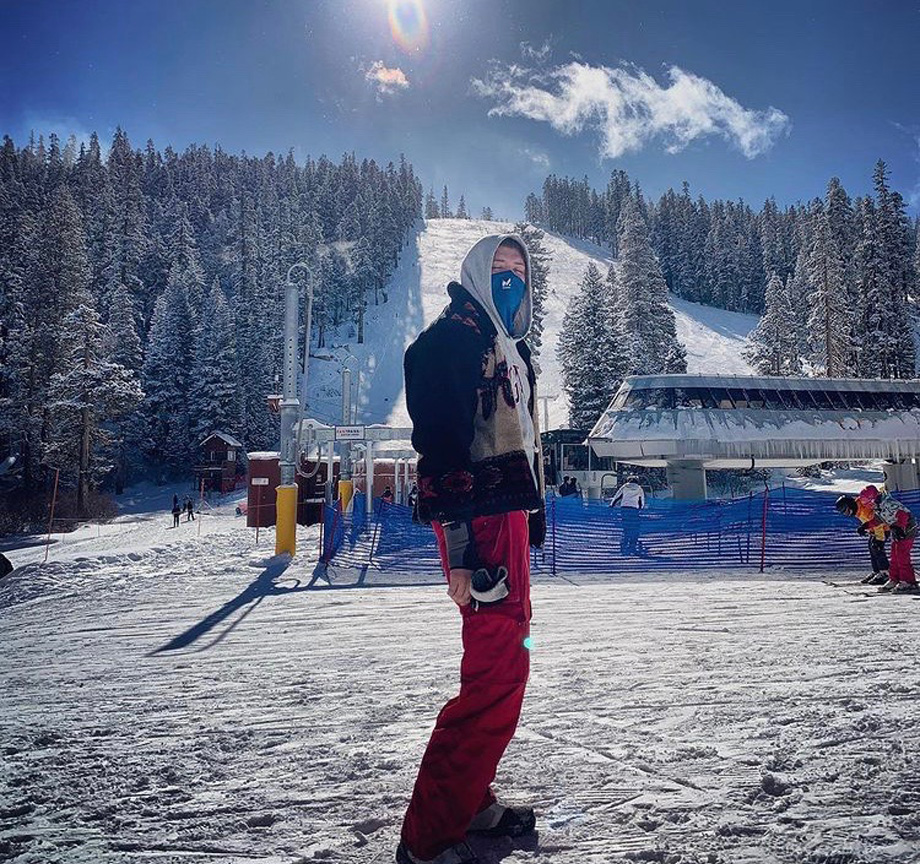 "Jake is still figuring his path out, but he wants to use his life to help other people," Brazier said. "I make sure that I give hope to every patient and family."
As he brings hope to patients, Brazier honors UC Davis Health nurses.
"The nurses at UC Davis, in my opinion, are the best in the world."