Coronavirus
September 18, 2023
Updated: September 25, 2023
Free at-home COVID tests are back. How to get yours
An expert explains why you are probably better off using a new test than an expired test
(SACRAMENTO)
Starting today (Sept. 25, 2023), people in the U.S. can order up to four free COVID tests for their households from COVIDTests.gov. The tests are delivered by the U.S. Postal Service.
The relaunch of the at-home testing program comes amid an increase in COVID hospitalizations. According to the Centers for Disease Control and Prevention (CDC), COVID hospitalizations surpassed 20,000 the week of Sept. 3 through Sept. 9, with a 7.7% increase in hospitalizations in recent weeks.
If you are like many people in the U.S., you probably have a stash of old COVID-19 home tests and might not feel like you need to order new tests.
But Nam Tran, a professor and senior director of clinical pathology at UC Davis Health, explained that before using an old test, you first need to check the expiration date.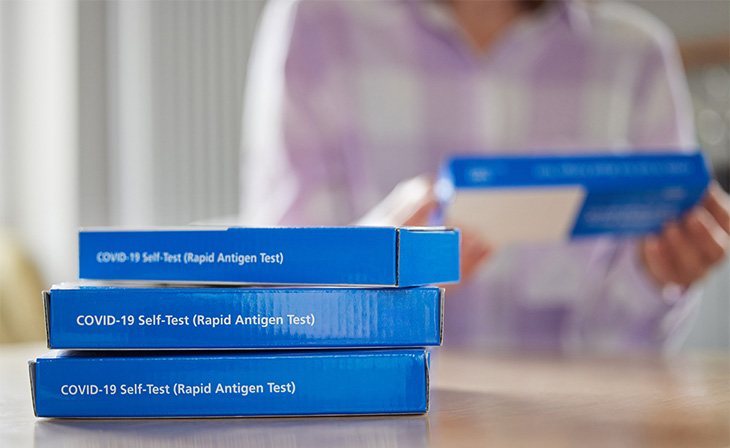 He compared it to checking the expiration date on your milk. "Would you drink milk that expired months ago?"
Probably not. And although the home test kits don't spoil the same way milk does, the chemicals, components and packaging can "degrade."
Which is why Tran says you are probably better off using a new test.
Tran explained that most home COVID-19 test kits are antigen-based lateral flow assays. "These often use antibodies produced by the manufacturer to capture proteins of interest, such as SARS-CoV-2 proteins, to detect the virus," Tran said.
The kits also come with a liquid solution that can break the virus apart. "For some tests, this helps kill the virus and releases viral proteins that are essential for detection. This solution also helps move the protein along the test strip to enable the tests to detect the unique antibodies," Tran said.
He explained that if even one of these components is compromised as the kit ages, the test could produce unreliable results.
"Chemicals can go bad. The antibodies used to detect the virus can degrade due to time, heat and air exposure. Even humidity getting into the test kit can impact the paper strip, among other issues," Tran said.
Chemicals can go bad. The antibodies used to detect the virus can degrade due to time, heat and air exposure. Even humidity getting into the test kit can impact the paper strip, among other issues."
Old COVID-19 tests can give false results
This is why Tran strongly advises people not to use expired tests.
"The risk is that you get a false negative and then spread the disease. Alternately, a false positive may prevent you from going to work or other functions," Tran said.
The good news is that when used correctly, non-expired tests are very reliable. And self-tests still work for the new variants.
"Based on current data, new SARS-CoV-2 variants like Eris (EG.5), Pirola (B.2.86) or Fornax (FL.1.5.1) are reliably detected with home tests. Antigen tests specifically target the parts of the virus that are not likely to change," Tran explained.
But you should not rely on performing just a single test.
"In some cases, you may want to test more than once — especially if you are asymptomatic or test early following an exposure event. The Food and Drug Administration (FDA) requires many antigen tests to have labeling advising users to test at least twice over two days," Tran said.
FDA extends expiration dates for many tests
But before you chuck all your old tests, you might want to check the Extended Expiration Dates table on the Food and Drug Administration's website to see if your tests have been given a reprieve.
"With expiration date extensions, the manufacturer has proven their test is good beyond the original expiration date. So, the extensions are not arbitrary," Tran said.
Many brands have received extended expiration dates. To check, you will need to know the lot number of your test and the printed expiration date. The extended dates are usually only for a few months and are specific to each brand.
For example, the BinaxNOW COVID-19 Antigen Self Test with a printed expiration date of 2023-05-08 received a 7-month extension from the FDA and is now considered good until 2023-12-08.
But an iHealth COVID-19 Antigen Rapid Test with the same printed expiration date of 2023-05-08 only received a three-month extension (2023-08-08), so it's still expired.
For peace of mind, Tran said it may be easier — and more reliable—to simply get new tests.
"There's a saying in laboratory medicine, 'No test is better than an inaccurate test.' Essentially, if you get a false answer, you may be worse off than if you didn't test at all," Tran said.
This is why he personally will not use an expired test. He noted, though, that home tests are not inexpensive and may only be available to some.
"If you are symptomatic for COVID but don't have a test, it's better to err on the side of safety and mask up and isolate, if possible. That way, you can avoid spreading whatever respiratory illness you may have — whether it's COVID-19 or not," Tran said.
Order up to four free COVID tests from COVIDTests.gov.
Resources