Neurological surgery researcher Sergey Stavisky and team awarded $3.5 million in grants
Funding will support transformational brain research that seeks to restore speech of people with ALS
(SACRAMENTO)
UC Davis Health neuroscientist and neuroengineer Sergey Stavisky has received two prestigious awards totaling $3.5 million. The grants will fund research that seeks to restore the speech of stroke survivors and people with ALS, commonly known as Lou Gehrig's disease.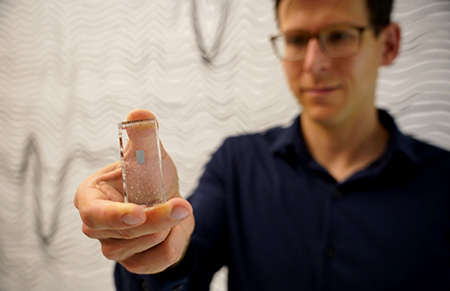 The first award, which he learned about in February, is for $2.7 million from the U.S. Department of Defense's Congressionally Directed Medical Research Program on Amyotrophic Lateral Sclerosis (ALS).
Then, last week, Stavisky became a recipient of the inaugural Pershing Square Foundation MIND Prize (Maximizing Innovation in Neuroscience Discovery) — a $750,000 award. The three-year grant will fund Stavisky's groundbreaking work in developing new devices that can shed light on the workings of the human brain.
"I'm really enthusiastic about the opportunities that these two awards provide our research team," said Stavisky, assistant professor in the Department of Neurological Surgery.
"The Department of Defense grant allows us to put into practice the new techniques we've been developing for decoding what a person is trying to say directly from their brain activity, even if they're paralyzed. Meanwhile, the MIND Prize will help us develop the next generation of tools for understanding – and someday restoring – more complex cognitive functions that are lost due to neurodegenerative diseases." Stavisky is co-director of the UC Davis Neuroprosthetics Lab with Assistant Professor David Brandman. Their research team uses engineering principles to implant electronic medical devices in the brain, which they hope will one day allow people to heal from currently incurable nervous system injuries and diseases. One of the team's major goals is to restore speech for people who suffer from ALS and strokes. The technology Stavisky's team works with, known as brain computer interface, seeks to produce a person's speech directly from their thoughts when they try to speak.
The new, grant-supported research will build on Stavisky's prior work on decoding neural activity and collaboration on related clinical trials on restoring movement and communication.
The UC Davis Neuroprosthetics lab works in collaboration with Massachusetts General Hospital and Brown University.
The Department of Defense grant is funding a clinical trial, to investigate the safety and capacity of Brain Computer Interface in individuals with ALS who have lost or are losing their ability to speak. The research will be conducted with colleagues in the BrainGate research consortium.
ALS is a rare neurological disorder that affects the nerve cells in the brain and spinal cord that control voluntary muscle movement. As the disease progresses, people with ALS lose the ability to stand, walk and speak.
The prospect of being "locked in" and unable to communicate easily with others, Stavisky said, can be an overwhelming and isolating experience. The success of his team's project could lead to medical devices that allow people to speak again.
I'm really enthusiastic about the opportunities that these two awards provide our research team."
Additional funding for brain research
Much of Stavisky's ongoing work has focused on using a type of electrode device called a Utah Array, which is a very tiny, square set of prongs that records the activity of around 100 brain cells simultaneously.
Stavisky's work is inspired by the recently developed Neuropixels probe, which allows the recording of hundreds of neurons from a single sensor. He hopes the new funding will allow him to develop better tools capable of recording potentially thousands of neurons in people with neurodegenerative diseases and brain injuries. Preliminary research has already shown that Neuropixels probes can be used in humans in a limited set of situations during brain surgeries.
Stavisky will use the MIND Prize funding to develop new devices — using technology like Neuropixels – designed specifically for use in human medical research. Neuroelectronic medicine (the measurement and application of electrical currents in the brain) has already achieved remarkable results, but current recording technology is limited.
Stavisky and his neuroprosthetics colleagues at UC Davis and around the world hope the resulting technology will offer unprecedented insights into the activity of the human brain, potentially transforming how brain health is treated.
CAUTION: Investigational Device. Limited by federal law to investigational use.