UC Davis program inspires area students for future in nursing
Summer institute shows diverse and underrepresented students pathways to health care
(SACRAMENTO)
Students across the Sacramento area head back to school in the coming weeks. Forty-seven of those who attend high school or community college arrive with a new focus for the year ahead.
That's because they attended the Summer Health Institute for Nursing Exploration and Success (SHINES) at the Betty Irene Moore School of Nursing at UC Davis.
For two weeks in July, these rising high school juniors, seniors and first-year college students participated in several learning experiences. They did simulations on high-tech mannikins — life-size models of the human body. They even used an ophthalmoscope, a device to see the inside of a human eye, to see what diabetes can do to your vision. They also got a hands-on lesson in CPR.
Classroom sessions focused on polishing up their resumes and interview skills. They even had professional photos taken to use in their newly created LinkedIn profiles. Each interaction was aimed at developing their skills today and preparing for a health professions career in the future.
"They come here and they learn about the role of nurses and the many different things that nurses do," explained Piri Ackerman-Barger, the School of Nursing's associate dean for health equity, diversity and inclusion. "They also learn basic things about how to get into college and maybe even how to land their first job or to land the job that they would really like to do over time."
From how to build a strong resume and ways to best present during an interview, SHINES participants discover the skills and confidence they need to be successful.
"I knew I did want to go into health care and, you know, helping my community. But I wasn't sure if nursing was the right fit for me or what specific pathways I could take into nursing," said Jairi Anaya, a senior at Christian Brothers High School. "But now that I've heard more about what being a nurse is and the different areas that you can go into, I have a clear sense of mind of where I want to go into."
Seeing what is possible
Instructors also provided historical context about the distrust many people from marginalized communities have toward health care and how these students can change that narrative in the future.
When people have different backgrounds, it creates an environment where there's less bias and more cultural humility. That's one of the reasons that we're bringing in so many diverse students to the program.
Program creator Ackerman-Barger says these students come from underrepresented backgrounds where they may not have seen nurses or health professionals that look like them.
"When people have different backgrounds, it creates an environment where there's less bias and more cultural humility. That helps particularly families and communities that have been historically marginalized by society or the health care system feel more trust in the system," Ackerman-Barger said. "That's one of the reasons that we're bringing in so many diverse students to the program."
It's not just diverse students. Diverse School of Nursing alumni and UC Davis Health nurses volunteer their time to mentor these future health professionals. Aron King is an assistant nurse manager at UC Davis Medical Center and a current Doctor of Philosophy (Ph.D.) student at the school. He led a session on preparing for an interview and a series of speed mentoring chats.
"The exposure I had to health professionals as a student is the reason I became a registered nurse. I understand the value of pathway programs," King said. "I don't see it as volunteer work. Although as a racial and gender minority in nursing I feel like it's my duty, I believe it is the responsibility of everyone in health care that seeks better outcomes for the communities they serve."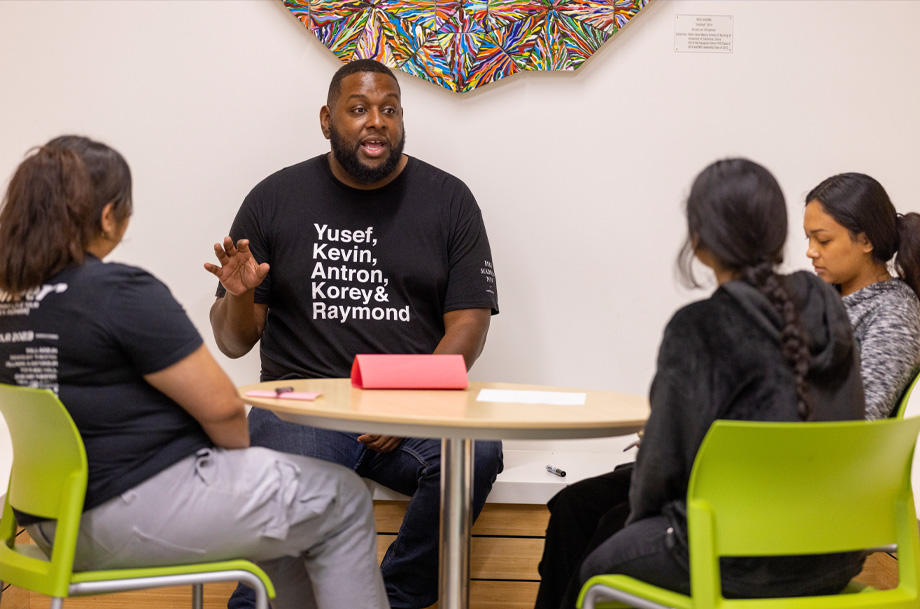 For Sacramento Charter High School senior Liliyana Cortez, learning from so many people of color made an impact.
"I don't really see a lot of Black people in the nursing field and the fact that they let me have this opportunity is truly honorable," she said.
"Navigating higher education is very difficult and without a person that you've known, who has gone through higher ed or somebody to support you through that process, it can be very difficult," said Fernandez, SHINES assistant director and second-year nursing Ph.D. student. "They're seeing and meeting people who are not only diverse but have actually done it and can talk about their pathway there."
Leaving with a plan
Fernandez admits that it is hard for high school students in particular to understand that the choices they make now will affect them long term. In sessions with representatives from area community colleges and nursing programs, presenters gave participants a road map for how to start preparing for a nursing career.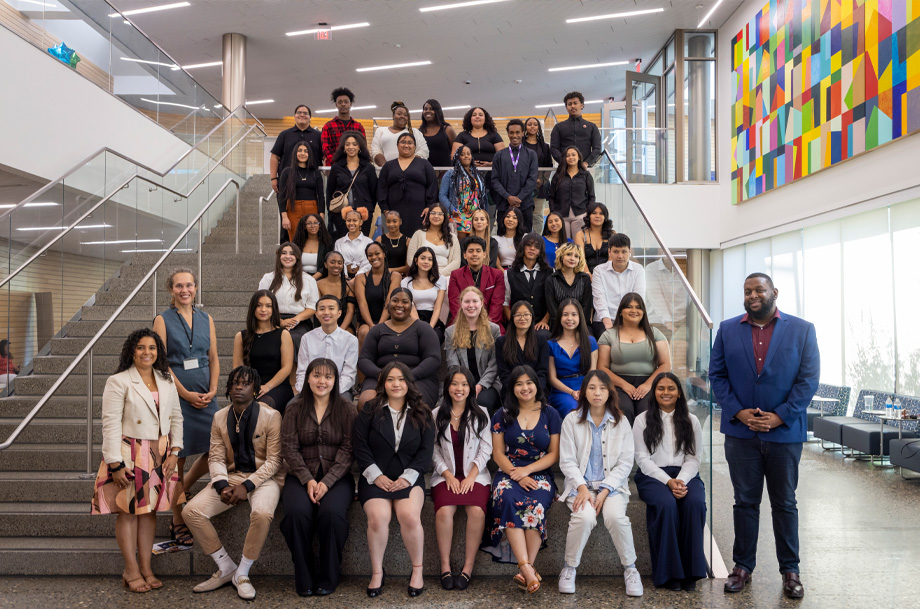 "I feel like those skills that I've learned here, I can also apply into my fall semester when I'm applying to colleges. Those are skills that I'll take with me," Anaya said.
"What I can bring to the nursing profession is honestly more diversity. I think I'm just gonna be more driven because now I know what I want and they really helped me get insight on what I wanted to do," added Bryson Chau, a recent graduate of Luther Burbank High School. "But the coolest part of what I've done is honestly making connections with other people."
Those connections will continue. School of Nursing alumni plan to hold quarterly mentoring sessions for all SHINES participants going forward. So, the new ways to find their pathways into the profession will continue long past the two weeks they spent at Betty Irene Moore Hall this summer.