One kidney donor responsible for four transplant candidates receiving a new organ
Donors and recipients in eight-way kidney transplant meet for first time
(SACRAMENTO)
As we mark National Donate Life Month this April, UC Davis Transplant Center held a celebration and first-time meeting for donors and recipients who participated in an eight-way 'chain' kidney transplant at UC Davis Medical Center.
When a living donor is unable to donate to an intended recipient due to blood or tissue type incompatibility, they have an option called paired kidney exchange. Paired exchange matches incompatible donor-recipient pairs with other pairs, and they exchange donors. It is estimated that 25% of donors in the United States do not know their recipient.
"It's days like today where I feel we have the best job in the world because we get to see the miracle of transplantation," said Richard V. Perez, chief of transplant surgery. "The sacrifice of donating an organ so another person can live is something we need to celebrate and honor."
The process of coordinating their exchanges involved numerous health care professionals, including surgeons, nephrologists, anesthesiologists, operating room staff, nurses and a strong network of administrative support personnel.
The reunion provided donors, recipients, friends, family members and the Transplant Center team with the opportunity to meet and share their stories, their experiences and, most importantly, their gratitude.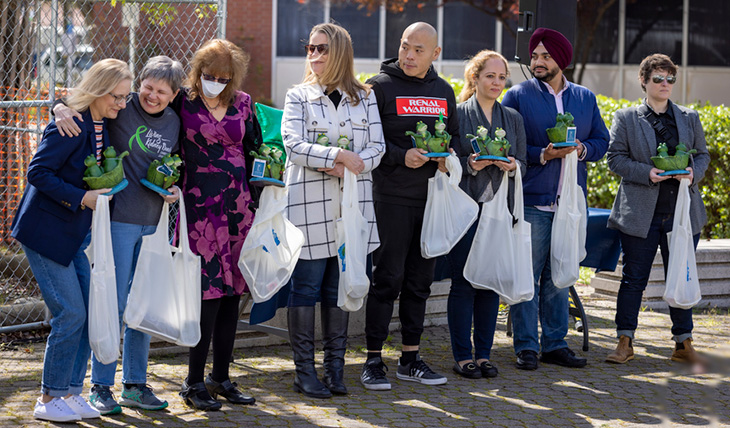 Donor Keli Kristine Gwyn and recipient Debbie Joyce; donor Brooke Anderson and recipient Lori Yonkovich; donor Karan Deep Singh Virk and recipient Guneet Kaur; and donor Amy Hewitt and recipient Wilson Du all attended with friends and family members.
Gwyn was the altruistic donor who chose to participate in the kidney exchange program, which resulted in not one transplant candidate receiving a new organ, but four. As a donor with blood type O, she is what's called a universal donor because she can donate blood to any person regardless of blood type. Instead of donating her kidney directly to Joyce, she decided to help multiple recipients.
"It was a small sacrifice on my part – if I had a second kidney to donate, I would because the need is so great," said Gwyn. "For the rest of my life, I am going to let everyone know they can share their spare."
According to Health Resources & Services Administration, more than 20,000 Californians are waiting for an organ transplant. Nationwide, over 104,000 people are currently on the waiting list for a lifesaving organ transplant. Every day in the United States, 17 people die while awaiting a new organ.
To learn more about kidney transplants or how to become a donor, visit the Sierra Donor Services or UC Davis Transplant Center websites.