Rep. Doris Matsui praises UC Davis Health for digital access to care
UC Davis Health, community partners tap federal funds to help underserved patients connect with providers
(SACRAMENTO)
Rep. Doris Matsui on Friday visited a UC Davis Health COVID-19 community testing site where uninsured patients with a positive diagnosis can get immediate access to a medical provider on a telehealth tablet.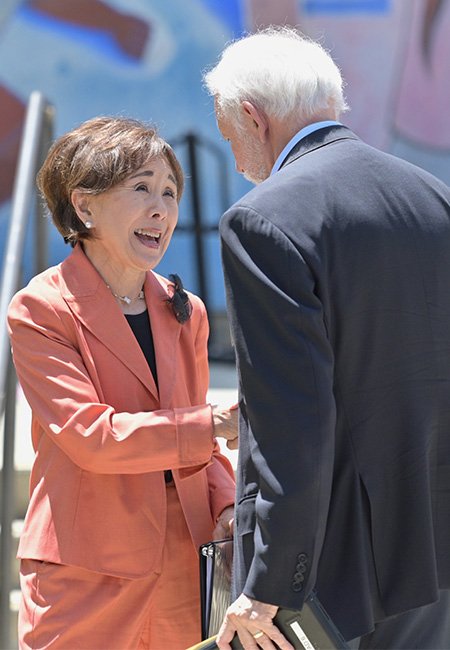 The Digital Health Equity Program is the result of $1.7 million in federal funding that Matsui helped secure for UC Davis Health's Digital Health Program, which seeks to improve access and continuity of care for vulnerable populations in and around Sacramento.
The series of pop-up tents outside WellSpace Health that resembled a health fair on Friday afternoon is one of dozens of "test to treat" sites hosted by the UC Davis Center for Reducing Health Disparities (CRHD). The center chooses locations convenient to where vulnerable populations, including farmworkers, live, work, and congregate.
"I want to thank the entire UC Davis Health team for keeping our community healthy, but also for the important work you do to innovate and expand access to all corners of our community," Matsui said. "And I want to thank our wonderful partners, WellSpace Health and Ampla… you are really doing things that are so incredible."
Federal funding benefits uninsured patients
The legislative funding Rep. Matsui championed, through the passage of H.R. 2471 last year, created a regional digital public health platform to provide direct telehealth care to patients at the testing sites who want to meet with a medical provider. The free COVID-19 testing, which has been ongoing since December 2021 under a program called MOVE IT UP, is supported by a $5 million state grant to the CRHD. Both projects have been integrated into what's called the Test-to-Treat Digital Health Equity project, or T2T DHE.
I want to thank the entire UC Davis Health team for keeping our community healthy, but also for the important work you do to innovate and expand access to all corners of our community."
"As someone who spearheads telehealth and health equity policy in Congress," Matsui said, "I'm proud that the Sacramento region continues to lead the way and push us forward with innovative new programs. That is why I fought hard to secure federal funding and support UC Davis Health's mission to empower underserved communities."
The federal money has funded four digital health navigator positions who assist patients at test-to-treat settings, which are becoming more popular across the country. It also has funded the expansion of UC Davis Health's IT digital health network. This allows the health system to collaborate with community health organizations including Federally Qualified Health Centers (FQHC) such as WellSpace Health in the Sacramento area, and Ampla Health in Butte, Colusa, Glenn, Sutter, Tehama and Yuba counties.
The UC Davis T2T DHE Program works like this: When someone tests positive for COVID-19, the digital health navigators help the patient move to a private area and use tablets to connect them with an FQHC primary care provider for a video consult at the point of care. The provider can then prescribe medication for the patient.
"UC Davis Health continues to build on its long history as the statewide leader in telemedicine and digital health through programs like this that connect underserved populations with our world-class care," said Sergio Aguilar-Gaxiola, the founding director of the UC Davis Center for Reducing Health Disparities. "The social determinants of health greatly impact health equity, accounting for between 30% to 55% of health outcomes. As we expand our telehealth services by bringing them where people are, we're putting all patients at the center of everything we do on these innovative fronts – no matter their circumstances."
Parterships enable digital health equity program
The T2T DHE Program wouldn't be possible without UC Davis Health's close partnerships with FQHCs, where thousands of Medi-Cal beneficiaries receive high-quality health care, such as Ampla Health and WellSpace Health.
"The partnership between Ampla Health and UC Davis exemplifies how collaboration can bridge the gap in patient care for those in hard-to serve urban and rural farmworker communities facing significant challenges to seeking COVID-19 testing and treatment through the T2T DHE mobile clinics," said Ben Flores, president and CEO of Ampla Health. "By harnessing the potential of telehealth, we have improved care coordination and access to health and non-health related services. Together we have reformed health care delivery, bringing quality and compassionate care directly to patients who struggle with access in underserved communities."
The T2T DHE Program is also the latest of several collaborations between UC Davis Health and WellSpace Health, including a partnership that increases patient access to high-need specialty care.
"WellSpace Health is dedicated to achieving regional health, which means we need to bring care to where a person is, rather than asking them to come to us," said Jonathan Porteus, CEO of WellSpace Health. "The T2T DHE Program does just that by bringing virtual care and in-person care together, in underserved communities, serving vulnerable people. It's a win-win-win model of care."
Joseph Galante, the UC Davis Health incoming interim medical director, praised the partnerships with WellSpace and Ampla, saying the collaboration provides much-needed access to care.
"This is a great day for patients, for our regional community and for our hard-working providers and staff," Galante said.