William J. Murphy, Ph.D.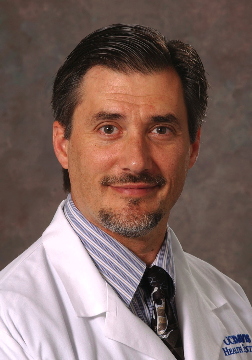 Dr. Murphy spent his postdoctoral years and early career at the National Cancer Institute (NCI) in Frederick, Maryland. After 12 years, and becoming Director of Basic Research at NCI-Frederick in Maryland, he joined the faculty at the University of Nevada, Reno (UNR). Dr. Murphy later became the Chair of Microbiology and Immunology at UNR, School of Medicine. In 2008, Dr. Murphy moved his laboratory to UC Davis, accepting a position as Professor and Vice Chair of Research in the Department of Dermatology and Internal Medicine, Division of Hematology Oncology.

Dr. Murphy's laboratory studies various aspects within cancer immunology and immunotherapy for melanoma. Current projects within the lab are exploring how to increase the success of these engraftments as well as to make them safer for patients by decreasing the period in which the patient is immune-compromised. Another focus within Dr. Murphy's laboratory is studying how the immune system becomes activated after the systemic administration of immunotherapies. His laboratory has several NIH R01 grants and is also funded by CIRM looking at stem cell engraftment.
Dr. Murphy has over 200 publications in cancer immunology over his 25 year career and is active on multiple NIH Study Sections.
Title:
Professor and Vice Chair
Department of Dermatology
Professor
Department of Internal Medicine
Division of Hematology/Oncology
Undergraduate Education: Rutgers University, New Brunswick, New Jersey, BS 1984
Graduate Education: University of Texas, Southwestern Medical School, Dallas, Texas, PhD 1989
Selected Recent Peer-reviewed Publications
Alderson KL, Murphy WJ. 2009. Effects of cancer immunotherapy regimens on primary vs. secondary immune responses and the potential impact on long-term antitumor responses. Adv Exp Med Biol: Crossroads Between Innate and Adaptive Immunity II, ed. 633: 81-89.
Ames E, Hallett WD, Murphy WJ. 2009. Sensitization of human breast cancer cells to natural killer cell-mediated cytotoxicity by proteasome inhibition. Clin Exper Immunol 155: 504-13.
O'Shaughnessy MJ, Vogtenhuber C, Sun K, Sitcheran R, Baldwin AS, Murphy WJ., Dang L, Jaffee B, Palmer E, Serody JS, Blazar BR. 2009. Ex vivo inhibition of NK-kappaB signaling in alloreactive T-cells prevents graft-versus-host disease. Am J Transplant 9: 452-62.
Taylor PA, Ehrhardt MJ, Lees CJ, Panoskaltsis-Mortari A, Krieg AM, Sharpe AH, Murphy WJ., Serody JS, Hemmi H, Akira S, Levy RB, Blazar BR. 2008. TLR agonists regulate alloresponses and uncover a critical role for donor APCs in allogeneic bone marrow rejection. Blood 112:3508-16.
Sun K, Li M, Sayers TJ, Welniak LA, Murphy WJ.. 2008. Differential effects of donor T cell cytokines on outcome with continuous bortezomib administration following allogeneic bone marrow transplantation. Blood 112: 1522-9.
Shanker A, Brooks AD, Tristan CA, Wine JW, Elliott PJ, Yagita H, Takeda K, Smyth MJ, Murphy WJ, Sayers TJ. 2008. Treating metastatic solid tumors with bortezomib and a tumor necrosis factor-related apoptosis-inducing ligand receptor agonist antibody. J Natl Cancer Inst 100: 649-62.
Redelman D, Welniak LA, Taub D, Murphy WJ. 2008. Neuroendocrine hormones such as growth hormone and prolactin are integral members of the immunological cytokine network. Cell Immunol 252: 111-21.
Puliaev R, Puliaeva I, Welniak LA, Ryan AE, Haas M, Murphy WJ, Via CS. 2008. CTL-Promoting Effects of CD40 Stimulation Outweigh B Cell-Stimulatory Effects Resulting in B Cell Elimination and Disease Improvement in a Murine Model of Lupus. J Immunol 181: 47-61.
Murphy WJ. 2008. Raising the specta of T-cell profiling. Blood 112: 3008-9.
Motarjemi M, Hallett WHD, Li M, Murphy WJ. 2008. Proteasome Inhibition: Potential for Sensitization of Immune Effector Mechanisms in Cancer. In Sensitization of Cancer Cells for Chemo/immuno/Radio-therapy., ed. B Bonavida, pp. 51-60. Totowa, NJ: Humana Press