Endocrine surgeon brings new expertise to UC Davis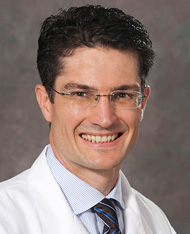 Michael Campbell recently joined UC Davis Health System as its first fellowship-trained endocrine surgeon. Campbell specializes in the evaluation and management of patients with thyroid, parathyroid, adrenal and pancreas disorders.
"Adding Dr. Campbell to our team fits with our goal of providing first-rate specialty surgery care," said Diana Farmer, chair of the UC Davis Department of Surgery. "He will be an excellent resource for patients who otherwise would have to travel out of the area for an expert of his caliber."
Campbell comes to UC Davis following his fellowship training at UC San Francisco Helen Diller Family Comprehensive Cancer Center and residency training at Virginia Mason Medical Center in Seattle. He chose to specialize in endocrine surgery because of the mix of intricate decision making and the challenging operations it involves.
"Diseases of the hormone-producing glands range from subtle to serious and the workup and treatment options are extremely complex," he said.
Campbell recalls a patient, for instance, who came to him with a large goiter — an enlarged thyroid gland — that interfered with his breathing, swallowing and sleeping and made it hard for him to do his job. Several surgeons told the patient that removing it would require open-chest surgery and a long, difficult recovery. But with his training and experience, Campbell was able to perform the operation through a relatively small neck incision. The patient went home the next day, symptom free.
"He was so happy to find a surgeon who could help," said Campbell. "That kind of gratitude truly makes my job worthwhile."
In addition to goiters, Campbell specializes in the evaluation and management of thyroid nodules, thyroid cancer, Graves' disease, hyperparathyroidism, adrenal tumors (such as adrenal cortical cancer, pheochromocytomas, aldosteronomas and Cushing's syndrome) and endocrine tumors of the pancreas. He is an expert in minimally invasive parathyroid and thyroid surgery as well as complex laparoscopic adrenal surgery. He currently sees patients at the Comprehensive Cancer Center and the Cypress Building on the Sacramento campus of UC Davis, and at the UC Davis Medical Group site in Elk Grove.
For referral information, call 1-800-2UCDAVIS (1-800-282-3284) or visit the Department of Surgery website.