Thoracic Aortic Aneurysms
Chronic Aneurysmal Lesions
Ascending aorta
Most ascending aortic aneurysms result from connective tissue deficiencies that cause aneurysmal dilatation of the ascending aorta, with or without the phenotypical manifestations of Marfan's disease. The normal adult aortic "mean" diameter is 22 mm and is considered aneurysmal at >40 mm. At 50-60 mm, the risk of spontaneous rupture or dissection exceeds the risk of surgical intervention (figure 1), i.e., the risk of surgery = 2-5 percent; risk of rupture over a three-year 45 mm diameter is considered an indication for intervention. Surgery is required for most ascending aortic pathologies, although stent therapies will likely evolve for most ascending aortic pathologies, although stent therapies will likely evolve to include the ascending aorta.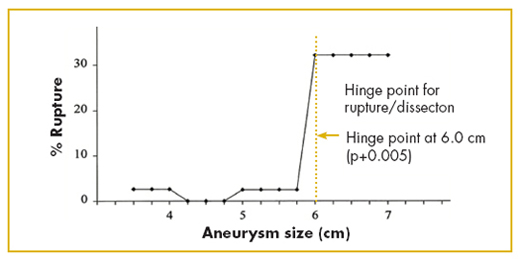 Figure 1. Size indication for intervention for ascending aortic aneurysms. Intervention should occur before aneurysms reach 6.0 cm diameter. (Source J. Thorac Cardiovasc Surg, 113:476-491)
Many patients can now undergo replacement of the ascending aorta, including the aortic root and sinuses, with preservation of their native aortic valve, thus avoiding complications associated with aortic valve replacement (tissue failure for bioprostheses and/or the need for lifelong anticoagulation therapy with mechanical valves, see figures 2a-b).
Although aortic arch replacement historically has been associated with a high risk for mortality and stroke, in recent years outcomes have dramatically improved, thanks to new techniques of cerebral perfusion and brachiocephalic vessel grafting. Previously, arch replacement required prolonged periods of circulatory arrest (with risk for cerebral ischemia) and en bloc reimplantation of the brachiocephalic vessels with resultant retention of residual aneurysmal tissues. Current techniques have evolved to include selective cerebral perfusion via the axillary artery, avoiding circulatory arrest, with complete excision of all aneurysmal tissue with debranching and reimplantation of the brachiocephalic vessels. This can be done in conjunction with either ascending aortic replacement or descending aortic stent grafting (figures 3a-c).
Descending thoracic aorta
The size indication for intervention on the descending thoracic aorta is 7 cm. diameter. Symptomatic aneurysms require urgent therapy regardless of size. Descending thoracic aortic pathology is typically atherosclerotic. These patients often have associated peripheral vascular disease as well as renal and pulmonary dysfunction and are increasingly being managed with stent grafts. We have also been successfully utilizing stent graft repairs for definitive therapy in patients suffering from traumatic tears of the descending aorta; stenting often greatly simplifies the management of patients with multiple traumatic injuries.
Acute Aortic Lesions
Acute dissection, intramural hematoma and symptomatic penetrating aortic ulcers are medical emergencies. Ascending dissection is a surgical emergency requiring cardiopulmonary bypass support for repair. Descending dissection, intramural hematoma and symptomatic penetrating aortic ulcers may require surgical, endovascular stenting or medical therapy depending on size, location or associated symptoms. All of these lesions are best managed emergently by an experienced aortic surgical team including cardiothoracic surgeons, cardiologists, vascular surgeons, and radiologists capable of complex endovascular and surgical therapies (figures 4a-c).
Lifelong Surveillance
Patients with aortic pathology require lifelong surveillance, regardless of initial therapy, since 10-20 percent develop additional aneurysmal disease that will require medical, catheter-based or surgical therapy. This follow-up typically involves CT scans at yearly intervals, as well as aggressive management of all cardiovascular risk factors. Family member screening may be appropriate for patients with aneurysms secondary to connective tissue disorders.