Educational experiences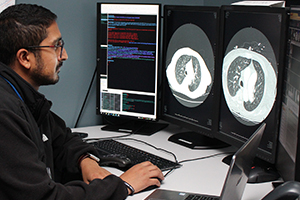 Distinguished faculty provide exceptional teaching in all fields of diagnostic radiology, both in mid-day lectures and at the reading station. Multiple interdisciplinary conferences, held in various subspecialties, offer additional learning opportunities about the clinical and human impact of medical imaging.
Midday conferences
The program is proud of a balanced, comprehensive and well-conceived educational curriculum offered to our residents. There are 2 daily conferences of 45 minutes each from Monday to Thursday and a 1-hour conference on Friday. The conferences are given by our dedicated faculty, many of whom are national leaders in their specialties. The conferences are a combination of didactic, case review and blended-learning sessions and are designed to prepare the residents for independent clinical practice and to pass the American Board of Radiology's Core examination. All Core exam categories are covered in the educational program. Noninterpretative skill sections such as contrast safety, radiation safety, economics, informatics and professionalism are also covered. A month-long emergency radiology curriculum takes place in July. Radiologic physics is taught in a 7-week long course in spring each year given by our world-renowned physics faculty. A dedicated ER lecture series is held for all residents and takes place in the summer to prepare residents for taking ER call. Topics focus on emergencies and trauma.
Additional conferences for first year radiology residents
We have an additional series of weekly conferences called "Brant and Helms Club" for our first-year residents to help build a strong foundation in radiology. This series begins after the first month and occurs approximately once a week for the rest of the academic year.
Teaching opportunities
Each senior delivers two didactic lectures to their fellow residents in their PGY-5 year. Resident-led journal clubs and M&M conferences are additional opportunities. Senior residents are also formally involved in teaching medical students.
Grand Rounds
Our premier CME grand rounds series (8 per year) is designed to address topics of wide and current interest pertinent to Radiology. The series features prominent speakers from institutions across the country with topics ranging from latest developments in basic research, clinical interpretation, education, diversity, wellness and sustainability.
Board review
Residents have dedicated board review starting approximately 3 months before the CORE exam, with the schedule arranged by the Education Chief resident. The reviews usually entail 3-4 hours of hot seat case conference given by attendings from all sections in the afternoons.
Other learning opportunities
Residents also receive generous funding to attend off-site courses on physics and radiology-pathology correlation at the American Institute of Radiologic Pathology (AIRP) in Washington, D.C. In addition, we enroll PGY 4 residents in a week-long informatics course by Society for Imaging Informatics in Medicine.
In additional to the standard rotation schedule, seniors are offered the option of 12 weeks of selective rotations, with which they can concentrate on specific subjects. During this time, residents are expected to function like fellows, and present cases at relevant interdepartmental conferences.
Multi-disciplinary and case conferences
Each section has a different set of case conferences and multi-disciplinary conferences that provide a rich learning environment to see interesting cases and experience interdisciplinary patient care planning, such as at tumor boards with a few examples below.
The neuroradiology section faculty participates in skull base, ENT, brain, pediatrics, and pediatric oncology tumor boards, epilepsy, vascular, and spine multi-disciplinary conferences. In addition, the neuroradiology section has a weekly fellow conference, combining didactic and hot seat teaching for residents and fellows, as well as a Friday interesting case conference.
The MSK section has weekly orthopedic oncology, soft tissue sarcoma interdisciplinary conferences, monthly rheumatology conferences, and biweekly CME interesting case conferences.
The Pediatric Radiology section has a bimonthly interdisciplinary tumor board with a biweekly surgery conference. In addition, an interesting case conference is being developed.
The Abdominal imaging section hosts GI tumor board, liver conference, rectal cancer tumor board, adrenal conference, inflammatory bowel disease conference, fetal care and treatment conference, and GI fellows conference.
Residents as teachers
Radiology is a unique specialty as almost every medical specialty utilizes imaging. Consequently, we have many different medical students, residents, and fellows who rotate through our department to learn about imaging in their field or for their future practice. With experience, you will serve as the teacher and educate the rotating visitor about the cases that you are reading.
Many teaching opportunities include:
Two separate lectures as fourth year residents in a topic of your choice.
Lectures to our first year radiology residents through our first year lecture series, focused on introductory topics.
Volunteer education sessions for medical students as part of the radiology curriculum, focusing on anatomy.
Education throughout the workday for the visiting student, resident, or fellow
Simulation experiences/opportunities
We have many opportunities for hands on experience with dedicated sessions to enhance learning of specific skills:
Ultrasound course
The UC Davis Radiology Residency has a unique ultrasound curriculum which will be a cornerstone to your education. As a subsection in the abdominal imaging curriculum, ultrasound is presented in multiple ways to help residents with their understanding of this critical modality. Dedicated didactic lectures are presented during noon conference. First year residents have a month long opportunity to rotate in our outpatient imaging center, working side by side with their attending on diverse cases ranging from thyroid to scrotal and OB ultrasound. Also in their first year, residents develop hands-on ultrasound scanning skills through a dedicated practical curriculum co-taught by radiologists and sonographers. The goal is for residents to be comfortable actually imaging the patient themselves and learning tips and tricks for image optimization and machine operation. Our residency is very procedure focused, particularly using ultrasound guidance. Besides learning "on the job" on interventional rotations, hands-on skills are formally proctored in the ultrasound guided procedure laboratory in the UC Davis Simulation Center. Our ultrasound curriculum is a special part of residency at UCD and we hope you will enjoy it as much as we do.
---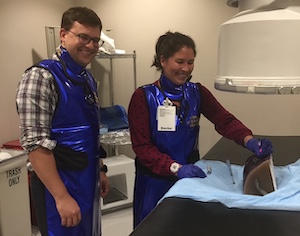 MSK hip aspiration simulation course
Musculoskeletal section runs a 2-part course on hip injections and aspirations for the first year class. The course includes hands-on training for hip aspirations or injections with fluoroscopic and ultrasound guidance on a 3D printed hip simulation model.
---
Contrast reaction course
The Radiology Department holds an annual course on contrast media utilized in imaging. This is a comprehensive week-long course that covers the use of IV contrast in CT and MRI, recognition of contrast reactions, and treatment of contrast reactions. The course includes both didactic and hands-on sessions. In addition, we offer the opportunity to participate in simulation exercises that we feel is the best means of preparing our residents for real-life situations.
---
International experience
Learn more about our Global Health program
Diversity
The Department of Radiology aligns our diversity goals within the context of UC Davis Health leadership. Dr. Hendry Ton, Associate Vice Chancellor for Health Equity, Diversity, and Inclusion and Sergio Aguilar-Gaxiola, Center Director for Reducing Health Disparities, are presenting the impacts of COVID-19 to the most vulnerable medical populations as well as creating opportunities for dialogue on the recurrent themes prevalent in the medical community related to ethnic bias in health care delivery. Based on this foundation, the department has created an anti-racism task force, which has focused on the following themes:
Healthcare Disparities
Cultural Competency
Implicit Bias
Community Outreach
With these themes, the task force intends to ensure that all department employees -- residents, fellows and faculty and staff-- receive reinforcement of diversity, equity and inclusion initiatives (DEI) supported by UC Davis Health leadership and create a standard for current and future department employees to engage in DEI on a continuous basis, such as required trainings, reoccurring coalition meetings, community outreach to schools and churches, and implementation of focused, diversity hiring goals.
In addition to the anti-racism task force, the department also supports grass roots endeavors. A smaller group of faculty and staff are participating in a book club, currently engaged in discourse about America's previous experimentation on Black Americans from colonial times to the present.