NM/DR: Combined Nuclear Medicine and Diagnostic Radiology Residency

Program Co-Director:
Tracy Yarbrough, M.D., Ph.D., M.A.Ed.
tlyarbrough@ucdavis.edu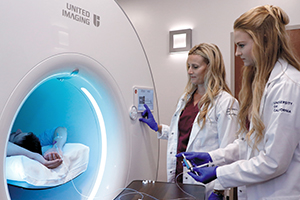 In addition to the educational opportunities and benefits of the diagnostic radiology program, we are pleased to offer this unique five-year combined Diagnostic Radiology and Nuclear Medicine program at UC Davis Health. The first year consists of rotations and research in the division of Nuclear Medicine. The subsequent four years consist of a traditional four-year radiology residency. The combined program offers trainees the ability to be dual certified by ABR and ABNM upon completion of the program. The graduates of our combined program may advance directly into a position as an attending with their additional Nuclear Medicine year acting as a fellowship. The dual program aims to train superb clinicians with competitive backgrounds to find their ideal positions in both private and academic practice.
In addition to the comprehensive daily teaching conferences provided by Diagnostic Radiology, the Nuclear Medicine physicians and physicists teach a focused Nuclear Medicine curriculum with weekly small group sessions. Our department at UC Davis Health is currently developing novel technology, the EXPLORER whole body PET/CT scanner project, which enables rapid and low radiation dose total-body imaging with increased effective sensitivity. Our residents have the opportunity to engage in high quality research pursuits with world-renowned faculty.
We accept applications in alternating years, and the next application cycle is September 2023.