Research and mentorship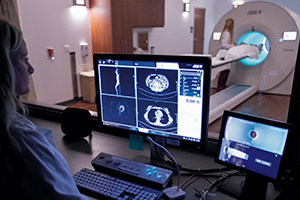 All residents must complete at least one research project, as an ACGME requirement, and some choose to maintain active research activities throughout residency. Residents may be allotted research time with approval from the program director. Presentation of research at national and international meetings is supported with a stipend of $1000 from the department and the additional week to attend the conference, with a limit of up to two per year (10 days) separate from their allotted vacation time.
Every resident is also assigned a mentor who coaches them throughout residency, offering advice about learning radiology, getting involved in research, choosing a career, and maintaining work-life balance.
Scholarly activity and research