About the Radiology department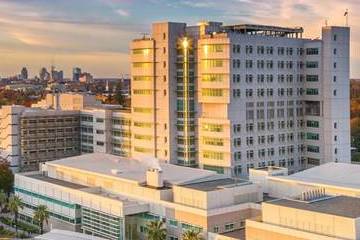 Over 377, 063 radiological examinations are performed each year in the Department of Radiology. UC Davis Health has significant influence and leads the way in cancer, trauma, and many nationally ranked specialties including Cardiology & Heart Surgery, ENT, Geriatrics, Gynecology, Nephrology, Neurology & Neurosurgery, Orthopedics, Pulmonology & Lung Surgery, and Urology. These areas of expertise all involve imaging and we focus our education on value-based patient centered care as an integral part of the care team.
Faculty and residents are involved in many multi-disciplinary tumor boards from each section and provide imaging guidance in pre-surgical planning and decisions about patient treatment strategies depending on imaging results. UC Davis Health has been a growing major tertiary referral center with strong Otolaryngology, Pediatrics, and Neurosurgery departments and a well-reputed cancer center. Our diverse population and large catchment area provide a multitude of complex cases and extensive rare pathology that enriches the education of our trainees. The amazing work of our wide-ranging clinicians at UC Davis increases the breadth of pathology that our residents encounter.
Global education outreach enables residents to improve medical care in developing countries, while gaining valuable insight into health care disparities and radiology practice in resource-limited settings. Interested PGY-5 residents may accompany faculty for global outreach education trips. Senior Haitian radiology residents visit UC Davis to supplement their training, and our residents help teach these scholars.
Program mission and goals
UC Davis Health's mission and goals entail a reimagining of education by creating environments where diverse life-long learners can train and practice. We have recruited a diverse faculty with varied approaches to radiology and education. Our faculty welcome and nurture residents with a strong commitment to their education including a variety of innovative ideas and teaching methods. The high ratio of faculty to residents allows careful resident supervision for all cases. Our faculty maintains significant interest in education, including incorporation of new and interactive methodologies for educating residents with different learning styles. Development of resident curriculum is iterative with review of structure and presentation of new material every year, and with current breakdown of subject material to mirror the ABR CORE exam layout.
A distinguished faculty provides exceptional teaching in all subspecialty areas of Diagnostic Radiology. Currently, we have a 90-minute lecture series for noon teaching conference every day, composed of didactic and hot seat conference sessions, with dedicated blocks focused on Emergency Radiology and Physics. The Radiology department has an extensive teaching file of interesting cases on PACS dedicated to each section and is developing an online curriculum to help organize the multitude of resources available for resident learning. Each resident attends the four-week course for Radiology-Pathology correlation at the American Institute for Radiologic Pathology, Washington, D.C. with a fully covered stipend.
Finally, we incorporate the research mission by mentoring residents to lead in future radiology research endeavors and to carry the torch of innovation. Overall, our residents are intimately associated with the research projects occurring in our department. Our world-renowned physicists and faculty are leaders regarding technological advances with cutting edge research such as the PET EXPLORER, the first and only whole body PET scanner in the world, where our residents will be the first to learn about novel images from this scanner. Finally, our residents participate in many inter-professional based projects, focused on clinical and research excellence as well as systems improvement projects. As a department, we are committed to fostering a team-like atmosphere for our residents, including faculty, residents, fellows, staff, nurses, and technologists.