Wellness and Social Activities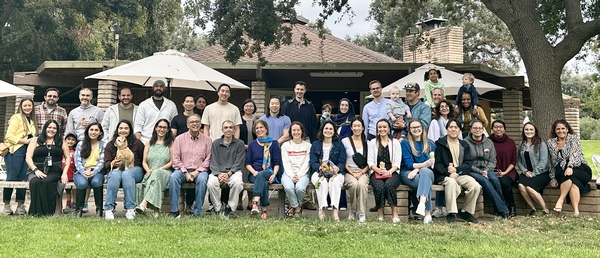 The program directors are particularly committed to resident wellness and fostering a positive learning and clinical environment. Our recurring resident wellness initiatives include but are not limited to: an annual resident retreat, which ranges from top golf to escape rooms, more recently painting via Zoom for the residents to enable social distancing. Monthly catered resident lunches are provided, allowing for resident socialization and building camaraderie. We believe that wellness and physician burnout are important concepts which should be considered early during training as burnout affects your entire career.
We have and are creating a resident wellness program with the goal of preventing burnout as a multi-tiered approach through education and the implementation of several facets of health and wellness, including meditation, promoting healthy active lifestyles and managing work-life balance. Although a work in progress, we are providing more opportunities for physical activity in the workplace, introducing the practice of mindfulness and providing education on healthy eating. We believe peer support groups can provide a strong support network. For example, many of our residents are new parents. These residents taking the time to meet and share experiences regarding resources for childcare, experiences with nannies and daycare and other milestones build solidarity and a sense of community. We have and are strengthening the Women in Radiology chapter with quarterly gatherings including residents and faculty, which allow for more female resident support with discussions of shared experiences and providing a forum to discuss the current challenges in medicine. Some topics of discussion could include barriers to career advancement and promotion, as well as balancing work and raising a family.
We believe this is essential for improving attitudes and physician wellness which will hopefully be reflected in a more positive institutional culture, better work performance, and improved resident mental health.
Social Activities
Happy Hours
We have both impromptu and planned get-togethers after work at one of the many local breweries or beer gardens in Sacramento. A couple resident favorites are Track 7 and SacYard.
---
Welcome BBQ Party
An annual welcome BBQ is held for everyone for incoming residents, fellows, and faculty to welcome you to the UC Davis family.
---
Resident Camaraderie
With leadership from our social chair, residents are invited to make social gatherings amongst residents. Activities include paintball (some attendings were surprisingly good at this), picnics, kayaking, board game nights, movie nights, BBQs, ping pong, tennis, live shows, etc.

---
Graduation
Graduation is held annually at a formal event in the Crocker Art Museum in Sacramento, CA. Residents, fellows, attendings, and families are welcome to celebrate!
---
Class Jackets
At UC Davis, white coats are not the norm. Residents of all specialties design and order their own jackets to wear around the hospital. Recently, we have been getting Patagonia zip-ups, which radiology residents may choose to purchase if they like.
---
COVID Activities
During COVID, we had to get creative with our socially distant group activities. We held several contests (with generous gifts for the winners sponsored by our program directors) including: a New Yorker style caption contest, a COVID themed meme of another resident or faculty, animal doppelgangers of coresidents, designing a face mask.

---
Resident Retreat!
Each year, residents are given a weekday off during the spring for a resident retreat. Activities in the past have included Top Golf, Punchbowl Social, wine and paint night, and an escape room.
---
Women in Radiology
We are lucky to have a number of female faculty, many in leadership roles in our department. Typically, we have semi-annual gatherings, often over dinner, with our female faculty and residents where we discuss development and support of women entering our specialty.

---
Ski Trips to Tahoe
Several times a year, residents jointly rent a cabin or Airbnb in Tahoe for a weekend of skiing and snowboarding.
---
Food Truck Fridays
Food trucks come to visit the UC Davis campus on Fridays - lots of great food. A resident favorite is Nash & Proper, some of the best Nashville style hot chicken around!