The Condition: Coronary Artery Disease
The Treatment: Robotic-assisted coronary bypass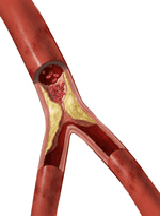 Heart disease is the leading cause of death for both men and women, and coronary heart disease is the most common type of heart disease. The disease is caused by a condition in which fat, cholesterol, calcium, and other substances found in the blood build up to create plaque inside the coronary arteries, which supply the heart with oxygen-rich blood. This condition, called atherosclerosis, results in a narrowing of the arteries and reduced blood flow to the heart. As the vessels become more clogged with deposits, blood flow can slow down or stop, causing chest pain, shortness of breath or a heart attack.
Depending on the severity of the condition, treatment options to ease symptoms and reduce the risk of a heart attack may include an angioplasty, bypass surgery or both. Along with conventional open-heart bypass surgery, UC Davis Medical Center is one of only a handful of hospitals in the nation that can offer a robotic-assisted bypass in conjunction with an angioplasty. This unique combination of state-of-the-art procedures provides patients with the durability benefits of conventional bypass surgery, plus the recovery benefits of minimally invasive procedures. It is the best of both worlds.
At UC Davis, the cardiothoracic surgery team specializes in treating patients with coronary artery disease using robotic-assisted, laparoscopic techniques. This procedure is performed without the need for a heart-lung machine and avoids a sternotomy, in which a surgeon makes an 8 to 10-inch incision down the chest, cuts through the breast bone and spreads the ribcage to access a patient's heart. The robotic-assisted procedure is minimally invasive, allowing the surgeon to work through several small incisions made between the ribs.
Benefits to patients
Shorter hospital stay
Less pain and scarring
Less risk of infection
Less blood loss and need for blood transfusions
Faster recovery
Quicker return to normal activities
Robotic-assisted Surgery: Less invasive, faster recovery
The robotic-assisted cardiac surgery team at UC Davis Medical Center is led by W. Douglas Boyd, a professor of clinical surgery who completed the world's first closed-chest, beating-heart coronary artery bypass using a robotics surgical system in 1999. As medical director for cardiac robotics, Boyd exemplifies the Division of Cardiothoracic Surgery's commitment to minimizing pain and length of convalescence, as well as improving outcomes and quality of life.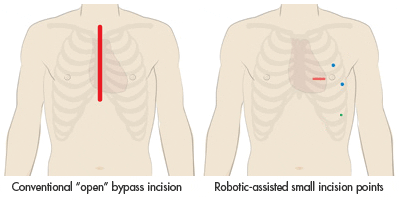 The robotic-assisted procedure allows a surgeon to work through small keyhole-sized incisions using tiny, precision-guided instruments. During a bypass procedure, the physician sits at a controlling console in the operating room while an assistant surgeon is at the bedside next to the patient. Boyd views the operative field in 3D on a video monitor while he controls a set of robotic arms that precisely replicate his hand movements. In cases of coronary artery disease, the robotic-assisted procedure enables Boyd to use healthy arteries or veins from other areas of the body to bypass (go around) the narrowed coronary arteries and establish renewed and durable blood flow (revascularization).
Compared to traditional, "open" heart surgery that requires a large incision across the chest, patients undergoing a minimally invasive, robotic-assisted bypass should experience an easier and quicker recovery and much less pain when compared to conventional surgery.
UC Davis Medical Center's robotic surgical system has been used successfully in hundreds of cases over the past seven years. Many patients are able to return to near-normal activity in a matter of weeks rather than the months that often follow conventional open surgeries. As with any medical procedure, benefits cannot be guaranteed. Successful outcomes always depend on both the patient and the procedure.