UC Davis Comprehensive Lung Cancer Screening Program (CLSP)
Lung Cancer Screening Is Here
UC Davis Comprehensive Lung Cancer Screening Program (CLSP) is a multidisciplinary collaborative for comprehensive lung cancer screening. The innovative program provides low-dose chest computed tomography (LDCT) technology to detect lung cancer early in its most treatable form in those individuals at the highest risk for lung cancer. The groundbreaking National Lung Screening Trial (NLST) clearly shows that screening with LDCT scans reduces the risk of dying from lung cancer in heavy smokers by 20% compared to screening with simple chest X-rays. (N Engl J Med. 2011).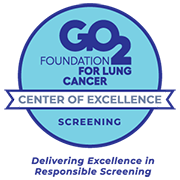 The UC Davis Comprehensive Lung Cancer Screening Program addresses the recommendations by the United States Preventive Services Task Force (USPSTF) and Centers for Medicare and Medicaid Services (CMS) for annual LDCT scans to screen individuals who are at high risk for lung cancer. To serve our patients in the program, we use a multidisciplinary team of radiologists, thoracic surgeons, pulmonologists, pathologists, medical oncologists, primary care doctors, smoking cessation experts and radiation oncologists to develop a best-practice, patient-centered plan.
Who Do We Screen?
UC Davis CLSP serves a specific high-risk population for lung cancer defined by the results of the multi-institution NLST:
High-Risk Patients:
i. Current or former smokers 50-77 (or 80 depending on insurance) years of age;
ii. Smoked the equivalent of one pack of cigarettes a day for at least 20 years;
iii. If a former smoker, he/she should have quit within the previous 15 years.
Should I Be Screened?
Click this link to an online tool to determine if you should undergo Lung Cancer Screening: Should I Screen?
Also print out this Lung Cancer Screening Shared-Decision Making Tool Kit and review it with your PCP. [PDF]
How do I Schedule an Exam?
We would be happy to assist you with lung cancer screening or answer additional questions through our Radiology Department. Their phone number for scheduling is 916-734-0655. We will need a referral from your Primary Care Provider or PCP. The referral can be faxed to 916-703-2254. If you have a UC Davis PCP, they can order the exam by typing LUNG CANCER SCREENING into the Electronic Health Record order section. Before ordering the exam, your doctor MUST document that they talked to you about the risks and benefits of Lung Cancer Screening (Called Shared-Decision Making), and if you are an active smoker, have discussed stopping smoking (Smoking Cessation).
The results will be reported back to your PCP. Should an abnormality be found which requires further evaluation; our UC Davis CLSP Practitioners, including Pulmonologists and/or Thoracic Surgeons, will assist you, if your PCP wishes to consult them.
Thank you again for choosing UC Davis CLSP!
How can I stop smoking?
Smoking cessation support is an important part of lung cancer screening. Our UC Davis Health Education Quit Tobacco team and quitline partner, Kick It California, will support you with coaching and medications to achieve your goals. If you are a UCD provider or staff, submit a referral for "Tobacco Cessation, Consult and Education" for your patient. Free services to stop smoking, vaping, and using other tobacco products include:
UCD Health Education: Quit Tobacco
Call: 916-734-0718
Website: livinghealthy.ucdavis.edu


Strategies to Quit Workshop (~1 hour)
SToP Series (8 monthly classes, ~1 hour)
Smoke-free Support (monthly, drop-in)
Self-enroll: go to MyUCDavisHealth → Make an Appointment → Health and Wellness Class
Kick It California
Call: 1800-300-8086
Website/Chat: kickitca.org
App: NoButts or NoVapes
Text: Text "UCD" to 66819 to quit smoking or vaping
Language lines: Spanish (1800-600-8191), Chinese (1800-838-8917), Vietnamese (1800-778-8440), Korean (1800-556-5564)