Rotation locations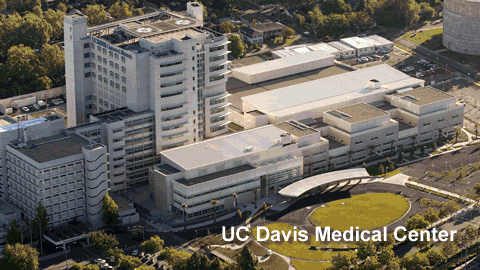 UC Davis Medical Center
Kaiser Hospitals
Shriners Hospital
Sutter Hospital
Sacramento VA Medical Center
David Grant Medical Center
UC Davis Medical Center
All of the School of Medicine's clinical disciplines are based in Sacramento at the UC Davis Medical Center, 18 miles east of the UC Davis main campus. UC Davis Medical Center handles a large volume of emergencies, and referrals of complex, specialized problems from all over Northern California. UC Davis Medical Center has active programs in burn, cardiothoracic, gastrointestinal and minimally invasive surgery, pediatric, surgical oncology, transplant, trauma and vascular.
Kaiser Permanente Medical Centers
Three Kaiser Permanente Medical Centers (North/Roseville and South) are amongst the most active in the Northern California Kaiser system. Each hospital contributes a large volume of elective surgeries, similar to those seen in the community practice of surgery.
Shriners Hospitals for Children Northern California
Shriners Hospitals for Children provides residents with a comprehensive experience in the treatment of pediatric burns including critical-care management.
Sutter Hospital
The largest of Sacramento's private hospitals, Sutter Hospital introduces the residents to a large number of excellent clinical surgeons in a private practice setting.
Sacramento VA Medical Center
The VA Hospital of Northern California in Sacramento opened its doors in 1999. The VA Hospital offers residents an opportunity to participate in the care of a large population of veterans residing in Northern California. These patients present with the full breadth of general surgical problems, including complex GI, vascular, and thoracic pathology. Residents work closely with experienced faculty in providing outstanding care to the veteran population of Northern California.
Together, these clinic resources provide the residents with an abundance of diverse clinical material and assure a balanced surgical training program. During the assigned clinical years, approximately 55 percent of the total time is spent at UC Davis Medical Center, 25 percent at the Kaiser Permanente Medical Centers and 20 percent at Sutter Hospital, Shriners Hospitals for Children Northern California and the Sacramento VA Medical Center.
David Grant US Air Force Medical Center
The David Grant USAF Medical Center (DGMC) at Travis Air Force Base in Fairfield, California, is the US Air Force's largest medical facility on the west coast. Serving military beneficiaries throughout eight western states, it is a milestone in the history of the Air Force Medical Service and one of the premier medical treatment facilities in the United States. A fully accredited hospital with a National Quality Approval gold seal by the Joint Commission, DGMC currently serves over 96,000 TRICARE beneficiaries in the immediate San Francisco-Sacramento vicinity.