Integrated vascular surgery residency
Overview of the Educational Program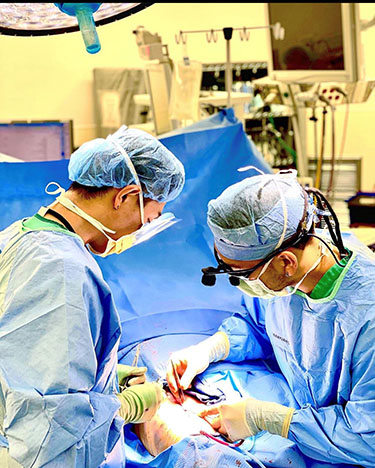 The integrated residency in vascular surgery includes 18 months of core surgery training and 42 months of training specific to vascular surgery.
The requisite core surgery rotations are scheduled through the first three years of training (PGY-1: 7-9 months; PGY-2: 7-8 months; PGY-3: 1-2 months). This distribution of general surgery rotations across multiple training years allows integrated vascular residents to gain a more sophisticated understanding and attain a greater skill level within general surgery and related disciplines. There is some flexibility in scheduling to accommodate the needs of other departments and residency programs.
Vascular Surgery Curriculum and Training Sites
The 42 months of vascular surgery training include experiences at each of the 4 integrated sites (UC Davis, Mather VA, Kaiser South Sacramento, David Grant Medical Center).
Basic concepts and skills of vascular practice are introduced early in the residents' experience. The first year of training includes experience with angiography and vascular ultrasound. By the third year of training, residents will be able interpret and report on vascular imaging studies and demonstrate competence in diagnostic arteriography and common endovascular interventions. By the senior years of training, residents will be able to combine their imaging, open surgical, and endovascular skills in performing complex and hybrid procedures. Fifth year chief residents are responsible for clinical operations of the vascular surgery service at each of the integrated sites.
Vascular surgery rotations
Site

Service

PGY Level

Duration (mo)

UC Davis Medical Center

Vascular Surgery

1

2
3

4
5

4

3
6
6

6

Core Surgery

1

2

3

4

3

1

Intensive Care

2

2

Sacramento VA Medical Center

Vascular Surgery

3

4
5

3
3

3

Core Surgery

1

2

2

2

David Grant Medical Center

Vascular Surgery

5

3

Core Surgery

1
2

2
2

Kaiser Permanente

Vascular Surgery

3

4

2

3
Variations in Schedules
Maintaining flexibility in the curriculum not only accommodates residents' individual preferences, it allows the program flexibility in arranging alternative resident rotations if there are unanticipated factors that might adversely affect the resident's educations experience. For example, if there is a change in the staffing level or clinical volume on a specific rotation (e.g. absence of key faculty), an experience with greater anticipated benefit can be scheduled. If the resident has already gained satisfactory experience and competency in a specific area, an alternative educational experience could be arranged.
Leave Policy
All UC Davis Health System residents have 24 days of vacation per academic year. Vacation time must be taken within the academic year and does not carry over from year to year. Vacation time is included in each resident's annual schedule. If needed to support programmatic and educational priorities, the program director may further specify when vacation time may be taken.
Sick leave accrues at the rate of 12 days per year, and it can be carried over to the completion of the residency. Significant absences from the program may occur for health concerns, family leave, or other legitimate reason, but may require extension of training to make up for lost time on clinical services.
Competencies
The six General Competency Areas developed by the ACGME have been incorporated into the overall curriculum of the UC Davis integrated vascular surgery residency. The competencies are also part of the resident evaluations.
There are goals and objectives for each assignment (rotation specific) and for each level (year) in the program. At mid and senior levels of training, all goals and objectives defined for prior years are expected competencies, to be further refined and upon which more advanced activities are based.