Integrated vascular surgery residency
Vascular surgery rotations at UC Davis Medical Center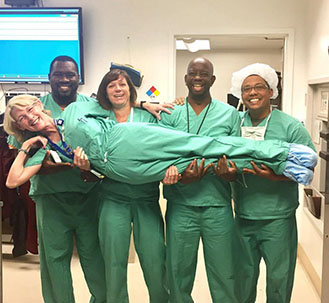 Vascular Surgery Service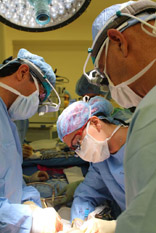 The mission of our clinical training program is to provide residents with a comprehensive educational experience – "Total Vascular Care." The concept of Total Vascular Care includes three pillars. First is clinical competence – the provision of high-quality medical care and appropriate, well-planned procedures, ranging from simple office-based interventions to the complex in-hospital endovascular and open operations. Second is the focus on multi-disciplinary needs of vascular patients and encourages partnerships in a collaborative, multispecialty and inter-professional environment. And third is the continuum of care, with recognition of patients' individual circumstances, their psychosocial needs, and their requirements for ongoing longitudinal vascular surveillance and management of cardiovascular risk reduction.
Rotations on the vascular surgery services provide opportunities for vascular residents to work directly with the primary teaching faculty, focusing on evaluation and treatment of a wide array vascular disorders that present to our large tertiary referral center and level 1 trauma center. Additionally, the structure of this rotation, includes weekly resident-lead aortic/educational conferences, and divisional meetings provide residents with a unique opportunity to be involved in the decision-making process for each patient, from pre- to post-op, and be exposed to the structure, planning, and quality improvement process for an academic vascular practice. Additional learning activities are also included, including hands-on vascular ultrasound training, skills training in the UC Davis Center for Virtual Care, procedural training in the animal laboratories, etc.
Goals and competencies at each level of training serve as the foundation for subsequent levels of training. Residents at more senior level of training will have the same goals and objective as those at a junior level, but the senior residents are expected to demonstrate a greater sophistication in their understanding and more refined techniques. Those procedures and tasks, for which the resident has demonstrated competency, may be delegated to others, with the resident taking on a teaching role.