Integrated vascular surgery residency
Vascular surgery rotations at David Grant USAF Medical Center
David Grant USAF Medical Center/ Joint Northern California Federal Vascular and Endovascular Surgery Service
Located at Travis Air Force Base (TAFB), David Grant Medical Center (DGMC) is the flagship hospital of the United States Air Force (USAF).
Timothy Williams, M.D., David Grant Medical Center
The division of Vascular Surgery is a member of the DGMC Heart, Lung and Vascular Center. This newly renovated space provides patients with access to a variety providers and noninvasive technological support staff specializing in Cardiology, Cardiothoracic Surgery, Pulmonary/Critical Care Medicine, and Peripheral Vascular Surgery. This structure allows residents a complete, yet subtly unique, educational experience in the care of the complex vascular patient.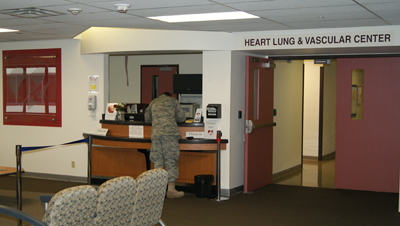 Vascular residents rotate at DGMC at the intern, junior, and senior resident levels. Interns and junior residents gain exposure to a wide breath of vascular disorders that require a variety of treatments, ranging from straightforward to complex, and have the opportunity to hone their basic endovascular and open surgical skills. Senior trainees on the vascular surgery rotation teach and mentor junior trainees as well as practice independent decision-making and continue to develop the skills necessary for the transition to independent Vascular Surgery practice. To further stress the importance of resident education, there is weekly protected time allotted for educational conferences, clinical case conferences, and procedural practice labs.

Vascular Surgery residents develop their skills in state of the art catheterization suites that have fixed arm and bi-plane imaging units that provide additional procedural space for peripheral vascular interventions. Within the main operating rooms, there are two hybrid cardiovascular operating rooms with movable robotic imaging units. These operating rooms facilitate a more seamless approach for hybrid peripheral vascular interventions, provide improved imaging quality, and help to improve radiation safely for both the patient and the operator.
Additional learning activities include open vascular and endovascular skills training in the Clinical Investigations Facility (CIF), hands-on vascular ultrasound training, and exposures to cardiac catheterization, cardiothoracic surgery, and pharmacologic risk-factor modification.
Hyperbaric Medicine/Wound Care
The DGMC Hyperbaric Medicine Department specializes in hyperbaric medicine and complex wound care. The staff consists of board-certified undersea and hyperbaric physicians, technicians, and nurses. The facility provides state-of-the-art hyperbaric oxygen therapy to patients with a variety of complex problems, including diabetes, vascular disease, and limb ulcers, and it conducts medical research and clinical investigations to establish optimal treatment protocols. Residents rotating through DGMC have the unique and rare opportunity to learn more about hyperbaric medicine and its benefits to wound healing as well as work closely with the hyperbaric medicine physicians to care for and treat vascular patients with complex wounds.