Not your traditional nursing school
Graduate shares how the Betty Irene Moore School of Nursing goes beyond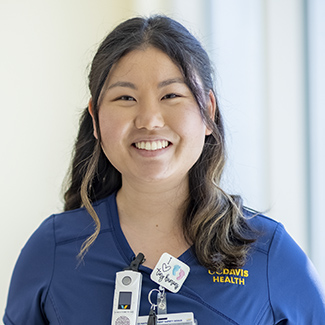 "The faculty including, all the clinical instructors, poured so much into me and the future generation of nursing and they showed me that the backbone of nursing is education. Thus, I hope to go back and do exactly what my professors and clinical instructors did for me — which is to encourage new students to confidently step into their nursing passions because our health care needs it."
Ju-A Son
Class of 2021, Master's Entry Program in Nursing
Ju-A Son has been a bedside nurse in the neonatal intensive care unit since May, but the skills and perspectives she brings to her patients far exceeds her time in practice.
A graduate of the 2021 Class of the Master's Entry Program in Nursing, Son credits the critical thinking and communications skills at the Betty Irene Moore School of Nursing at UC Davis for how she serves babies and families. As a registered nurse in the Neonatal Intensive Care Unit at UC Davis Medical Center, she cares for the babies who are critically ill and require extra support to help them breathe.
"It was so different from traditional nursing schools," Son said. "For me personally, I have greater empathy and passion in ways that I feel like I could not have been before."
Son says the diversity of her classmates and the innovative curriculum opened her eyes to perspectives she never expected. The program's focus on social determinants of health, evidence-based practice and culturally inclusive care plays out for her every day on the job.
"I'm so thankful for my cohort and the faculty for starting these conversations amongst us. When I'm talking to families, I step out and see them for who they solely are and come from a non-biased, non-judgmental place," she explained.
Son recalled a classroom experience where students arrived at the hospital ward simulation in Betty Irene Moore Hall carrying both scrubs and hospital gowns. While she thought the exercise was just to practice their assessment skills, it turned out much more.
"When our professor asked us how playing the part of the patient felt, I was like, 'oh, wait, that made me feel really vulnerable,'" she said. "It's just one example of how the Betty Irene Moore School of nursing pushes us to think beyond just our own perspectives and understand what having greater intentions and empathy means."
Son loves the neonatal families she cares for and hopes to spend her entire career at UC Davis Health. Yet, her graduate education also painted a picture of nursing away from the bedside. She does not rule out, one day, moving her skills into the community.
"I'm just so thankful that the program's emphasis is on learning how to care and how to communicate. I think all nurses need to learn how to create safe emotional spaces and be able to hold difficult conversations," she said. "This is what our patients need."

Ju-A Son shares her experiences as UC Davis student experiences.