La Rue Frederick Scholarship for Nursing
Celebrating a World War I nurse's memory and contributions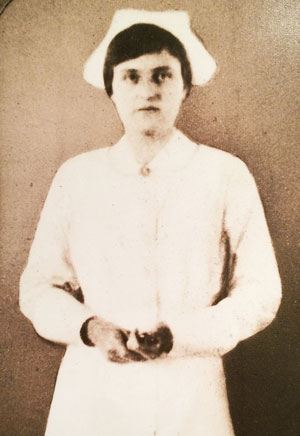 Nursing in World War I was exhausting, often dangerous work and the women who volunteered to care for soldiers were a noble group who often sacrificed self for service. La Rue Frederick, a teenager from Ohio, was among the first U.S. military nurses who, in 1917, arrived before soldiers to ease the pain of bereavement in a hospital in the French city of Rouen. Her life, like many of the troops, ended far too soon, yet her memory and contributions to the field of nursing live on through the La Rue Frederick Scholarship for Nursing at the Betty Irene Moore School of Nursing at UC Davis.
"She was strong in her faith, sang in the church choir and was a nurse at heart," Martha MacBride, Frederick's daughter, recalled. "If we caught a cold, we were immediately in the bed with mustard paste on our chest."
"My mom was a loving, nurturing woman who everyone liked," added Fred Harrold, Martha's brother. "Whether she'd dreamed of being a nurse or simply went when the opportunity arose, I know she always loved taking care of others."
In honor of the time Frederick spent caring for others in battle, Harrold and MacBride chose to create a scholarship for future School of Nursing graduate students to provide them with an opportunity to further their education despite its financial requirements. The La Rue Frederick Scholarship for Nursing will provide need-based assistance for students in the Master of Science — Nurse Practitioner Degree and Master of Health Services — Physician Assistant Studies Programs, and the future Master's Entry Program in Nursing. Between now and 2022, when full enrollment is reached, it is critical to build a culture of philanthropy and establish a substantial endowment to keep the School of Nursing strong and vital far into the future and ensure an education here remains accessible and affordable.
"We are grateful that Mr. Harrold and Mrs. MacBride selected the Betty Irene Moore School of Nursing to honor the legacy of their mother and recognize the important role nurses play in the lives of people and their families," said Heather M. Young, the school's leader and founding dean. "Endowed scholarships, like this, attract students of the highest caliber and ensure that we can fulfill the mission of the school to produce health-care leaders who contribute significantly to the transformation of health care through their work and scholarship."
Harrold noted while his mother served on the front lines of war, nurses have the "noble calling" to serve on the front lines of health care every day. For the Frederick family, the final years of their mother's life were painful. She succumbed to cancer at 44 years old. MacBride's hope is that, while short, her mother's life and memory will ensure a future student fulfills his or her desire to improve health care for all.
"I want it to benefit those who want to further their education, but can't because of the cost," MacBride said. "My brother and I are so happy to do this for our mother, who was a real bright spot in our lives."