Alex Fauer, Ph.D., R.N., O.C.N.
Assistant Professor in the Family Caregiving Institute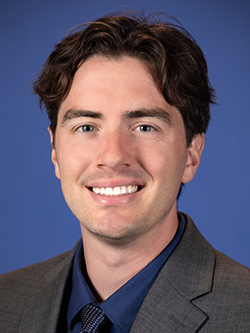 Dr. Alex Fauer is an assistant professor in the Family Caregiving Institute at the Betty Irene Moore School of Nursing at UC Davis. He brings oncology expertise to the institute, where he conducts research focusing on improving health outcomes and the quality of care for survivors of cancer and their caregivers. He also teaches leadership courses in the school's two doctoral nursing programs.
Fauer's primary contributions to nursing science include quantitative assessments of patient-centered quality of care outcomes with large, administrative data sources; evaluation of health information technology tools to support patient and caregiver education needs in bone marrow transplantation; and mixed method research into factors associated with safe chemotherapy handling in inpatient and outpatient oncology practices. He applies his clinical expertise in oncology nursing, with training in health services research, to evaluate medical and non-medical financial hardships experienced by patients with cancer and their caregivers. He is passionate about mentoring first-generation college students and LGBTQIA+ students in nursing.
Prior to joining the School of Nursing, Fauer was a postdoctoral scholar in the National Clinician Scholars Program at UCLA, a two-year fellowship for nurse scientists and physicians to develop methods and skills to improve health, health care and health equity.
Fauer earned a Bachelor of Science in Nursing from the University of Michigan, followed by a Doctor of Philosophy Degree also from the University of Michigan. He earned his Master of Science in Health Policy and Management from UCLA. He earned several nationally competitive academic fellowships. He was a Hillman Scholar in Nursing Innovation and a Jonas Nurse Scholar at the University of Michigan, which supports predoctoral training and mentorship for nurses. He was the recipient of an American Cancer Society Doctoral Degree Scholarship in Cancer Nursing to support his dissertation research.
His work has been published in the Journal of Geriatric Oncology, Supportive Care in Cancer, Cancer Causes and Control, and the Journal of Nursing Scholarship, in addition to other academic journals. See a complete list of Fauer's bibliography at the National Library of Medicine. He is a member of the Oncology Nursing Society and AcademyHealth professional societies.
Contact Information: Email: ajfauer@ucdavis.edu