Victoria F. Keeton, Ph.D., R.N., C.P.N.P., C.N.S.
Assistant Professor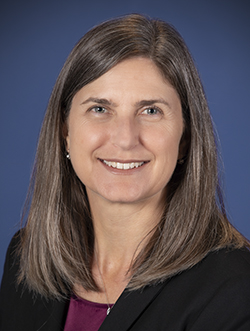 Victoria Keeton is an assistant professor at the Betty Irene Moore School of Nursing at UC Davis. She brings pediatric and maternal-child health expertise to the school through her research on health inequities and the biopsychosocial impacts of social needs on children and families from minoritized communities. She also teaches and mentors students in the school's Doctor of Philosophy (Ph.D.) program.
Keeton's research focuses on the social causes and health consequences of stress in caregivers and children, especially in Latinx families and communities of color who experience socioeconomic disadvantage. Specifically, she studies stress as a physiologic contributor to metabolic disease and emotional dysregulation and mechanisms of maternal-fetal programming that may predispose children to metabolic or mental health conditions. Keeton uses primarily quantitative research methods and statistical analyses, including multi-level modeling and other specialized approaches to dyadic data analysis. Her research also includes the use of biomarkers such as cortisol as physiologic measures of stress.
In addition to being a nurse scientist, Keeton is a certified pediatric nurse practitioner (PNP) and clinical nurse specialist with almost 20 years of clinical experience in pediatric primary care, primarily serving Latinx and under-resourced populations in urban community and school-based health settings. She is also an experienced nurse educator. Prior to joining the School of Nursing Keeton spent 13 years as a nursing clinical faculty at the University of California, San Francisco (UCSF) School of Nursing, including four years in program leadership. She is committed to increasing the number of Latinx-identifying scholars in nursing science and to promoting diversity, equity, inclusion and justice in all aspects of health care.
Keeton received a Bachelor of Arts in Psychology at the University of California, San Diego, a Master of Science in Nursing at UCSF, and a Ph.D. in Nursing Science and Health-care Leadership at the School of Nursing. Following her doctoral training, she spent two years as a postdoctoral transdisciplinary research fellow with the UCSF California Preterm Birth Initiative.
Keeton has presented to local, national and international audiences on various topics related to pediatric health care, research and education. Her work has been published in several academic journals. She is a chapter author and co-editor for multiple pediatric textbooks. See a complete list of Keeton's bibliography at the National Library of Medicine. She is a member of the National Association of Hispanic Nurses, Sigma Theta Tau International Honor Society of Nursing and the National Association of Nurse Practitioners.
Contact information: Email: vfkeeton@ucdavis.edu