Preceptors and clinical training

See how clinical rotations impact our students' perceptions and enhance their skills.
Leading by example and instructing through motivation — preceptors are health care providers who teach, support, coach, evaluate, serve as role models and aid in developing competencies in students working to become future providers. The relationship enables students to experience day-to-day practice with a role model within a clinical setting. It prepares students for a postgraduate profession and exposes preceptors to new ideas and information being taught today.
UC Davis has a long history of integrating clinical preceptorship with classroom education. The Betty Irene Moore School of Nursing is UC Davis seeks to cultivate academic excellence through immersive, interprofessional and interdisciplinary education and research in partnership with the communities it serves. A primary goal of the clinical programs is to improve the availability of culturally relevant primary care to underserved populations and educate clinicians to deliver care as members of health care teams.
Both the family nurse practitioner and physician assistant programs emphasize community-based, primary-care clinical experiences with clinical rotation sites available in rural and urban settings throughout California. Students are not required to provide or solicit clinical sites or preceptors. Students recognize the preceptor partnership offers them a chance to manage cases, collect basic data and improve their interpretation skills with the different cases they experience in a clinical environment.
Precepting, by its very nature, unites procedural knowledge and practical reasoning within a mentoring, educational environment. Potential preceptors, interested in taking part in the education of physician assistants and nurse practitioners, may contact the school directly to obtain a preceptor application or learn more. School of Nursing representatives evaluate and make decisions on the approval of all clinical sites.
Learn by teaching
Identify and recruit talented individuals for your team
Participate in preparing the future workforce
Continue education
Expand professional networks
Support and strengthen your profession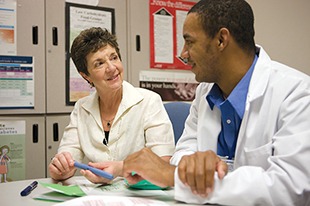 Learn more bout a unique preceptor partnership in Humboldt County
Clinical preceptors and rotations are arranged and approved by the school; it is not the responsibility of the applicant or student to locate preceptor training sites or clinical rotations sites. If an applicant or student has a suggestion for a potential preceptor, the site may be evaluated. The student's request for a specific preceptor may also be taken into consideration with the goal of coordinating training sites with individual student preferences.
Physician assistant students must complete at least 1,360 hours of clinical rotations and nurse practitioner students must complete at least 720 hours. Additionally, students in both programs are required to spend between 180 and 640 hours (depending on program) in a primary-care rotation.
Are you interested in being a clinical preceptor? Complete this form to receive more information
Preceptors are needed in the following areas:
Primary Care
Women's Health
Pediatrics
Mental Health
Emergency Medicine
Surgery
Inpatient Medicine
Other volunteer opportunities
Volunteer clinical professors
The Betty Irene Moore School of Nursing at UC Davis values volunteer clinical faculty as important partners in education. These individuals play a significant role in the mission to transform health care through education, research and leadership. Volunteer clinical professors are community volunteers who teach and conduct research in various health care and community settings. The appointment constitutes a valuable way to utilize a volunteer's interest on a part-time, non-salaried, voluntary basis in the areas of teaching and system-change research.
Learn more about volunteer clinical professors
---
Advanced Preceptor Affiliates
The Betty Irene Moore School of Nursing at UC Davis recognizes long-standing and exceptional preceptors as Advanced Preceptor Affiliates. Advanced Preceptor Affiliates are community health care providers who mentor and precept School of Nursing students in various health care and community settings. This partnership between the Betty Irene Moore School of Nursing and community health care providers solidifies the School of Nursing's commitment to strengthen community ties and build long-lasting relationships with volunteer preceptors.
Read more about these long-term appointments