If you have thoughts of hurting yourself or hurting anyone else, please call 911.
After-hours emergency contact: 530-752-0871.
Counseling services | Betty Irene Moore School of Nursing at UC Davis
UC Davis Health offers access to counseling services for Betty Irene Moore School of Nursing at UC Davis students at the Sacramento campus to help students realize their academic and personal goals. Free, confidential care is offered by the School of Nursing Student Health and Counseling Services (SHCS). Contact SHCS at (530) 752-0871. SHCS includes experienced staff dedicated to assisting students and to enriching the university community by providing educational programs, psychological consultation and other types of outreach activities. In addition to the scheduled services on the Sacramento campus, Student Health and Counseling Services provides drop-in Urgent Care services at the main campus (see below for more information).
School of Nursing counseling services
The UC Davis Health Counseling Services office is located in Suite 1400 of the Facilities Support Services Building (FSSB) at 4800 Second Ave. The initial appointment with a counselor will help clarify individual needs and determine appropriate services. Topics which can be addressed include stress management, personal development, anxiety, depression, work-life balance, academic problems, career planning, professional identity, interpersonal relationships and communication skills, sexual identity concerns, eating disorders and difficulties with substance use. Some evening appointments are available.
Making an appointment
To make an appointment at the Sacramento campus, please email hs-sonwellness@ucdavis.edu. A professional staff member from each service will receive that initial email, and students are assigned to counselors based on availability and stated needs. The counselor will respond to emails within one business day. Students can also choose to call 530-752-0871 during normal business hours. When calling, students should tell the receptionist they are a School of Nursing student seeking services, and s/he will request a counselor to return your call within two business days. If students need more immediate assistance, please call 530-752-0871 at the main campus and identify yourself as a School of Nursing student. Same-day appointments are sometimes available; but walk-in services are currently not available.
Drop-in urgent care services are available daily for urgent matters during normal business hours of operation (see below) at the Student Health and Wellness Center (SHWC) at 930 Orchard Road on the Davis campus (off La Rue Rd.) Call ahead at 530-752-0851 to help them best assist you.
SHWC Davis Campus Normal Hours of Operation (including Urgent Care):
M, T, Th, F from 8 a.m. to 5:30 p.m.
Wed. 9 a.m. to 5:30 p.m.
If you have an emergency after normal hours of operation, you can call the SHCS Appointment Desk and Advice Nurse at 530-752-0851 and follow the prompts to connect you to a mental health professional. You can call anonymously or provide your name. If you leave your name and state you are a graduate student seeking a return call, a staff member from SHCS will call you back the next business day.
Counseling services are offered at no cost to registered students. Partners of students are also seen for free when participating in couples therapy with a registered student.
Our team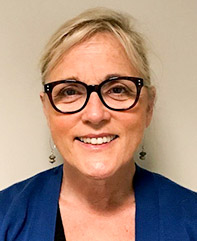 Margaret "Maggie" Rea, Ph.D.
Director of Student Wellness
Maggie Rea is a clinical psychologist and who has worked in various hospital and academic settings providing clinical services and conducting research on mental health treatment. She is passionate about the topic of student well-being. She believes strongly that students must not lose sight of their physical and emotional well-being as they work hard to be successful. She seeks to guide students to become health professionals who monitor their own wellness and find the optimum self-care strategies for themselves. Her goal is to ensure students have the support they need while assisting them in the development of lifelong skills to achieve and maintain physical and mental health throughout their careers.
As the director of Student Wellness, Rea oversees the wellness opportunities for School of Nursing students, which includes facilitating access to health care and mental health services as well as providing ongoing wellness programming.
To make an appointment, please email mrea@ucdavis.edu or call 916-703-WELL.
---
Pilar Gonzalez-Doupe, Ph.D.
Licensed Counseling Psychologist
Student Health and Counseling Services (SHCS)
Education
M.Sc. – Marriage & Family Therapy - Purdue University, Indiana
M.Sc. – Ashridge Executive Coaching – Ashridge Business School, Berkhamsted UK
Ph.D. – Counseling Psychology – University of Wisconsin-Madison
Pilar Gonzalez-Doupe offers a quiet, confidential place for students to explore new thoughts, actions and feelings in a safe, therapeutic relationship. Her focus is to help students find the words to define their experiences and to renew their confidence in their own sense of knowing. She encourages students to set the pace of their therapy and identify what is most challenging and most meaningful to them in their lives. She also provides support to help clarify the issues, through use of questions, metaphor and active exercises. She is particularly interested in issues of professional identity, vulnerability and learning. She enjoys working with individuals, as well as with groups and couples and provides therapy in both English and Spanish.
To make an appointment, please email hs-sonwellness@ucdavis.edu.