Celebrating Child Life Month
(SACRAMENTO)
During the month of March, UC Davis Children's Hospital is celebrating Child Life Month. Hosted annually by the Association of Child Life Professionals, Child Life Month recognizes and highlights the important role that certified child life specialists play, ensuring the emotional safety of children and families in health care settings. This annual observance serves to express appreciation to child life professionals and to make the local community aware of the benefits of child life services.
"We are proud to offer child life services in many different locations throughout our hospital," said Diana Sundberg, manager of the UC Davis Child Life and Creative Arts Therapy Department. "It's our goal to support emotional well-being of hospitalized children and their families to reduce anxiety and promote coping."
The UC Davis Child Life and Creative Arts Therapy team offers the following services to patient families including: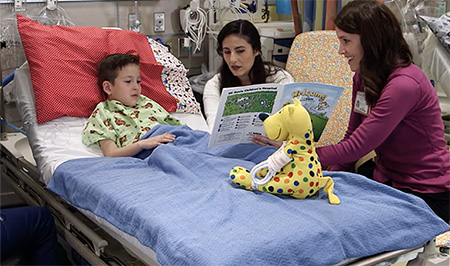 Procedural preparation: When children understand more about tests and procedures, they are better able to cope with the related stressors. Preparation involves the use of developmentally appropriate teaching tools to explain the experience. A key part of the preparation process is to work with the child to create a coping plan.
Medical play: Child life specialists use medical kits and supplies in a play-based way to help children learn more about experiences they may have during hospitalization. This also gives children a sense of control and helps them process feelings.
Sibling support: Child life specialists support siblings by working to bridge the gap between home and hospital. Additionally, they provide education and preparation about a sibling's medical situation, and support visits to the hospital, as appropriate.
Bereavement support: Child life specialists are trained to support families as they navigate change and loss. They share information, resources, and strategies to support children during these situations.
Special events and activities: Child life specialists facilitate special events and activities for patients and families. These events help to soften the hospital experience and create ways for families to continue traditions.
For more information about the UC Davis Child Life and Creative Arts Therapy Department, visit their website.