P.A. graduates take oath upon completion of program
(SACRAMENTO)
I will treat equally all persons who seek my care.
I will work with other members of the health care team to provide compassionate and effective care of patients.
I will hold as my primary responsibility the health, safety, welfare and dignity of all human beings.
Those are a few of the values that physician assistants (P.A.s) strive to uphold in their professional interactions with patients, physicians, colleagues and the public. They are also portions of the oath that the 63 P.A. students in the Class of 2023 promised when they gathered recently to mark a milestone in their journey to become health care providers.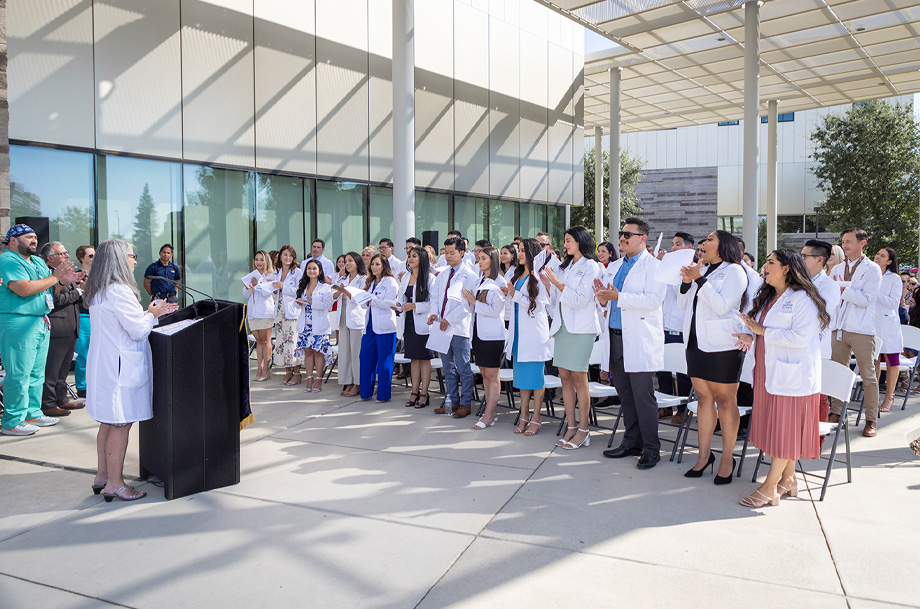 Outside Betty Irene Moore Hall on Sept. 15, they sat side-by-side after their final exams and last duties as students. The P.A. oath event celebrated the completion of their 27-month program at the Betty Irene Moore School of Nursing at UC Davis.
"P.A. education is not for the faint of heart. In fact, if I had to think of a few words to describe the character of P.A. students, I would say resilient, perseverant and courageous," said Program Director Teresa Thetford. "A bit of advice: Lead with kindness and never accept being mediocre."
While the school focuses on preparing primary care providers, graduates are now working in every discipline where physicians are working and, in every setting. This includes inpatient, outpatient, urgent care and hospitals. One Class of 2020 graduate who spoke to the students, Keoki Leong, works with the plastic surgery team at UC Davis Health.
He told students: "When I graduated, I was scared knowing I was going to be on my own and have patients' lives in my hands. My advice to you is never stop being an active learner. To practice medicine, we must forever be students of the human body."
Leong added: "I can't do what I do today without the help and mentorship of the people I met here."
The class also awarded outstanding preceptors — providers who mentor them during clinical experiences — who guided them throughout their education. Those who earned appreciation included:
Dan Brink, a physician from the UC Davis Health clinics in Davis
Mauro Giordani, a UC Davis orthopedic surgeon
John Ancona, an advanced practice provider at UC Davis Health
Jill Saberman, a women's health nurse practitioner and assistant professor at the School of Nursing
After 15 months of classroom instruction, students completed 12 months of clinical rotations through primary care clinics in urban and rural areas, along with several specialty areas. Next up: successfully passing the Physician Assistant National Certifying Exam, known as the PANCE.
"In doing so, you are signing a social contract that demands of you the commitment to professional integrity that comes with becoming a health care provider," said Dean Stephen Cavanagh. "We can now call you alumni and brag on all the wonderful things you're doing out in the world to fulfill our vision of optimal health and health equity for everyone."