UC Davis nursing students bring life-saving TB screenings to a community organization
(SACRAMENTO)
Throughout the pandemic, many people skipped routine preventive care and screenings out of fear of COVID-19 exposure. UC Davis Health and community organizations are working to ensure people get the tests they need.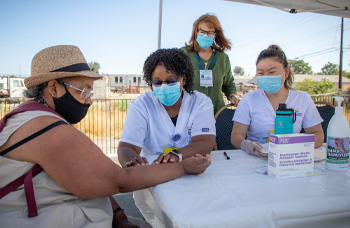 One great example is a partnership between SETA Head Start and the Betty Irene Moore School of Nursing at UC Davis. When administrators at SETA wanted to ensure their staff were keeping up on annual tuberculosis (TB) screenings, they tapped into a partnership with the School of Nursing and its second-year nursing students.
Located in Del Paso Heights, SETA Head Start provides low-income children with quality comprehensive child development services that are family focused, including education, health, nutrition and mental health.
For two weeks in July, future registered nurses in their fifth quarter of an 18-month accelerated program administered and read the results of TB tests for more than 100 of the organization's staff.
"The goal of our Fostering Healthy Communities course is to combine nursing theory and clinical care with an emphasis on working with diverse communities in providing health promotion and chronic disease management," said Shana Ruggenberg, director of the Master's Entry Program in Nursing. "This experience offers a tangible opportunity to put classroom and lab experience into real practice."
Students develop their motor skills and learn how to administer an intradermal injection. But the lesson goes far beyond that.
"We learn about these readings in theory, read about it in the textbooks but now we're out seeing it in person. This brings the school to life," explained student Judy Njuguna.
"I think this is where we practice the most important aspect of nursing – getting to interact with people. We can pretend to do that in a simulation by talking to a patient simulator or having another student pretend to be a patient. But this is real – we're using real interpersonal skills," added student Ju-A Son.
SETA Head Start is not a clinical facility. In order to make the on-site clinics possible, the School of Nursing leveraged UC Davis Heath's relationship with Elica's Health on Wheels mobile medicine program. The mobile health van is part of a health system partnership launched in 2017. The goal is to expand access to care for underserved and hard-to-reach patients, and those who can't see providers regularly due to transportation issues, homelessness or other barriers.
For these screenings, Elica provided logistics, a space for mass testing opportunities, the medical materials required to properly administer the injections and access to experienced medical staff members providing care in a non-traditional setting. Plus, the students learned different techniques on care delivery. TB testing requires an injection of tuberculin under the skin, then a recheck in three days to see if the virus is present.
"I think that allowing nursing students the opportunity to participate in this type of outreach can help them to gain a better understanding of their community," said Aidé Long, director of Elica's Community Outreach Services. "This could potentially help them to narrow down the area of nursing they would like to specialize in by helping them gain experience out in the field."
TB is a communicable disease and the leading cause of death in the world from a single infectious agent, according to the World Health Organization. It's also curable and preventable. But the COVID-19 pandemic threatens to reverse global progress against TB. That's why SETA administrators wanted to make sure their staff had access to screening.
SETA and the School of Nursing have partnered for five years. Graduate students have educated Head Start families on health and wellness, conducted growth assessment for pre-school-aged children and emphasized the importance of primary care prevention. These encounters support the nursing program's goal of exposing students to population-based health promotion and disease prevention strategies with diverse individuals, families, communities and populations.
"TB testing is required for staff on an annual basis to keep enrolled children and staff safe from infectious diseases," said Gricelda Ocegueda, SETA's health and nutrition coordinator. "These screenings provided access, offered opportunities to educate our team about TB, ensured our program is in compliance and presented an educational experience for the UC Davis students. Education and awareness of vulnerable populations are important for these students to learn early in their careers in health."
The critical thinking, clinical excellence and a deep understanding of the health care system that graduates gain enable them to flourish. Programs and experiences such as this prepare students to advance health locally, nationally, and globally in ways that address inequities, big and small, that stand in the way of optimal health and health care equity for all.
"This particular experience also showed students the challenges and barriers to providing health care in under-resourced community areas," Ruggenberg explained.
The face-to-face encounters with those being tested — both when administered and read — also presented teachable moments from the students that a classroom cannot.
"I grew up in this area, but I didn't even know SETA was here," said student Kou Her. "This was really eye-opening for me to learn what's in my own neighborhood. It's just a great experience to hands-on serve my community."