Cancer research mini-symposium spotlights early career investigators
(SACRAMENTO)
The 17th Annual Spotlight on Early Career Investigators: A Cancer Research Mini-Symposium was held May 25 in the UC Davis Health Education Building. The day-long annual event hosted by UC Davis Comprehensive Cancer Center highlights cancer research being conducted by undergraduates, predoctoral and postdoctoral students, research residents and fellows. A competition was held for both oral and poster presentations.
Mili Arora, associate professor, Division of Hematology/Oncology, provided the keynote address: "From Passion to Profession: Paving My Own Path in Oncology."
New this year were eight roundtable discussions focusing on critical professional development topics ranging from building mentorship teams to best practices in grant writing, to work/life balance. They were moderated by cancer center senior investigators, grant experts, and industry representatives.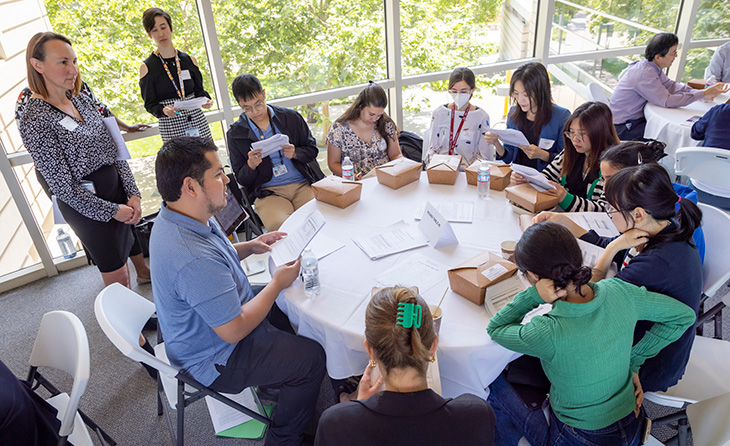 Event's primary aim
The "Spotlight" gives early-stage investigators a chance to meet experienced investigators, learn about potential research opportunities early in their career, and gain valuable career insights through presentations and networking.
"This is a great way to present my own work, connect with faculty and find out from them trends in research," biostatistics postdoctoral student Chenghuiyun (Cassie) Xu said. "It also gives scholars like me a chance to create collaboration for future research projects."
Let the competition begin!
Six early-stage investigators, such as Xu, were selected as oral presenters, with others offering poster presentations. Criteria used to judge the presentations included scientific innovation, significance, and ultimate potential for clinical impact as well as scientific communication skills. Research abstracts were submitted as part of poster and oral presentations.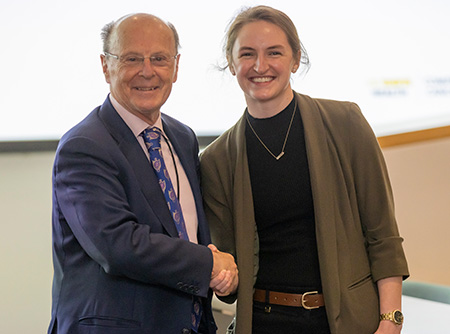 "Events like these provide our junior colleagues and scholars with much-needed opportunities to hone their presentation and networking skills," said UC Davis Comprehensive Cancer Center Director Primo "Lucky" Lara Jr., who was one of the faculty judges this year.
Fred Meyers, associate director of the cancer center's Office of Education, Training and Career Development, announced the best oral presenter and the best poster presenter. Each winner received at $500 cash award.
Winners this year included:
Oral presenter: Morgan Domanico
Mentor: Laura Van Winkle
Title: "Naphthalene-DNA Adducts Persist After 24 hours in C57BL/6 Mouse Airway Explants"
Poster presenter: Dah Som Kim
Mentor: Soichiro Yamada
Title: "Deciphering Force-induced Interactions Surrounding Keratin Using in-vitro Microneedle Stretch"
The 17th Annual Spotlight on Early Career Investigators symposium was organized by Kirsten Asher, administrative manager, and Hanouvi Agbassekou, program coordinator, with the Office of Education, Training and Career Development.
UC Davis Comprehensive Cancer Center
UC Davis Comprehensive Cancer Center is the only National Cancer Institute-designated center serving the Central Valley and inland Northern California, a region of more than 6 million people. Its specialists provide compassionate, comprehensive care for more than 100,000 adults and children every year and access to more than 200 active clinical trials at any given time. Its innovative research program engages more than 240 scientists at UC Davis who work collaboratively to advance discovery of new tools to diagnose and treat cancer. Patients have access to leading-edge care, including immunotherapy and other targeted treatments. Its Office of Community Outreach and Engagement addresses disparities in cancer outcomes across diverse populations, and the cancer center provides comprehensive education and workforce development programs for the next generation of clinicians and scientists. For more information, visit cancer.ucdavis.edu.