St. Baldrick's 'Brave the Shave' brings wave of donations and bald heads
Event at Mulvaney's B&L raised money for childhood cancer research at UC Davis
(SACRAMENTO)
Bald is beautiful when it means you are raising money to conquer cancer in kids and there were a lot of bald heads at this year's St. Baldrick's Brave the Shave held March 6 at Mulvaney's B& L restaurant in Sacramento.
More than 90 "shavees" stepped up to have their hair shaved after raising money for pediatric cancer research underway at UC Davis Comprehensive Cancer Center. Participants included members of the Sac Republic FC as well as UC Davis Health doctors, nurses and other staff.
According to St. Baldrick's Foundation, every two minutes in this country, a family is given the devasting news that their child has cancer. One in 263 children in the U.S. will get cancer before they turn 20 years old.
Keaton's Child Cancer Alliance teams up with Supercuts and UC Davis Comprehensive Cancer Center each year to sponsor the local St. Baldrick's event. This is the first year the event was held at Mulvaney's B&L and it drew a large crowd, including Sacramento Mayor Darrell Steinberg who told the audience, "What could be more important than making sure no child has to suffer?"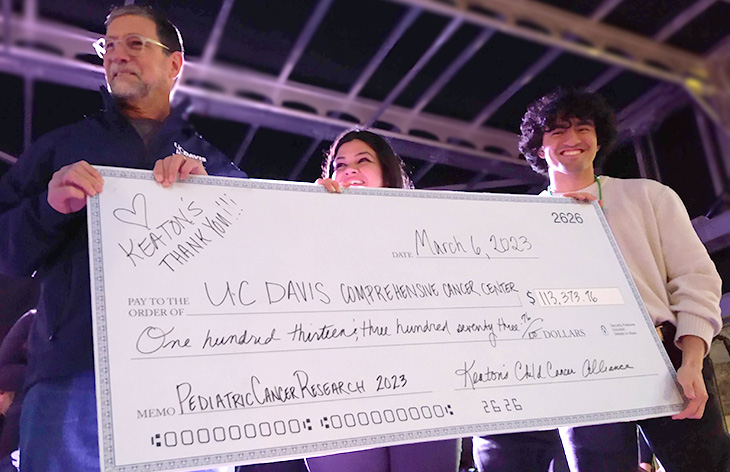 Cancer care close to home
Keaton's Child Cancer Alliance is a nonprofit organization, based in Roseville, that provides financial, emotional, and educational assistance to children battling cancer and their families while building awareness and funding toward a cure.
This year, the organization presented a check to UC Davis Comprehensive Cancer Center for more than $113,000, which was raised from last year's "Brave the Shave." Since it was created more than 20 years ago, Keaton's Child Cancer Alliance has donated close to $2.5 million to the pediatric oncology program at the cancer center.
"This event is an example of UC Davis working with the community to improve the quality of care for children with cancer so that they don't have to leave the Sacramento region and their loved ones to seek treatment somewhere else," said UC Davis Pediatric Hematology-Oncology chief Marcio Malogolowkin, who accepted the check from Jessica Alonso, executive director of Keaton's Child Cancer Alliance.
Malogolowkin said the generous contribution helps the cancer center offer National Cancer Institute-supported clinical trials, which enables UC Davis to find new ways to treat pediatric cancer patients.
"The money is also helping us launch a new bone marrow transplant program for kids at UC Davis Comprehensive Cancer Center later this year," Malogolowkin added.
"It is so important that we make sure that we are funding cancer research close to home, which is why we are pleased to contribute in a significant way to the incredible research work underway at UC Davis Comprehensive Cancer Center," Alonso said. "St. Baldrick's is just one of the events we hold every year to generate funding to find a cure to childhood cancer."
Keaton's legacy lives on
In memory of their son Keaton who died from neuroblastoma, a type of cancer that starts in early nerve cells, Robyn and Kyle Raphael created the Keaton Raphael Memorial in 1998. It is now known as Keaton's Child Cancer Alliance and Keaton's legacy lives on as the organization continues to work to provide resources to young cancer patients and their families while fueling research efforts to win the larger war.
"Childhood cancer impacts the whole family – in fact, one in four families lose more than 40% of their annual household income as a result of childhood cancer treatment-related work disruption," Alonso said. "One in three families face other work disruptions such as having to quit work or change jobs."
Patients and siblings of children with cancer are at risk for emotional and behavioral difficulties, such as anxiety, depression and post-traumatic-stress disorder, Alonso added.
There's still time to donate!
If you were unable to join the St. Baldrick's Brave the Shave this year, donations are always welcome. You can also donate directly at any time to Keaton's Child Cancer Alliance or attend other pediatric cancer fundraising events that are scheduled for 2023.
UC Davis Comprehensive Cancer Center
UC Davis Comprehensive Cancer Center is the only National Cancer Institute-designated center serving the Central Valley and inland Northern California, a region of more than 6 million people. Its specialists provide compassionate, comprehensive care for more than 100,000 adults and children every year and access to more than 200 active clinical trials at any given time. Its innovative research program engages more than 240 scientists at UC Davis who work collaboratively to advance discovery of new tools to diagnose and treat cancer. Patients have access to leading-edge care, including immunotherapy and other targeted treatments. Its Office of Community Outreach and Engagement addresses disparities in cancer outcomes across diverse populations, and the cancer center provides comprehensive education and workforce development programs for the next generation of clinicians and scientists. For more information, visit cancer.ucdavis.edu.