Aging
February 17, 2023
Updated: April 21, 2023
Tool to support long-distance caregivers gets NIH funding boost
Interactive platform offers real-time, bird's-eye view of older adults living with cognitive decline
February 17 is National Caregivers Day. The day honors individuals who selflessly provide personal care, and physical and emotional support to those who need it most.
(SACRAMENTO)
More than four million Americans provide care for a relative who lives an average of 450 miles away. According to the National Alliance for Caregiving, that equates to 15% of the approximately 44 million caregivers. That number is expected to grow in the coming years.
UC Davis Health neuropsychologist Alyssa Weakley knows the challenges all too well. In 2019, her grandmother developed Alzheimer's disease while living in Southern California. Weakley and the rest of her family lived in Northern California and Washington state, a reality that proved to be guilt and anxiety-producing.
"Beyond issues of safety, I was concerned about her ability to remember to go to doctor appointments or connect with friends, activities that would result in a decline in her independence and quality of life," Weakley explained. "I was also very worried that we would not know when it was time to get her the help she needed."
Increasing need sparks innovative solution
The pandemic showed us that connection was possible through technology. But Zoom, Skype and Facetime are no substitute for in-person contact when assessing and managing a loved one's mental and physical state.
"The population of older adults with cognitive impairment is rapidly expanding," Weakley explained. "There is a need for enabling technologies to provide remote care and reduce the burden on family caregivers and the health system in general."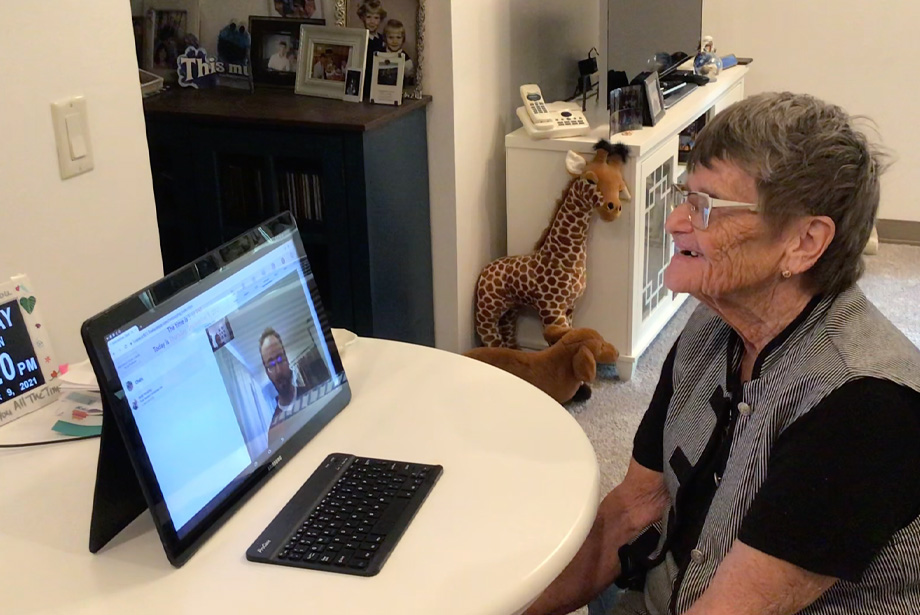 To address this need, Weakley has developed Interactive Care, or I-Care. The unique web-based platform connects caregivers who live apart from care recipients with mild cognitive impairment and early-stage Alzheimer's disease. The goal is to help long-distance caregivers monitor, support and engage in their loved one's everyday activities. This includes remotely setting medication reminders and motivating them to set and track brain health goals such as exercising.
"The ability to follow and communicate between caregiver and the person struggling with cognitive impairment is critical to sustaining independence," said Charles DeCarli, director of the Alzheimer's Disease Research Center. "Making it possible to both monitor and support someone with cognitive impairment, particularly in the early stages of the disease, can make a huge difference to their health, safety and quality of life."
After field testing and refining the computer-based program based on users' experiences, Weakley now moves into the next phase of her project: unobtrusive sensors to monitor the in-home behavior of care recipients.
Weakley's related research recently got a funding boost from the National Institutes of Health/National Institute on Aging. Weakley was awarded a five-year $900,000 Mentored Patient-Oriented Research Career Development Award, known as a K23, to develop an accessible and innovative intervention to enhance I-Care use and the caregiver-care receiver relationship. In her application, Weakley noted that to her knowledge, no research has utilized a co-design approach for technology training that encapsulates remote caregiver and care receiver needs.
Weakly also was recently awarded a one-year, $60,000 pilot grant from the Center for Information Technology Research in the Interest of Society and the Banatao Institute (CITRIS) at the University of California to move this research forward.
There is a need for enabling technologies to provide remote care and reduce the burden on family caregivers and the health system in general.
"Our team is going to develop markers for a variety of important everyday activities, so we can detect whether there is deviation in normal patterns," Weakley explained. "Those changes may suggest a change in cognition or that the care recipient is becoming ill, which could require more attention from their caregiver."
Innovation can increase communication and ease isolation
Weakley leads a multicampus, interdisciplinary team. Shijia Pan, an electronic and computer engineer from UC Merced, has developed brick-sized vibration sensors that will be placed throughout the home. They'll be located in areas such as kitchen and bathroom counters or bedroom and hallway floors. Hao-Chuan Wang, a computer scientist from UC Davis, uses machine-learning to create an interactive visualization tool.
The technology gives caregivers a birds-eye view of what's going on inside the home without intrusion. While older adults are typically accepting of unobtrusive monitoring, they are less accepting of invasive monitoring such as microphones or cameras, especially in the bedroom and shower, which these new sensors can access.
A sensor can precisely quantify the type and quality of an activity. For example, it can determine if a person is washing their hands and forgot to use soap. It can tell if the water temperature of a shower is too hot, a common problem in the dementia population, given reduced sensitivity to temperature. The research team hopes to extend this work to detect other important daily activities such as medication taking, including whether they took the correct dosage.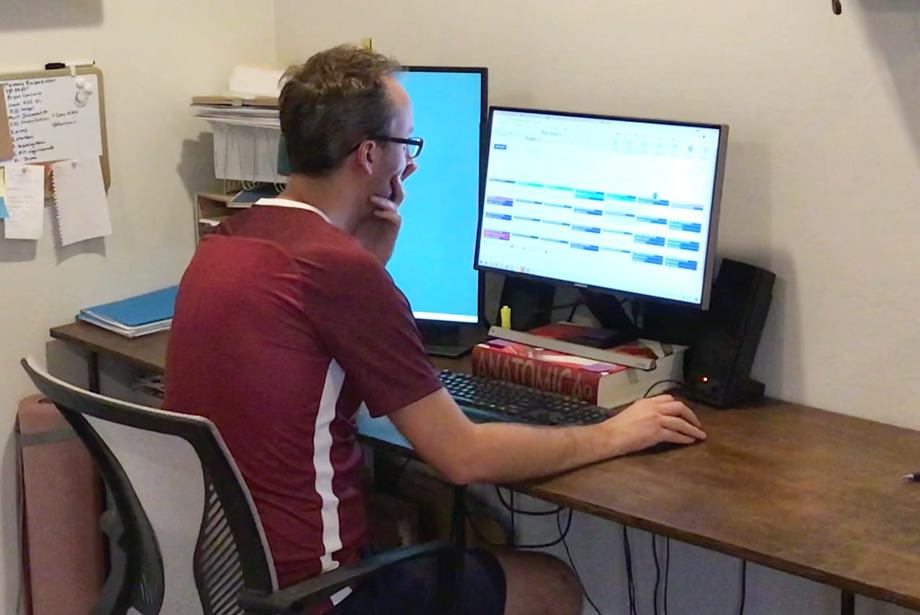 "One of the big goals of I-Care is to help build a relationship that is harder to obtain when people live in two separate locations. We believe this addition of behavioral monitoring will help foster further communication, reduce the sense of isolation and loneliness and lead to improved care," Weakley said.
By detecting deviations that may signal a change in cognition, it also has the potential to prompt an intervention before the need for care reaches a crisis, which can be debilitating and expensive.
Weakley plans to pilot I-Care with the vibration sensors this spring and summer. She hopes additional grant funding and donor support to the Healthy Aging in a Digital World initiative ultimately bring the solution to market. It's a tool Weakley says would have helped when long-distance caring for her grandmother, who has since moved to Sacramento.
"I believe that I-Care would have allowed my grandma to stay in her home longer, enriched our connection, guided our decisions about care needs and reduced family tension," Weakley added.