Jeanette M. Spaulding Rural Nursing Research Endowment Award
Rural roots run deep
When Jeanette Spaulding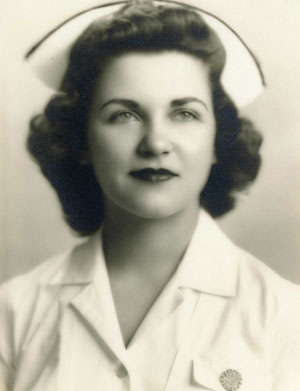 grew up on a dairy farm in rural Ohio, family and community framed her life. Driven by her interest in serving others, she pursued a career in nursing. In 1943, Spaulding graduated from the University of Toledo School of Nursing, one of the earliest schools to offer a Bachelor of Science Degree in Nursing, and embarked upon a 40-year-long nursing career that contributed to the health of her community along with future nursing science and education at the Betty Irene Moore School of Nursing at UC Davis.
"She loved nursing, especially the time she worked in outpatient care in Alameda County," recalled Jeri Bigbee, Spaulding's daughter and an adjunct professor at the School of Nursing. "I remember how the families she worked with left an indelible mark on her. She knew how important her work was to each family and the greater community. "
While Bigbee didn't originally intend to follow in her mother's footsteps, she has worked more than 30 years as a nursing educator, researcher and clinician. She worked as a public health nurse and a nurse practitioner in rural communities before entering the world of academia and a research trajectory focused on promoting the health of rural populations. Her mother, too, recognized the value of research and relished that nurses are leaders in rural research.
After Spaulding passed away in 2012, Bigbee created an endowed research fund for students and faculty at the School of Nursing. The Jeanette M. Spaulding Rural Nursing Research Endowment Award will support nurses who are conducting research related to rural health.
"Mom appreciated the fact that the Betty Irene Moore School of Nursing focuses on rural communities and preparing clinicians to serve in rural areas," Bigbee explained. "This is an out-of-the-box school and she was an out-of-the-box woman. It's a perfect fit."
Rural health and health care present unique strengths and challenges. Yet funding for rural research is limited. Bigbee hopes this research award will fuel expanded interest in rural health practice and research among nursing colleagues.
"This grant is more than just a statement about my family's belief in the power of nursing and the importance of finding innovative approaches to health care," Bigbee said. "This kind of giving is a way to memorialize those incredible women, like my mom, who have shaped our lives and our societies for the future."