UC Davis wins $3 million CIRM grant to develop smart vascular graft for kidney patients
(SACRAMENTO)
The California Institute for Regenerative Medicine (CIRM) has awarded UC Davis Professor Aijun Wang a $3 million grant to develop a smart durable vascular device for hemodialysis patients treated for kidney failure. This device uses a unique molecule that guides the body's own stem cells to help prevent the failure of synthetic vascular grafts. Such failures are a common problem for kidney disease patients undergoing hemodialysis.
Kidney disease and hemodialysis
More than one in seven U.S. adults live with chronic kidney disease. Kidney failure, also called end-stage renal disease, is the last stage of chronic kidney disease. Patients with kidney failure need a kidney transplant or regular dialysis, a treatment to filter wastes and water from their blood.
Hemodialysis is one form of dialysis. It involves getting the blood into a filtering machine to remove waste. A physician makes an access, or entrance into the patient's blood vessels using a soft tube connecting an artery to a vein in the patient's arm. This access tube is called an arteriovenous vascular graft.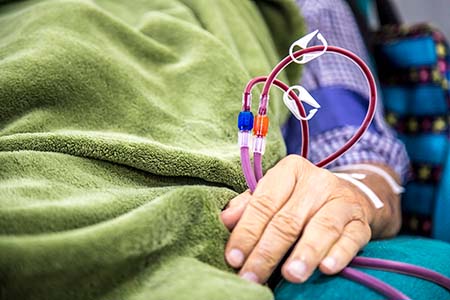 Unfortunately, these grafts often become infected or clogged.
"Vascular access failure is the most common reason someone on hemodialysis needs to go to the hospital," said Wang, a professor of surgery and biomedical engineering. "A major cause of graft failure is the lack of a functional endothelium, the thin layer of cells that lines the inside of the blood vessels."
Endothelial cells release enzymes that control blood clotting, immune function and platelet adhesion. Current synthetic vascular grafts generally lack these cells necessary to prevent blood clotting (thrombosis) and vessel narrowing (stenosis).
Preventing the vascular access clogging problem
Wang's team is designing a vascular graft coated with a special molecule known as LXW7. This molecule interacts very specifically and engages strongly with endothelial progenitor cells and endothelial cells circulating in the blood.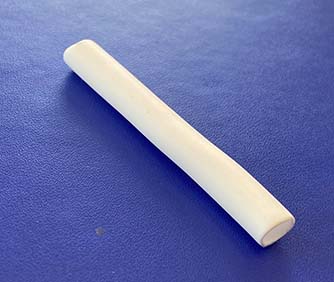 LXW7 can promote binding of the endothelial cells to the synthetic grafts, mimicking what's happening in the native vascular environment. This binding supports the formation of a lining that prevents blood clots from forming inside the graft.
"We developed this technology based on our understanding of how stem cells bind to the extracellular matrix," Wang said. The extracellular matrix is a complex network of proteins and molecules surrounding and supporting the body's cells and tissues. Cells need to bind to a friendly surface to grow on top of it.
"The structure of the matrix is very important for cells to function. Our technology will support endothelial progenitor cell binding and provide the graft with a self-renewable living endothelium, which could prevent vascular graft failures."
Wang described the device as being 'off-the-shelf' and very smart in reacting to a very specific type of cells. It utilizes the patient's stem cells.
"The product itself does not contain live stem cells. After implantation, the binding sites on the graft can capture the patient's own endothelial progenitor cells. This makes the device easy for physicians to use and reduces the cost without the need for live stem cell manufacturing," Wang added.
Our device can potentially improve the quality of life of hemodialysis patients and potentially those with other vascular diseases."
Next steps
The grant falls under CIRM's Medical Device Translational Research Projects. It will fund the prototyping, optimization and testing of grafts fortified with the LXW7 molecule.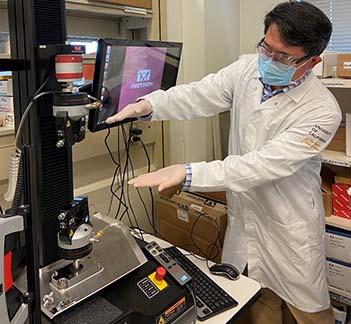 "This work has been in the making for several years. It started with a collaboration with Distinguished Professor of Biochemistry Kit Lam and Biomedical Engineering Professor Alyssa Panitch. Now, we are collaborating with a prolific team, including Vascular Surgeon Mimmie Kwong and Junichiro Sageshima, surgical director of the Living Donor Kidney Transplant Program," Wang said.
The team will also evaluate the device in small and large animal models. By 2024, they expect to file their documents for a pre-Investigational Device Exemption meeting with the Food and Drug Administration.
"Our device can potentially improve the quality of life of hemodialysis patients and potentially those with other vascular diseases," Wang said. Wang is the vice chair for Translational Research, Innovation and Entrepreneurship. He co-directs the Center for Surgical Bioengineering and leads the Wang Lab at UC Davis.
Related stories: