Jana Katz-Bell, M.P.H.
Assistant Dean for Interprofessional Programs
Betty Irene Moore School of Nursing and UC Davis School of Medicine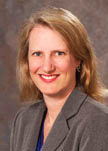 Jana Katz-Bell is the assistant dean for interprofessional programs at the Betty Irene Moore School of Nursing and the UC Davis School of Medicine. She was appointed to the dual role in April 2008 and oversees programs that bridge the two schools and also seeks new opportunities for interprofessional programs and collaboration at UC Davis Health.
In her role at the School of Nursing, Katz-Bell leads the research initiative for the school, with a focus on strategic planning and resources management. Katz-Bell co-authored the 2007 grant proposal that secured the $100 million funding — the nation's largest grant in support of nursing education — from the Gordon and Betty Moore Foundation to establish the School of Nursing. With her extensive experience building and leading teams, she leads a variety of new initiatives at the School of Nursing in support of the school's continued launch. She also serves as the lead administrator of the founding grant from the Gordon and Betty Moore Foundation.
She spends the other half of her time at the School of Medicine cultivating collaborative practice and joint professional training. There, Katz-Bell oversees the integration of telehealth and simulation technologies, two opportunities for interprofessional education that now extend to the School of Nursing.
For 12 years, Katz-Bell served as chief administrative officer for the Center for Health and Technology, where she led staff with a focus on statewide initiatives to advance telehealth and medical education. Under her leadership, the center won national and worldwide attention as one of the best telehealth programs in the United States. She recently completed a project where she served as the principal investigator and administrator of record. The $14 million initiative was funded by the U.S. Department of Commerce and several foundations and designed to increase broadband adoption to advance health.
She also served as vice president of the Center for Telehealth and e-Health Law, a national telehealth legal and regulatory resource center. In addition to her formal education and extensive background developing and managing telehealth programs, Katz-Bell is a nationally-recognized speaker of telemedicine issues and her testimony during deliberations of California Senate Bills 1665 and 2098 led to legislation that favors telemedicine reimbursement.
During her tenure UC Davis Health, Katz-Bell managed the Sacramento County Contract, a $25 million annual contract to provide services to medically indigent adults, managed the Heart Center and worked on a number of other strategic initiatives. Katz-Bell received a bachelor's degree in genetics from UC Davis and a master's degree in public health from the University of California, Berkeley.
Contact Information: Phone: 916-734-1361 | E-mail: jdkatzbell@ucdavis.edu