Nurse leader fellows program welcomes new advisory council member
Emerita council member accepts position as dean of Johns Hopkins School of Nursing
September 2021
As the inaugural fellows start their second year of the program and the 2021 cohort of fellows begin their fellowship journey, the
Betty Irene Moore Fellowship for Nurse Leaders and Innovators National Program Office welcomes a new Fellowship National Advisory Council member and congratulates an emeritus member on her prestigious new nursing leadership position.
A nurse practitioner for more than 30 years and an expert in health care for older adults, Alice Bonner joined the Fellowship National Advisory Council in July. She is an adjunct faculty member and director of strategic partnerships for the Johns Hopkins University School of Nursing Community Aging in Place — Advancing Better Living for Elders (CAPABLE) Program.
"We are thrilled to have Alice Bonner as a member of our Fellowship National Advisory Council. She brings a wealth of experience and knowledge about translating research into policy," said Heather M. Young, national program director for the Betty Irene Moore Fellowship for Nurse Leaders and Innovators.
Bonner said she is impressed with the fellowship program and excited to help shape and mentor the next generation of nursing leaders.
"It was wonderful to meet the fellows during the annual convocation and learn more about their projects and visions to change the world. It's exciting to be with such a driven and engaged group of people who are so passionate about their research," Bonner said. "I look forward to seeing how these fellows grow over the course of the fellowship program."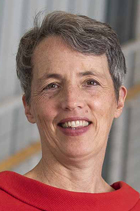 While Bonner is just beginning her advisory term, Sarah Szanton completed her two-year term on the Fellowship National Advisory Council in July. Szanton is a health policy and equity advocate dedicated to enabling older adults to "age in community" and she began her new role as the dean of the Johns Hopkins School of Nursing in August.
Szanton said she enjoyed her time as a member of the advisory council.
"It was a privilege to help shape the program with the visionary leadership of Heather M. Young and the wonderful advisory council she developed. The future for nurse leadership and innovation is bright," Szanton said.
Applications for the third cohort of fellows with the Betty Irene Moore Fellowship Program for Nurse Leaders and Innovators are due Dec. 1. The 2022 cohort of fellows will be announced in May.