Jan Nolta receives 2022 Chancellor's Lifetime Achievement Award in Innovation
UC Davis innovators in stem cells, methane reduction and education access honored with Chancellor's Innovation Awards
(SACRAMENTO)
The University of California, Davis, announced the recipients of the 2022 Chancellor's Innovation Awards at an in-person event on June 16. The awards recognize faculty, community partners and industry leaders developing innovative solutions to improve the lives of others and address important needs in our global society.
"Innovation is at the heart of our mission at UC Davis," said Chancellor Gary S. May. "We are driven to take action by creating new inventions beyond the boundaries of our campus. These award winners are groundbreakers who improve society as their innovations move out of the lab and into the world."
The awards include Lifetime Achievement in Innovation, Innovator of the Year and Innovative Community Partner.
Lifetime Achievement Awards in Innovation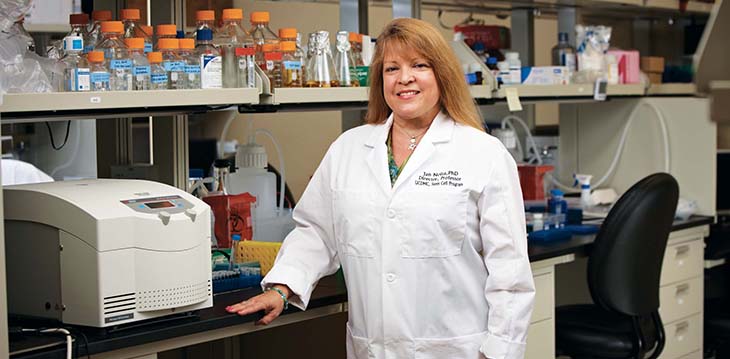 Jan Nolta, professor in the Department of Cell Biology and Human Anatomy and Internal Medicine, received the Lifetime Achievement Award in Innovation. This award recognizes researchers whose career accomplishments include innovations leading to a long-term positive impact on the lives of others and who are an inspiring influence for other innovators.
Nolta serves as the director of the Stem Cell Program and the UC Davis Gene Therapy Center in the Institute for Regenerative Cures at UC Davis Health. Nolta has gained reputation as a prolific scientist with over three decades of experience in human stem cells, gene therapy and clinical trial development. She has been a tireless contributor to the field of regenerative medicine-related cures for a spectrum of diseases and injuries. She started her career helping to develop stem cell gene therapy treatments for "bubble baby disease."
Over the past few years, Nolta has been collaborating with an interdisciplinary team including UC Davis Health professors Mehrdad Abedi, Joseph Tuscano and Gerhard Bauer to pioneer the California CAR-T program for cancer patients. To advance this innovation, Nolta's group is cultivating potent cancer killer cells to treat leukemia and lymphoma in relapsed patients. The approach may tackle kidney, ovarian and bladder cancers down the line. The team is helping to facilitate change that would drive the cost of CAR-T therapies down while increasing accessibility so that lifesaving, cutting edge therapies can be provided to all patients in an equitable manner.
Nolta's current research is focused on developing therapies that will use mesenchymal stem cells (MSCs) to deliver factors for treating Huntington's disease and other disorders and injuries. She is the scientific director of the Good Manufacturing Practice clean room facility at UC Davis, where stem cells of different types are being isolated or expanded for clinical trials.
Nolta has received multiple awards throughout her career. Early awards include New Investigator Award (1999), Research Career and Development Award (1996), and a National Institutes of Health award (1997). More awards followed, including Huntington's Disease Society of America Distinguished Leadership Award (2008), California State University's Sacramento Distinguished Service Award (2009), and many more. She has published over 200 peer-reviewed manuscripts in the stem cell field and has been Editor-in-Chief for the Journal "Stem Cells" since 2013.
Nolta's desire to serve the community and to make an impact in the lives of people has been one of the major driving forces for many of her career accomplishments. Her group focuses on "bench to bedside" research, and she has been involved in numerous clinical trials of gene and cell therapy. As a first-generation faculty member, Nolta has been an advocate of a diverse science and health care workforce of the future and is currently leading or assisting with numerous training programs. Her passion is in training other first-generation students, and those from diverse backgrounds and lived experiences.
Innovators of the Year
The Innovator of the Year award recognizes faculty, staff, or teams whose innovative or entrepreneurial activities have had a measurable societal impact in the last year, or those whose activities or achievements in the last year have a very strong potential to make a significant impact in the future. Recipients receive $10,000 to advance their research or engage in community efforts.
This year, Ermias Kebreab, professor in the Department of Animal Science at the College of Agricultural and Environmental Sciences, and Delmar Larsen, professor in the Department of Chemistry at the College of Letters and Science, won the Innovators of the Year awards.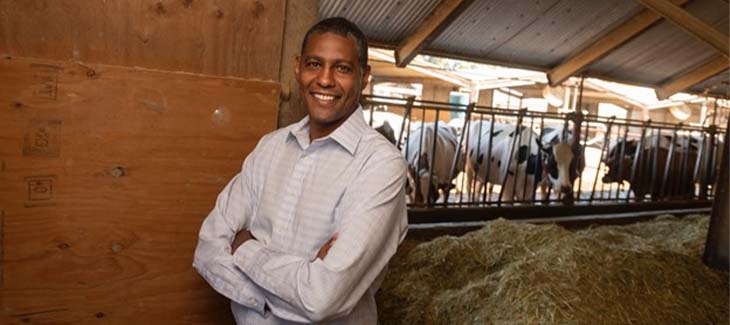 Kebreab and colleagues have found an ingenious solution to reduce methane — a type of greenhouse gas — emissions from dairy cows.
In 2018, the Kebreab lab started testing at the UC Davis Dairy barn to see if feeding seaweed to 12 Holstein cows would reduce methane emissions. The preliminary findings showed substantial reductions in methane, leading Kebreab to expand the testing with additional cattle in summer 2020. In that project, Kebreab and his team experimented with 21 beef cattle by adding a scant amount of seaweed to their daily diet. Through this work, they were able to prove that cattle which consumed doses of 80 grams (three ounces) of seaweed per day emitted up to 82 percent less methane in addition to a better weight gain compared to their herd mates. The findings published in the journal PLOS ONE have shown the importance of combining modeling and experimental research.
Kebreab's innovative work on alternative cattle nutrition has been gaining worldwide attention for its climate friendly attributes as summarized in his TED talk. The impact of this discovery has huge implications for the livestock sector, the potential use of seaweed to curb methane emission from the ruminant industry, and the ways in which it can impact climate change globally.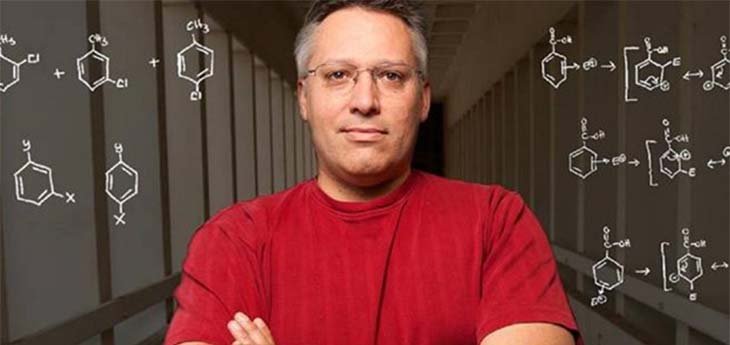 Delmar Larsen has developed an innovative solution to eliminate the barrier of high-cost textbooks on education and increase accessibility to students around the world. His work developing LibreTexts –– an internet library of free and open-source educational resources for K-12 and college courses –– has been recognized as an all-inclusive hub for student learning across the world.
The online distribution aspect of LibreTexts has saved students an estimated $50 million in textbook costs. Larsen hopes to see the platform adapted into a statewide infrastructure. In 2020, the project received a $1 million innovation grant from the state of California's Learning Lab to build the free ADAPT homework system to accompany the textbooks. LibreTexts' ability to democratize access to expensive STEM textbooks is especially important for diversity, equity and inclusion of first-generation college students, low-income students and minority-serving institutions in the sciences.
Innovative Community Partner Award: AgStart/Lab@AgStart
Although startup incubators and office co-working spaces are not novel ideas, when AgStart was founded in 2012 through collaboration between UC Davis and a regional non-profit, the program was one of the first in the country focused exclusively on supporting innovators in agriculture and food technology. For much of its first decade, AgStart existed as a 'virtual' incubator supporting entrepreneurs with mentorship, education, community and connections to resources in our California agriculture and food ecosystem.
In May 2021 the program blossomed to include The Lab@AgStart, the largest wet-lab incubator for startup companies in California's Central Valley region, giving innovators and startup entrepreneurs access to sophisticated wet-lab and food lab facilities and equipment, along with office and co-working space. The lab is a member of the UC Davis Venture Catalyst DRIVE Network, and it is managed by Michael Clayton, a serial entrepreneur with over 20 years of domestic and international experience in the social venture space.
The Lab@AgStart is now fully occupied with startup company researchers and currently houses several UC Davis spinouts, including Pheronym, MyFloraDNA, Prism Bio, BCD Bioscience and Astrid Pharma. In its first year of operation, startup companies residing at the incubator created over 24 new full-time professional jobs and brought over $45 million in private capital investment to the region.
"I would like to congratulate the recipients of this year's awards and applaud their commitment to bringing forth solutions to important challenges," said Prasant Mohapatra, vice chancellor for research. "These honorees represent the bold and creative spirit common to UC Davis — to search beyond the expected and seek opportunities to make the world a better place."
The original version of this story can be found at this link.
About the awards program
The UC Davis Chancellor's Innovation Awards program was established in 2016 to celebrate the university's innovative contributions to the regional and global community. The program is run by Venture Catalyst, a unit within the Innovation and Technology Commercialization division of the Office of Research.