School of Nursing leader honored by University of Portland
Ackerman-Barger receives honorary degree for public service
(SACRAMENTO)
When the Class of 2023 at the University of Portland School of Nursing and Health Innovations received their diplomas on May 7, a Betty Irene Moore School of Nursing at UC Davis leader was right alongside them.
Piri Ackerman-Barger, associate dean for health equity, diversity and inclusion and a clinical professor, received an honorary degree in public service. Ackerman-Barger's academic interests relate to health equity and social justice. Over her career, she has used her expertise in nursing and education to advance inclusive learning environments, education equity and workforce diversity.
As a national consultant and speaker, Ackerman-Barger advocates for underserved and underrepresented groups in health professions. Her interdisciplinary work has been recognized through American Academy of Nurses fellowships. Her public service was honored by UC Davis in 2019 when she was awarded the UC Davis Charles P. Nash Prize, which recognizes individuals who represent advocacy, achievement and dedication within a body of service.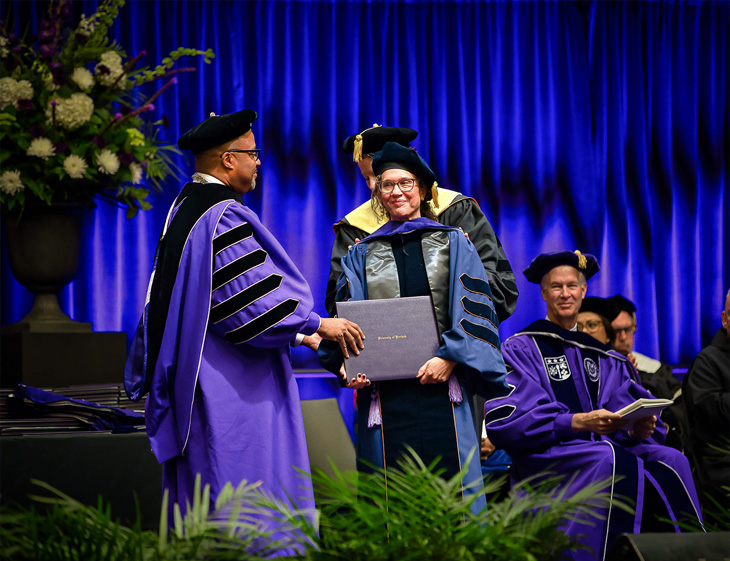 "I am deeply touched that the University of Portland is honoring both me and the value of advancing health equity in this way," Ackerman-Barger said. "The Betty Irene Moore School of Nursing has had a long-time relationship with the University of Portland. It is through collaborations such as these that we grow together. It is also through collective efforts that we advance health equity in our nation and our respective communities."
Building a foundation of support
Ackerman-Barger gave a workshop at the University of Portland in early 2020 as part of the school's 85th Anniversary Year celebration. She introduced administrators to a framework for understanding the academic costs of microaggressions against underrepresented health professions students, and how they impact learning, academic performance and well-being. The university continued to work with her, participating in her nationwide multi-site study on understanding the impact of microaggressions on health professions students.
"Little did we know that her day with us would set the foundation for our diversity, equity, inclusion and justice work that would launch after the murder of George Floyd and continues today," said Casey Shillam, nursing school dean. "With her foundation of inspiration and support, the School of Nursing and Health Innovations has embarked on an immersive and transformational journey to become more inclusive and work to create a sense of belonging for all members of our community."
Shillam was one of the first postdoctoral scholars at the UC Davis nursing school. She said the experience instilled a passion for supporting others with her leadership: "It serves as a direct contributor to my work today in transforming health care through bold system change."
Finding joy in nursing
Before commencement, Ackerman-Barger gave the address at the School of Nursing and Health Innovations Pinning Ceremony. She told graduates that "finding joy in being a nurse is not an act of indulgence, rather it is an investment in health equity and optimal patient outcomes."
In hopes of fostering health equity, Ackerman-Barger sets her sights on intervening earlier in the lives of future nurses. Last year, she launched the Summer Health Institute for Nursing Exploration and Success (SHINES). The program prepares local high school students or recently graduated adults to make professional and academic decisions about whether nursing is a right fit for them, what nursing pathways suit their needs and how to be successful in their academic aspirations. This July the second group of students will participate in the program.