UC Davis simulation center hosts high school students for immersive learning sessions
Partnership with Project Lead the Way, California Society of Anesthesiologists drives innovative education
(SACRAMENTO)
Teenagers recently filled the mock patient ward at the UC Davis Health Center for Simulation and Education Enhancement to get hands-on clinical experience and learn basic life support skills from anesthesiologists and anesthesiology residents at UC Davis Health.
Students of all grade levels at Antelope High School participate in these educational sessions at UC Davis Health as part of a California Career Technical Education Career Pathway program focused on Health Science and Medical Technology. The specialized curriculum is taught in partnership with Project Lead the Way, a nonprofit organization focused on creating engaging learning environments for pre-K through grade 12 students.
The partnership between Project Lead the Way, Antelope High School and UC Davis Health is among the first of its kind in Sacramento. It was spurred by David Butler, executive director of the California Society of Anesthesiologists (CSA), to grow student's interest in science, technology, engineering and math (STEM). The program is funded by the CSA Foundation for Education and is also taking place at Pleasant Grove High School and River City High School.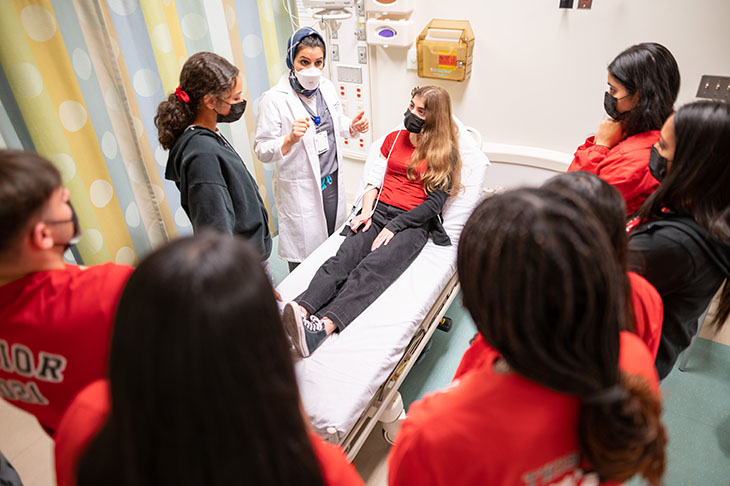 "We want to inspire students where they are in their high school careers and help them see the real-world application of their classroom learning," Butler said. "It's incumbent upon everyone, including medical societies, to invest in the future of health care and help build a pipeline of future health care workers."
Reihaneh Forghany, anesthesiologist and assistant clinical professor at UC Davis Health, leads the educational efforts at the health system with a team of anesthesiology residents. She said her team alternates between traveling to the three partner schools and having the students come to the health campus for hands-on sessions.
"Seeing the spark in a student's eyes as she intubated a mannequin for the first time, hearing the excitement and astonishment of students as they watched a heartbeat with an ultrasound, and sharing our pathways to medicine with the students were truly inspirational experiences," Forghany said. "Many students approached us after each session and expressed their gratitude, as their level of motivation had plummeted during the pandemic and virtual learning."
During their first visit to the simulation center in April, Antelope High School students learned to place leads for monitoring blood pressure and heart activity, conducted heart ultrasounds and practiced basic life support skills. They listened to lectures and then practiced on each other, as well as Viviana Ruiz Barros, pediatric anesthesiologist and assistant professor, and Shane McGuire, third year anesthesia resident.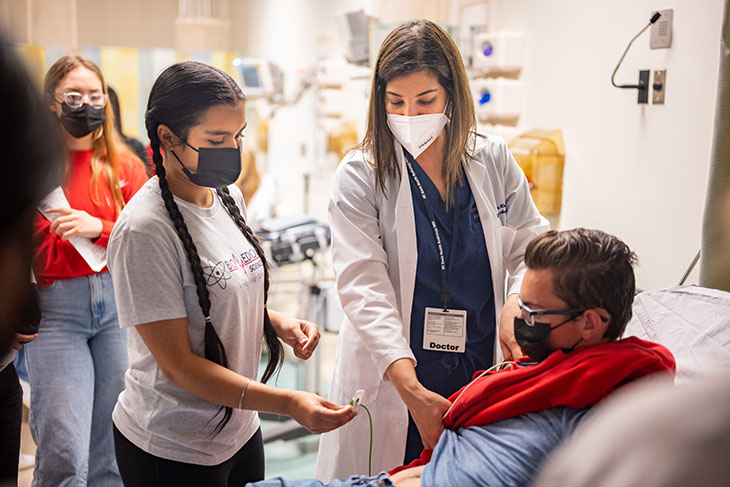 "This is a lot more hands-on that I thought it would be and the ultrasounds are very cool," said 18-year-old senior Jackson Richards. "It's a completely different experience actually being able to do the procedures instead of just being told about them."
High school junior Stacy Yermolenko, 16, agreed.
"I never thought I'd have an opportunity like this and it's absolutely fascinating to me," Yermolenko said. "Our bodies are so interesting to study and I want to go into immunology, so it's really inspirational to talk to the doctors and learn all of this new information."
Kalina Moore, biomedical sciences teacher at Antelope High School, said her students were encouraged to step out of their comfort zones, and were both surprised and delighted to learn there is no one-size-fits-all pathway to a medical career.
"Our students left each of the events with a sense of pride in their own abilities and a newfound confidence that moves them forward as they prepare for their future," Moore said. "As a teacher, seeing our students in an environment like this and witnessing their growth in both hard and soft skills is what fills my cup."
Project Lead the Way and the California Society of Anesthesiologists held an event April 21 at River City High School to celebrate the program's launch in the Sacramento area. Representatives from the offices of Assemblymembers Jim Cooper and Kevin McCarty were in attendance and gave legislative certificates of recognition to Forghany and her team for their work with students.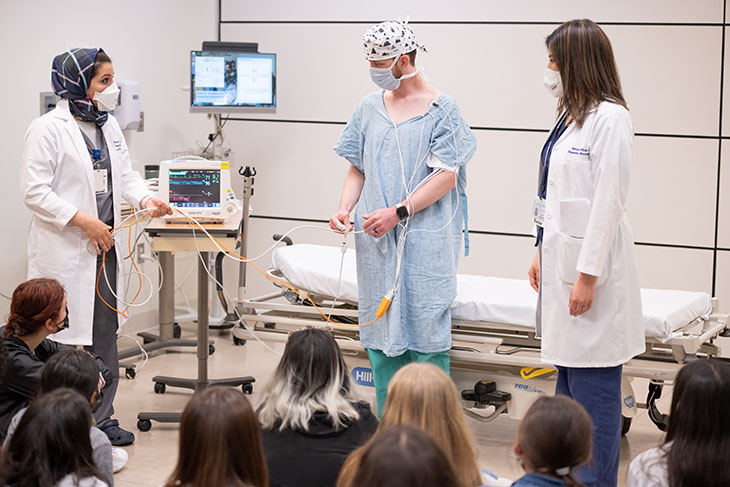 Angela Anderson, director of strategic partnerships at Project Lead the Way, said it's exciting for students in the Sacramento area to have such a unique learning opportunity with UC Davis Health.
"We look forward to continuing to work with the California Society of Anesthesiologists as they expand their student impact across the state and are honored that they have chosen Project Lead the Way as a pathway that prepares students for careers in STEM and health care," Anderson said.
About the UC Davis Center for Simulation and Education Enhancement
The UC Davis Center for Simulation and Education Enhancement is a state-of-the-art health care simulation center focused on interprofessional medical education and research activities. Since its humble beginnings on the first floor of the UC Davis Medical Center, the simulation Center has grown to include more than 10,000 square feet of dedicated simulation space on the third floor of the UC Davis Center for Health and Technology. In addition to patient simulators with advanced lifelike physiology, the Center features a trauma bay, operating room, inpatient unit, six-bay patient ward area, task training room, technology enhanced classrooms and standardized patient exam rooms. It's accredited as a Comprehensive Education Institute by the American College of Surgeons. For more information, visit health.ucdavis.edu/simulation.