Betty Irene Moore Fellowship program welcomes new national advisory council member
Former inaugural cohort fellow provides valuable perspective in new position
Oct. 30, 2023
By Megan Hansen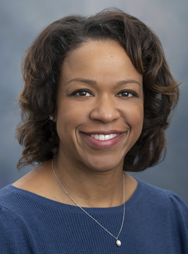 The national program office for the Betty Irene Moore Fellowship for Nurse Leaders and Innovators announces the addition of inaugural cohort fellow Dawn M. Aycock to the Fellowship National Advisory Council.
Aycock joined the program as a Betty Irene Moore Fellow in 2020 and completed her three-year fellowship on July 1. She begins her tenure as an advisory council member this month, which allows her to pursue her passion for expanding the ranks of diverse nurse scientists. In this advisory role, she provides strategic guidance, leveraging her expertise to provide recommendations and mentorship that foster the program's continued success and innovation.
"I am thrilled and honored to continue my relationship with the fellowship program by serving as a member of the Fellowship National Advisory Council," Aycock said. "After successfully completing the fellowship program, I possess a unique perspective on the overall experience that I am eager to leverage in guiding the program toward an even greater impact."
Heather M. Young, fellowship national program director, said she looks forward to incorporating Aycock's insights into the advisory council's strategies.
"Dr. Aycock has shown a deep commitment to our program's goal of advancing the next generation of diverse nurse leaders in her leadership and by collaborating with her peers to lead a pilot program to recruit and support Black nurse scientists. We are excited to have her continue her fellowship journey in this new capacity," Young said. "I know that, together, we can accelerate leadership and innovation in nursing and create a multiplier effect that advances health equity and improves health systems."
Making history as a nurse scientist
Research focused on stroke prevention
During her fellowship, Aycock made significant strides in stroke prevention science by implementing her innovative Stroke Counseling for Risk Reduction (SCORRE) intervention that increased awareness about stroke and encouraged healthy lifestyle behaviors among young African American adults.
"My project focused on tailoring this age and culturally relevant intervention for young, African American men and exploring the best methods for recruiting them, engaging them and empowering them to reduce their risk of stroke. For recruitment, we found and published that social networks and trusted sources of information play a vital role in the process," Aycock said.
She said she is grateful to the fellowship program for not only funding research on a topic that is close to her heart but continuing to invest in her leadership development.
"My time as a Betty Irene Moore Fellow has been incredibly rewarding and productive. I look forward to helping others learn and grow through the fellowship program as a member of the advisory council," Aycock said.