Academics–Master of Health Services—Physician Assistant Studies Degree
Welcome to the physician assistant (P.A.) program at the Betty Irene Moore School of Nursing at UC Davis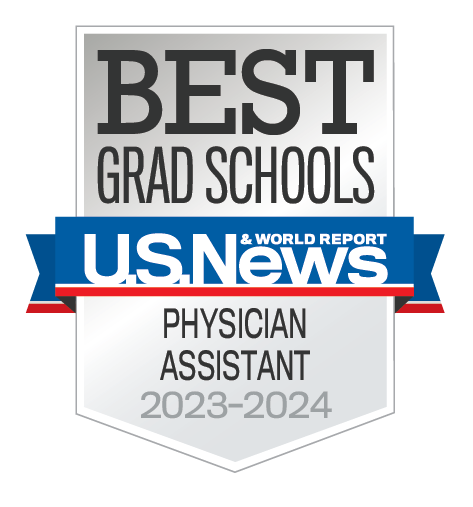 Our interprofessional P.A. program continues to prepare primary care providers for rural and underserved communities just as it did more than 40 years ago.
The P.A. program features:
Faculty who partner with you and invest in your success.
Emphasis on leadership
Dedication to inclusiveness
High-tech simulation learning
State-of-the-art facilities
No GRE or GMAT required
Our P.A. program mission and vision
In alignment with the school's vision to advance health, the mission of the physician assistant program is to educate health care professionals to deliver care as leaders and members of interprofessional health care teams as well as to improve the availability of culturally relevant primary health care to underserved populations throughout California.
Become a P.A.

What do graduates have to say about the P.A. program at UC Davis?
Read and hear what 2020 alumnus Keoki Leong says about his UC Davis experience »
P.A.s are health care professionals licensed to practice medicine with physician supervision. As part of their comprehensive responsibilities, P.A.s conduct physical exams, diagnose and treat illnesses, order and interpret tests, counsel on preventive health care, assist in surgery and write prescriptions. Within the physician-P.A. relationship, the P.A. exercises autonomy in medical-decision making and provides a broad range of diagnostic and therapeutic services. A P.A.'s practice may also include education, research and administrative services.
Preparing primary care providers
The P.A. program prepares clinicians with the knowledge and skills needed to serve in those capacities and meet the needs of a constantly changing health care system. Rooted in a growing body of research and nurtured by visionary faculty who seek to transform health care, the curricula embrace integrative case-based learning, technology and systems-wide perspectives. Instruction is also designed to be "more inspiring…and create an atmosphere of a community of learners," as identified in a 2012 report by the President's Council of Advisors on Science and Technology.
Dale Risenhoover, Physician Assistant Student, Class of 2015
Because of health care reforms and an increasingly aging population with advanced chronic illnesses, millions more people require primary-care services, exceeding the number of providers currently available. The P.A. program at the Betty Irene Moore School of Nursing provides a partial solution to this growing problem by educating and preparing primary-care providers experienced in preventive measures, who advance health through health promotion and disease prevention, practice in ambulatory and community-based settings and enhance the existing workforce. A key to that preparation is learning in a collaborative environment, rather than in the absence of other health professions.
The interprofessional P.A. program at the School of Nursing is designed to equip students with a greater ability to provide care and become leaders in a variety of settings. Through learning opportunities with students in the school's other programs, students discover how to interpret different perspectives, collaborate and lead as members of health care teams. These experiences foster awareness and appreciation of other cultures and shape how students provide care once in practice.
About the UC Davis P.A. program
The P.A. program is led by the Nursing Science and Health-Care Leadership Graduate Group, an interprofessional team of more than 55 faculty from disciplines such as nursing, medicine, health informatics, nutrition, biostatistics, pharmacy, sociology and public health.
The master's-degree program is a full-time, professional degree program that includes academic courses, clinical skills courses and supervised clinical practice. Students are encouraged to limit outside employment while enrolled in this full-time program of study.
All students must complete core academic courses, a scholarly project, and a comprehensive exam as well as 1,530 hours of supervised clinical practice. Academic courses provide a broad education that includes advanced skills in understanding complex problems and generating solutions, how health systems and health care work, how to improve quality, as well as how to lead teams and manage business aspects of care, including informatics and reimbursement.
This is a 27-month, year-round program. Core courses are offered summer, fall, winter and spring quarters on the UC Davis Sacramento campus. Students typically attend class Monday through Friday and they should also expect some weekend and evening course requirements and clinical experiences.
First-year students are in class approximately four days per week, from 8 a.m. to 5 p.m. This schedule is subject to change. Second-year students complete 4-6-week clinical rotations throughout California. Required clinical experiences include primary health care (must include exposure to geriatric and adult patients), pediatrics, women's health, psychiatry, emergency medicine, surgery and inpatient medicine. Students are not required to provide or solicit clinical sites or preceptors. Students return to campus for a week at least once per quarter for coursework related to clinical skills, leadership and quality improvement. Read more about the program's courses.
A mandatory orientation is provided for incoming students their first quarter. This full-time, three-day experience runs the week prior to the first summer quarter. Throughout this time together, students interact with School of Nursing leadership, participate in team building and develop one-on-one faculty relationships. The week serves as the foundation for the Nursing Science and Health-Care Leadership Graduate program curriculum.
Thinking of applying? Watch these how-to videos on getting ready to apply
Full-time enrollment (12 units per quarter) is required
Required courses for the master's-degree program include a combination of core courses and electives.
A comprehensive exam is required
Physician assistant students are expected to complete the program in 27 months